Archive for the year 2016
Brian wanted to see what my Kansas City routine was like so we spent a few days in Kansas City over Thanksgiving break. At first he was bummed that I didn't have us staying at the Kansas City Marriott Downtown, which is the hotel I normally stay at, but after I explained that I reserved our room at the much nicer Courtyard Kansas City Downtown/Convention Center just a couple of blocks away he finally settled down. Of course, I had to agree to walk him over to my office building, the other hotel, my favorite coffee shop, etc. etc.
Brian got to experience the KC Streetcar on this trip.
Here's the lobby of the Kansas City Marriott Downtown. It definitely looks better with some Christmas decorations. It has looked the same for several years.
But, I have to admit, I kind of like this piece of furniture. It's perfect for just hanging out with a bunch of friends.
We also walked over to my office building where we have the ping pong table in the "Recharge" area at the lower level.
Brian actually indulged me with a brief ping pong match.
After getting coffee across the street at Kaldi's, a coffee shop that I've grown fond of because of the delicious coffee and its close proximity to the office, we went around the corner to One Light Luxury Apartments.
This is Brian checking out the balcony of one of the units we toured.
I'm not sure what Brian is pondering here but I just love the floor-to-ceiling windows. I think that crane you see on the left is where they're building Two Light.
Here's the rooftop pool. They keep the fool filled year round, though you can't actually swim in it, because it's prettier to look at than a pool cover.
We walked over to the Two Light Leasing Office around the corner after touring One Light. They have a 3D model of the all-glass, high-rise apartment complex there. We were told they created the model so people could more easily visualize the concept, which is the first of its kind in downtown Kansas City.
Of course, there's now such a great demand for places to live downtown that they're already planning to develop Three Light after Two Light is completed.
Here's a video of the renderings. It looks pretty amazing.
Here are some pictures of the demo one-bedroom unit at the leasing office.
I took a ton of pictures because they did a fabulous job of staging the demo.
Do you see Brian in this pic?
This is the bed room.
Don't mind the street outside. I was really taking a picture of the bedroom door, which is a pocket door. A regular door just takes up too much space.
Space is a premium and their smart design choices give you space where it counts. Like in the bathroom (pictured below).
The bathroom doesn't feel tiny and cramped.
Here's how the kitchen looks from the hallway.
This picture is viewing the same hallway from the opposite end.
I'm not a huge fan of the upper cabinets, which feel a bit too contemporary/modern for me but overall the kitchen feels spacious and well-designed. Not that I spend a lot of time cooking in the kitchen but, for what it's worth, the kitchen functioned well. I really liked the island in the middle.
If we were to move to Kansas City, our ideal situation would be to get a two bedroom but, if we couldn't stretch our budget enough to make it work, then we could make a one-bedroom work.
We would just have to get rid of a bunch of stuff first. LOL.
Because we're nerds, we walked over to where we could see the Two Light construction. Even though it was drizzly that day, I really wanted to see how much farther of a walk it is from the office building. One Light is literally across the street (if you go through the parking garage underneath instead of coming out of the lobby) so it's super convenient.
Here's a picture of Brian in the fancy, One Light lobby.
If I sound kind of obsessed with downtown living and, more specifically, these apartments, it's probably because I kind of am. I am enamored with the idea of being able to get up in the morning and walk to work.
Here's a video of what it's like to live at One Light. They really do a great job of selling the lifestyle and making it look glamorous and cool.
I've been to One Light a few times now (wine night at Allison's, their open house event) and I've even brought Brian over to check things out and get his feedback, these folks have me completely convinced that this is where I want to live if/when I move to Kansas City.
The floor plans at Two Light are a smidge bigger but Brian and I cannot get over the convenience that One Light offers. One Light is attached to an amazing gym and a grocery store. If you go through the parking garage underneath, you don't even have to go outside to get to both.
Brian and I were like, "Can you imagine times when you're in the middle of cooking something and you realize that you're out of something and you can just put the heat on low and run to the grocery store real quick and come right back and finish cooking?" Not that this happens often. Heck, we don't even cook that much. I love the idea, though. Maybe it will even get us cooking and eating at home more?
The biggest selling point for me is how close it is to work. Here's a view of the apartment and pool from work. It's that close!
I'm not sure if you can tell, but there's also green space on the roof for dog owners to take their dogs. There will be plenty of room for Saki and Molly to run and play.
The corner grocery store is amazing. They have everything you could possibly need. They even carry wine. Brian and I already did price comparisons of how much we normally pay for certain wines at Grove's. The prices are comparable on some brands and about $1-2 more on others. I suppose that's the price of convenience.
But they also have a wide selection of craft beers and they even do this thing where you can mix and match to create your own six-pack.
Although, my most favorite part of Cosentino's is their delicious cakes and pastries.
We're doing a potluck Christmas party at work next week where everyone is encouraged to bring either a dessert or side dish of some sort and my plan is to just buy a cake from Cosentino's and bring it. LOL.
They usually have a different assortment each time. All fabulous. The time we were there they had these java cups. Of course we had to try it.
Brian gave it two thumbs up!
I also took Brian to the Flying Saucer, catercorner from the apartment building, where they have fun trivia on Tuesdays. We only stayed long enough to enjoy a pizza and some drinks. We didn't stick around for the trivia.
You can create your own pizza for about $10. Above is the one like to get. It consists of prosciutto, bacon, and artichoke hearts. I really like the Flying Saucer because the food is pretty good and it's cheap. And the best part is, if you live at One Light then the walk home is only a minute or two.
Bottom line, downtown Kansas City is amazing. I love not having to drive anywhere. And, even though I've only explored a small portion, I can really see us living here and I can't wait to explore more of the area.
If work makes me move, it will not be the end of the world but the beginning of new adventures. I can't wait to explore Kansas City with Brian.
Posted on December 7, 2016 by Ching under Health.
I recently started a Couch to 5K program. I hate running. Absolutely despise it. However, I envy people who run and enjoy it.
A few months ago I asked Tammie, a friend of mine at work who runs regularly and enjoys it, for some advice on how to get started and she told me to do intervals of alternately running and walking. For example, run for a minute, walk for two, and then just do that continuously for 30 minutes straight. I took her advice but, me being me, I needed more structure.
It seems I'm good at telling other people what to do but, when it comes to working out, I need to be told exactly what to do. LOL. Ironic, I know.
Derek, another friend from work, recommended I download a C25K app. I'd seen my friend Andrea post screen grabs from her app and I had other friends who went through similar programs using an app so I found a free app (and there are several in the App Store) that appealed to me and began my C25K adventure last month. November 15 to be exact.
This is a picture of me after completing Week 1 Day 2. I forgot to take a selfie on the first day. Imagine that.
I was in Topeka for training that week so I did the first two days at the fitness center of the Holiday Inn Express. It was a dinky fitness center and there was only one treadmill and, to top it off, the belt had a tear. What a way to start, right?
But I thought, if it was unsafe they would have marked the treadmill as "out of order" so surely it was fine. And, I decided I couldn't use every, little excuse to avoid running. It was now or never.
Although, I did wonder if they didn't bother marking the treadmill as "out of order" because they didn't think anyone would actually use it. The two times I was there, I was the only person in the fitness room so I didn't even bother with headphones. I just played my fun Zumba music straight from my phone. Then again, I had my back to the door, so maybe the Zumba music kept all the other people away?
That Thursday evening, I had to spend the night in Kansas City for a Friday morning meeting there so I completed Week 1 Day 3 at the Kansas City Downtown Marriott's fitness center.
Here's the selfie from that run.
This fitness center is much better equipped than the one at the Holiday Inn Express. They actually have six treadmills, several ellipticals, and a few bikes. There's plenty of equipment for weight training and they even have a studio with some medicine balls where you can do stretching (or dancing) in private.
The other thing that's vastly different about this hotel gym is that it's actually busy. Seriously. I prefer to do my running when I get up at five in the morning, not so much so I'm the only one in the gym (though that's kind of a positive side effect) but because I'm a morning person. Anyway, I'm glad I get up early because by 5:30 AM all six treadmills are already taken and there are lots of people working out throughout the gym already.
The first time I went up there (it's on the 22nd floor of the main Marriott building) at five o'clock I was surprised to see at least a couple of people already working out. I was so sure I would be the first one there. Well, it seems I'm not the only crazy person who prefers working out first thing in the morning.
Anyway, Brian and I were both on vacation the following week but I didn't want to get off schedule so I kept going. Brian wanted to experience downtown Kansas City as I'd been experiencing it working there the last few months so we had a mini Kansas City getaway. We stayed at the Courtyard Marriott in downtown Kansas City. The one by the Kauffman Center. It is newer and the rooms are much nicer than the rooms at the Kansas City Downtown Marriott where I normally stay. They have a smaller gym though, and it's in the basement. There were only three treadmills but, the entire time we were there, I didn't run into anyone else in the fitness center. I think that's partly because it was the week of Thanksgiving.
This is Brian still in bed when I came back to the room after my morning run.
It was this week that I was faced with a major decision. My "free" app was only free through W2 D1. Apparently, I was on the 5K Runner free trial. If I wanted to continue then I would have to download the app for $4.99.
Did I really want to do this?
I pondered this for a bit while Brian slept and I decided that I did want to continue but then I thought $5 was a lot to pay for a running app so I did some browsing in the App Store. I didn't really find any other apps that were equally aesthetically pleasing, plus I was already used to this one so I decided to stick with it. Except, I found the 10K Runner for $9.99. I thought to myself that if I decided to go beyond 5K and continue on to 10K then I would have to spend almost $15 but if I just download the 10K Runner app right then I would be saving myself $5. It never occurred to me that I might not even make it all the way through.
Yes, I'm an optimist.
And so my journey continued. I completed all three days of Week 2 (Monday, Tuesday, and Wednesday) before Thanksgiving, and even with the long break for holidays, I breezed through Week 3 without any major issues. However, I made the mistake of looking ahead and kind of psyched myself out on W4 D1.
I tried to complete it on Monday night after checking in to my hotel and I couldn't complete it. I was devastated. I had encountered my first major setback. I was further worried by some of the articles I found online stating that most people drop out of C25K around Week 4 or 5.
Taking advice from a book I recently finished reading, The Happiness Advantage, I went to my social support network. I texted Andrea, Derek, and Tammie and asked for advice. Even then, I was still very much afraid of failing again. So the next morning (yesterday) I couldn't motivate myself to get up for my morning run. I still got up early so I just ended up going to work early that day. I had a bunch of stuff to take care of anyway so it worked out. But I realized that I was only delaying the inevitable. I would have to get back on the treadmill sooner, rather than later, to stay on schedule.
I recalled one of the key pieces of advice that Tammie gave me about diet. She told me to pay attention to what I'm eating because the foods you eat can either help or hinder your performance. Realizing that I had to complete my run that day to stay on track, I had a light dinner of sushi and chicken yakitori about two hours before my second attempt at W4 D1.
Well, she was absolutely right. I thought I would have to modify the run slightly in order to make it through but I completed it without any issues. I didn't have to change it. I felt so good that I was pretty confident going into my run at 5 AM this morning, even though the running segments were considerably much harder.
Week 4 Day 1 consisted of a 3-minute run, 4-minute run, 4-minute run, and 3-minute run with walking/recovery time in between the running segments. Week 4 Day 2 has two 5-minute running segments in place of the 4-minute runs. And I completed it with no problems.
I'm feeling pretty confident about the run tomorrow also because it's the exact same run I did this morning. The only difference is that the walking/recovery breaks after the 5-minute running segments are a minute shorter (they're only 2 minutes tomorrow, instead of 3 minutes). I don't anticipate any issues though, because the length of the walking/recovery segments today almost seemed to long for me. I felt that ready to start running again sooner than the app told me to. In fact, when it dinged to tell me that I was at the halfway point, I got confused and started running. So I basically started running 10 seconds sooner than I should have. The crazy part is that I normally think 10 seconds is a big deal. Toward the end of my running segments those last 10 seconds feel like an eternity. Today I didn't mind running the extra little bit. I was like, "I got this!"
I know that I'm just getting started and there are going to be many challenging days ahead but I feel like, with the support of some amazing and inspiring friends, I can totally do this. I can't wait to celebrate with you all when I reach the finish line!
When we were in Kansas City last week and trying to decide where we wanted to have our first meal of the trip, I wanted to try somewhere I'd not been before and suggested Lulu's Thai Noodle Shop. It's just around the corner from Boulevard Brewing and it had great reviews. I also had an ulterior motive in that, since I'd have to drive to get to Lulu's (and I hate driving), I wouldn't have any other opportunity to check it out except at that very moment.
Brian, who is not adventurous and can be a party pooper, didn't want to go there. The place didn't look like much on the outside and the area didn't look like the best part of town (forgetting that sometimes that's where the best restaurants are). Anyway, he wanted to go back to Power & Light where things are familiar and asked to eat at one of the restaurants I've tried and enjoyed.
He's not much of a risk-taker so, rather than roll the dice, he wanted to eat somewhere that's already been vetted.

I get it.
Because of our shared love of truffle fries, I decided to take him to BRGR Kitchen + Bar which was just a short walk from our hotel by the Kauffman Center. He had seen pictures of the food I'd eaten there and had been wanting to try it for a while. This place serves all sorts of fries and tater tots (regular, truffle, sweet potato) and also serves onion straws and onion rings and they have various delicious sauces for dipping. I highly recommend getting "the combo" (which is a fantastic deal for $9) and trying three different ones and then going back twice and doing the same thing until you've tried them all. I have to warn you though, the sweet potato tater tots are like crack. They are so sweet and delicious that they almost taste like dessert. At least, they're just as enjoyable to eat.
Quick side story: For some odd reason I kept thinking that this restaurant was related to Rok:BRGR in Hallandale. I told Kelsey that we'd eaten at BRGR before when we were in Florida. I was wrong. I guess I saw "BRGR" in the name and assumed they were related but they are two completely separate restaurants. And, BRGR Kitchen + Bar is tons better than that restaurant in Florida. Then again, I'd only eaten there once so I could have ordered the wrong thing. I could also be very biased because I've eaten at this other one a few times now and all of the experiences have been great. For the sake of this post, and so we can move on, I'm going to say this BRGR is the better one.
Are you ready to see some pics?
This is what the place looks like inside. So, as you can see, it's got a really neat ambiance. They also have these glass doors along Main that can open when the weather is favorable so it feels like you're outside while you're dining inside.
There's several sets as you can see from this photo I stole from the BRGR web site. I had to steal this photo because I didn't get a good photo of the doors when we were there. You can kind of see the doors behind Brian in the picture below.
These doors are all along the side of the restaurant so they can pretty much open the entire place up. Of course the weather was fantastic up until last week. Just our luck! We didn't let the cold winter weather spoil our fun, though.
We started our BRGR dining experience with some fried deviled eggs. Not the best when you're trying to diet but these are amazing.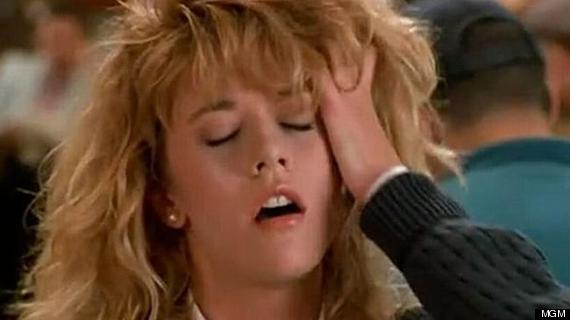 They're "When Harry Met Sally" o-face AMAZING!
Here's a better picture of them up close. I love deviled eggs anyway (not the Dillons kind, but definitely the ones that my mother in law makes) but when you fry something it just kicks it up a notch. I mean, I hate eating veggies but, when you bread it and fry it and make it crunchy, I'll eat them all day long. LOL.
These delicious deviled eggs are not just fried, though. They wrap them in prosciutto (something Brian and I both LOVE) and some kind of crispy sausage first and then fry them. The end result is this great crunchy texture and amazing flavors. It definitely set the bar high for all of our meals on this KC trip.
Because we blew all of our calories (and then some) on the fried deviled eggs, Brian and I decided to just split a burger rather than each getting one. We agreed on the Big Hoss. The burger patty is made of a half pound of ground chuck and short rib blend and served in a salt and pepper bun with a fried egg, bacon, Wisconsin cheddar, steak sauce and onion straws.
Their burgers are enormous but you don't get the full effect in these two photos above. I think next time we should just ask for the burger and split it ourselves because the whole burger will make for a better picture.
We had truffle tots as our side. The truffle tots tasted amazing but the presentation wasn't as cool as that time I ate there and shared "the combo" with Michelle and Selena. We had (from left) truffle fries, truffle tots, and sweet potato tater tots.
I just realized I didn't get a picture of the cool metal containers that they came in so I had to steal this picture from another site.
When Michelle, Selena, and I dined there, Michelle had the chicken not-so-burger. She let me try a piece of it. It was delicious!
I also enjoyed the Roadhouse burger that I split with Selena. It's similar to the Big Hoss except they use barbecue sauce instead of steak sauce, there's no fried egg, and it's served in a corn bun.
That's another thing that I love about BRGR. Other places serve their burgers in the same boring bun. At BRGR they have all sorts of buns to choose from so you can really make your own perfect burger combination.
I like BRGR so much that I'm already thinking about what I will order on my next visit. So, yes. Even though I didn't get to try a new restaurant as I'd wanted, I was completely satisfied with our meal at BRGR. You can never go wrong there!
Here are some pictures from our Boulevard Brewery tour last week.
The gift shop.
Beers available for purchase at the gift shop.
Brian's favorite Boulevard beer.
The Smokestack Room.
My handsome husband.
The Beer Hall.
Beer Hall selfie.
Beer Hall menu.
Here's what the pretzel dogs looked like.
Meat board.
Pretzel bites.
Cute little photo both trailer at the Beer Hall.
Our awesome tour guide.
The original brewhouse.
The stuff that beer is made of.
Not much going on. They shut down production early for the holidays.
The iconic Boulevard smokestack.
Smokestack selfie.
The have a pretty great outdoor terrace.
Cool sign.
Terrace selfie.
Our final stop.
Cheers for free beer.
Tank 7 induced beer happiness.
This pretty much sums it up.
The end.
Since Brian loves coffee, I went ahead and scheduled a tour of the Roasterie factory in Kansas City. A tour of Boulevard was already on the agenda and the Roasterie is conveniently located just down the street from the brewery.
If you've never had coffee from the Roasterie, you're totally missing out. Brian tried it for the first time and he's convinced that it's the best coffee ever. I'm not a coffee connoisseur so I honestly can't tell you the difference. However, I do know that I don't like drinking coffee (unless it's like a super sweet latte or mocha or cappuccino of some sort) and I don't mind drinking Roasterie coffee without any sweetener, creamer or other additives.
The tour went off to a bit of a rocky start. Unlike the brewery tour where you just show up, the Roasterie requires you to reserve your spot for the tour on their web site. I checked the schedule and everything and we made reservations for the 12:30 PM tour. I got an email reminder and everything.
Being the punctual people that we are, Brian and I hit the road early so we could arrive in plenty of time for the tour. We arrived at the factory around noon and we saw that the prior tour was still finishing up. We milled around for a bit, checked out the goodies, and took some selfies and such.
At the end of the other tour, we approached the girl who was doing the coffee brewing demo and asked her where we needed to be for the 12:30 PM tour.
She was like, "There isn't a 12:30 PM tour. We switched to our holiday hours so the next one is at 1:00 PM."
This obviously made me more than a little cranky because I received an email that clearly said 12:30 PM. She offered to get the manager but I was like "Don't bother." I'm just going to tweet you jerks and blog about your ineptitude. I'm kind of passive-aggressive like that. LOL.
Kidding aside, it's a free factory tour. So we thought we could do this first and eat lunch after. It's not their fault that we were getting "hangry" and so I was like, whatever. I asked Brian if he was all right waiting a little bit longer and he was fine so we continued to mill about the store.
Anyway, a few other people showed up after us and I think they received the same wrong information that I received. I thinking that the tour people probably realized that something was amiss because we ended up starting our tour around 12:45 PM instead of 1:00 PM as the girl had previously stated. I'm not sure what happened but I was glad they came to their senses and our wait was cut short by 15 minutes.
The tour starts with a short video (less than ten minutes) about the company's origins and operation. I couldn't find the whole video on YouTube but I did find bits and pieces of it. Here's the bit about how it all began:
Here's the bit that talks about coffee:
Here's the bit about air-roasting:
Now for some pictures…
This is a picture of the cafe at the factory. The most important thing to remember is to wait until after the tour to go to the cafe because if you mention that you took the tour then you get a discount on your purchase.
They have this little alcove with a neat backdrop and so naturally we took a selfie.
This is a picture of the previous tour that was finishing up when we got there.
They have this whole airplane theme because of "air-roasting" and so in the retail store, they have an area with an airplane chair and wood backdrop. They also have different hats and props but Brian has this thing about putting hats that other people have worn on his head (he thinks it will give him lice or something) so you don't really get the full effect here.
The idea is you put on a pilot's hat or use some other prop (there's a coat tree with various objects you can use) to make your photo more interesting. Alas, this is Brian we're talking about so the above photo is all I got.
This is us trying to entertain ourselves while we wait for our tour to commence. You can see the coat tree behind us with the various hats and props to play with for the special photo station. At least that's what I concluded they are for; there weren't exactly any instructions.
All of the people from the previous tour are gone now. Brian and I are just milling about while waiting for the 12:30/1:00 tour to begin. I'm taking pictures because that's what I do to pass the time.
Here's a view of the factory from the retail store.
If you don't have time for the whole tour, you can always observe the operation from the retail store area.
I took photos of the various artifacts they had on display.
Can you tell I was bored? LOL. That's what happens when you arrive for your 12:30 tour and you're told there isn't one until 1:00 PM.
We managed to occupy ourselves, though. There were plenty of interesting things to see like old coffee-related items in the cupboard.
And just various objects on display around the open space next to the store.
Finally, it was time to tour. They gave each of us hairnets. They also had beard nets for the bearded fellas.
This was one of our tour guides.
He was wearing an interesting outfit, which led me to the conclusion that being a hipster was one of the qualifications for being a Roasterie tour guide.
I wish I had a more to say about these photos but I really wasn't paying that much attention to what he was saying.
I was too distracted by his outfit. Just kidding!
It's actually really noisy in there so it's hard to have conversations or hear anything.
I do know that the hole in the coffee bag is not actually a hole. It's a one-way valve that allows carbon dioxide to escape the bag because freshly roasted coffee needs to de-gas. It's so the coffee bag doesn't explode.
Here's some helpful information for brewing the perfect cup of coffee at home.
At the conclusion of the tour, we got to watch (and also taste) the same coffee, Ethiopian Natural (pictured above), brewed using two different brewing methods: French press and pour over.
It was all very interesting and we learned a lot. One of my key takeaways is that I actually don't mind drinking coffee as long as it's good coffee. LOL.
Also, Brian likes the pour over method for this coffee blend. The thing to remember is different methods lend themselves well to different blends you're probably going to prefer different methods for the each.
Once you've found the blend of coffee you like, from whichever region, then you'll want to brew it using different methods to see which method you like best. We tried the same coffee and it really did taste different.
Just between us, both methods seemed like a lot of work to me for a single cup of coffee. She said that after doing it a few times, you actually get used it. It becomes so easy you can even do it half asleep; which is good because if you're like Brian then you're not really fully awake until after you drink your first cup.
Anyway, here are pictures of some of the goodies and gift sets available at the store.
Don't worry. You don't have to drive to the Kansas City factory store to purchase these gifts. Many of them available on their web site. Although, visiting the factory store does have the added perk of a free factory tour.
And, for those who have everything, they also offer "coffee experiences," which can be arranged for a fee by calling the office.
Before I go, I'm going to leave you with this short film about the Roasterie that I found on YouTube. I think this might have been the old video they used to show before they switched to the new version. Anyway, it's super informative. Enjoy!