When we were in Kansas City last week and trying to decide where we wanted to have our first meal of the trip, I wanted to try somewhere I'd not been before and suggested Lulu's Thai Noodle Shop. It's just around the corner from Boulevard Brewing and it had great reviews. I also had an ulterior motive in that, since I'd have to drive to get to Lulu's (and I hate driving), I wouldn't have any other opportunity to check it out except at that very moment.
Brian, who is not adventurous and can be a party pooper, didn't want to go there. The place didn't look like much on the outside and the area didn't look like the best part of town (forgetting that sometimes that's where the best restaurants are). Anyway, he wanted to go back to Power & Light where things are familiar and asked to eat at one of the restaurants I've tried and enjoyed.
He's not much of a risk-taker so, rather than roll the dice, he wanted to eat somewhere that's already been vetted.

I get it.
Because of our shared love of truffle fries, I decided to take him to BRGR Kitchen + Bar which was just a short walk from our hotel by the Kauffman Center. He had seen pictures of the food I'd eaten there and had been wanting to try it for a while. This place serves all sorts of fries and tater tots (regular, truffle, sweet potato) and also serves onion straws and onion rings and they have various delicious sauces for dipping. I highly recommend getting "the combo" (which is a fantastic deal for $9) and trying three different ones and then going back twice and doing the same thing until you've tried them all. I have to warn you though, the sweet potato tater tots are like crack. They are so sweet and delicious that they almost taste like dessert. At least, they're just as enjoyable to eat.
Quick side story: For some odd reason I kept thinking that this restaurant was related to Rok:BRGR in Hallandale. I told Kelsey that we'd eaten at BRGR before when we were in Florida. I was wrong. I guess I saw "BRGR" in the name and assumed they were related but they are two completely separate restaurants. And, BRGR Kitchen + Bar is tons better than that restaurant in Florida. Then again, I'd only eaten there once so I could have ordered the wrong thing. I could also be very biased because I've eaten at this other one a few times now and all of the experiences have been great. For the sake of this post, and so we can move on, I'm going to say this BRGR is the better one.
Are you ready to see some pics?
This is what the place looks like inside. So, as you can see, it's got a really neat ambiance. They also have these glass doors along Main that can open when the weather is favorable so it feels like you're outside while you're dining inside.
There's several sets as you can see from this photo I stole from the BRGR web site. I had to steal this photo because I didn't get a good photo of the doors when we were there. You can kind of see the doors behind Brian in the picture below.
These doors are all along the side of the restaurant so they can pretty much open the entire place up. Of course the weather was fantastic up until last week. Just our luck! We didn't let the cold winter weather spoil our fun, though.
We started our BRGR dining experience with some fried deviled eggs. Not the best when you're trying to diet but these are amazing.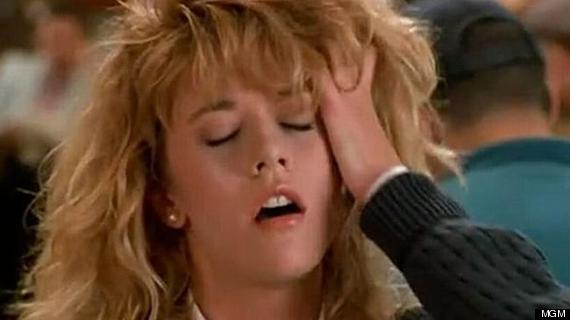 They're "When Harry Met Sally" o-face AMAZING!
Here's a better picture of them up close. I love deviled eggs anyway (not the Dillons kind, but definitely the ones that my mother in law makes) but when you fry something it just kicks it up a notch. I mean, I hate eating veggies but, when you bread it and fry it and make it crunchy, I'll eat them all day long. LOL.
These delicious deviled eggs are not just fried, though. They wrap them in prosciutto (something Brian and I both LOVE) and some kind of crispy sausage first and then fry them. The end result is this great crunchy texture and amazing flavors. It definitely set the bar high for all of our meals on this KC trip.
Because we blew all of our calories (and then some) on the fried deviled eggs, Brian and I decided to just split a burger rather than each getting one. We agreed on the Big Hoss. The burger patty is made of a half pound of ground chuck and short rib blend and served in a salt and pepper bun with a fried egg, bacon, Wisconsin cheddar, steak sauce and onion straws.
Their burgers are enormous but you don't get the full effect in these two photos above. I think next time we should just ask for the burger and split it ourselves because the whole burger will make for a better picture.
We had truffle tots as our side. The truffle tots tasted amazing but the presentation wasn't as cool as that time I ate there and shared "the combo" with Michelle and Selena. We had (from left) truffle fries, truffle tots, and sweet potato tater tots.
I just realized I didn't get a picture of the cool metal containers that they came in so I had to steal this picture from another site.
When Michelle, Selena, and I dined there, Michelle had the chicken not-so-burger. She let me try a piece of it. It was delicious!
I also enjoyed the Roadhouse burger that I split with Selena. It's similar to the Big Hoss except they use barbecue sauce instead of steak sauce, there's no fried egg, and it's served in a corn bun.
That's another thing that I love about BRGR. Other places serve their burgers in the same boring bun. At BRGR they have all sorts of buns to choose from so you can really make your own perfect burger combination.
I like BRGR so much that I'm already thinking about what I will order on my next visit. So, yes. Even though I didn't get to try a new restaurant as I'd wanted, I was completely satisfied with our meal at BRGR. You can never go wrong there!
Related Stories
« Boulevard Brewing Co. « this post » My Couch to 5K Journey »