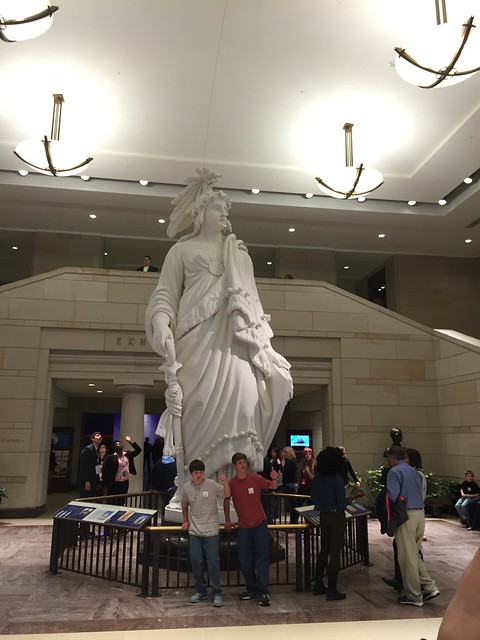 These pictures just give you a hint of the architectural details and art that you can see at the Capitol. They don't do justice to the real deal, though. You'll just have to go check it out for yourself. Click here to arrange for a tour.
I recommend booking a tour in advance because the lines are really long. There's also a "Public Walk-up" option but I wouldn't advice it as there's a chance you may not get a tour at all.
We got our tour through Congressman Huelskamp's office. We were told that the Senators' offices are way busier with their pages giving a couple of tours a week. If you go through the House of Representatives then it's easier to get a tour scheduled because they only do about one or two a month. I'm not sure if this is the case in other states, but it's true for Kansas.
You can book a tour here. If you're not sure who your Representative is, you can find out here. If you're not sure who your Senators are, click here.
Spring and summer are generally busy times for the US Capitol but, if you go, I recommend avoiding field trip season. Seriously. When we were there a couple of weeks ago, the Capitol was so crowded that you could barely move. There were several tours going on at the same time and we kept running into other tour groups.
It was still a great, educational experience overall but I think that it would have been way better if there were fewer people. I hope you all get a chance to visit and tour the US Capitol. Despite the crowds, it was pretty darn cool.
Every time I pick up Kira we drive by a Spangles and she always asks to eat there. Influenced by Brian's dislike of the chain, I usually find ways to dissuade her by offering a better alternative. Last week, on our way to Color Me Mine, I finally caved.
Kira and I had fun painting our projects. I cannot post the pictures here because they are meant to be presents. I'll post the pictures once the have been presented to the intended recipients. Until then, have a fantastic week everyone!
Remember to celebrate love everyday. Not just on special occasions like Valentines Day or birthdays or Christmas. Brian got a surprise gift this week.
I've been really lazy about creating books of our recent travels because it is so much work. Finally got around to making one of Brian's 40th birthday celebration in Dominican Republic. What I love most about photo books is that they let you relive fun memories of travels and various life experiences.
Photo books make great presents. I can attest to this as both a receiver and giver of photo books. If you need a special reason to make one, Mother's Day is just around the corner. Plus, right now you can get one free 8 x 8 photo book from Shutterfly using code 1FREEBOOK. If you want to make a larger book the coupon code gets you $29.99 OFF the total. Hurry! This offer ends tomorrow, March 23.
I recently put a new sign in sheet by my door to help raise money for Big Brothers Big Sisters Bowl for Kid's Sake. I was hopeful that I'd have several donations by now but I've actually had fewer visitors lately. I'm really bummed.
Big Brothers Big Sisters is a cause that is close to my heart so it would really mean a lot to me if you guys help me support them through our generous donations.
Did you know that 67% of former Littles surveyed agree that their Big played a role in their decision to attend college? Donate today to help develop more college grads, community leaders and entrepreneurs.
Will you make a donation today and join my effort to give a child the resources he needs to be successful. Your donation can start a child on the path to academic achievement. Click here to visit my personal donation page.
Don't wait! Donate Today!
Your donation will help change a child's life for the better, forever.
I have the most awesome coworkers who have taught me a lot, including make up and crafts. Here are some pictures from our outing at Backstage Makeup Studio.
Besides learning about make up, I also learned to crochet. Thanks to Jodi and Krystee's lunch time lesson a couple of weeks ago.
Crocheting is actually helping my bowling. I've bowled a 500 series twice since I learned how to crochet. I consider it cross-training.
Here's a picture of my 200 game last Wednesday. I hope I can repeat it tomorrow. It's the cleanest game I have bowled in a long time.
My newly acquired skill allowed me to create this beautiful scarf for grandma.
I foresee handcrafted Christmas presents for everyone this year!
Remember that weekend we had an Arctic blast? Yeah. We we didn't let that scare us at all. My little sister, Brian, and I met up with Faith and her kids, and Peter and Eleanor and Ella for brunch and roller skating.
I got some Groupons for Roller City a while ago and Faith and I have been trying to get together to take the kids skating. This was the only weekend that worked out. The weather was a bummer but the upside was that the skating rink wasn't as crowded as it would be on a typical Saturday.
I don't know how to skate very well. Actually, I don't even know how to skate on my own. Brian has to help me. Everyone else knew how to skate. Ella's still learning but she had a trainer-thing. They only have those for little kids, unfortunately, so I had to rely on Brian as my human-trainer-thing the entire time. I still had fun though.
If you've never been roller skating or if it's been a while, you should definitely check it out. Everyone had a blast! Including me!
The Groupons for Roller City is only available on the web site until March 12 so hurry before the offer runs out. If the link doesn't take you straight there, just type Roller City in the search field. The Groupon is good for 90 days from the date of purchase so you don't have to use it this week. We can use it later. We plan on going back so maybe we'll see you there. Let us know in the comments and we'll meet up!
Despite the challenges we ran into trying to do a couples painting project together last Valentines we still decided to have another go at it this year. LOL.
We initially had a few couples interested but then everyone bailed at the last minute except for Holly and Meader.
When we first decided to do the couples painting thing this year, I was bummed that it wasn't going to be a private event like last year. However, after everyone started bailing, I was relieved that it wasn't a private event because we would have been on the hook for all of those painting fees. Another benefit of the event being open is that we got to meet some really cool people, who we never would have met otherwise. We also bumped into one of Brian's former coworkers at T-Mobile, Levi.
This is the couple painting project that we were going for; unfortunately, ours didn't turn out as successfully. Brian wouldn't even let me take a picture of his final painting.
Mine started out a mess. Brian's started out really well.
Meader's and Holly's paintings started well and ended up awesome.
I guess it works out well when you are creative and have a plan.
Here's a picture of my final painting.
My painting actually looks better after I painted over everything. Brian didn't like the way his turned out after he painted over it so there is no picture of his painting. I don't think we will be putting these paintings on display. We will try this again next year. Hopefully with better results.
I don't always beg people for money… but when I do, it's usually for some kind of bowling charity fundraiser. LOL.
So what's the cause this time? Well, it's an important one that is close to my heart.
I'm bowling on Saturday, February 7, to support the YMCA's Strong Community Campaign. So yes, I'm begging for donations and I'm not ashamed of it. I hope you consider making a donation to support the YMCA's Strong Community Campaign because the Greater Wichita YMCA is the region's largest provider for:
Child Care
Swim Lessons
Summer Day Camp
Youth Sports
Health & Wellness
After School Programs
When you give to the Y, you continue to strengthen our community and move everyone forward. Your gift makes a meaningful, enduring impact right in our own neighborhood.
Please help us build a Strong Community by supporting the Strong Community Campaign Bowl-A-Thon. Your support and generous donations are the reasons why we have the best YMCAs in the nation.
Every donation, no matter how big or small, makes a difference. Thank you.
My little sister and I had the opportunity to do volunteer work together the other day at the Starbird-Devlin Rod & Customs Charities Car Show. It's an annual car show held at the Century II Convention Center. I'm not sure if it benefits the same charities every year but this year all the proceeds from the event are going to the Arc of Sedgwick County, Big Brothers Big Sisters, and Starkey.
I find volunteer work not only rewarding but I really enjoy it. I always have fun, but most specially if the volunteer work entails working at an event. Besides the satisfaction you feel for helping, there are perks such as being able to participate in the event's activities. Having experienced some really amazing volunteer opportunities has made me prefer doing volunteer work to going to the movies or hanging out at the mall. Well, I've never really enjoyed hanging out at the mall. I usually limit my trips to twice a year to get my ring cleaned and inspected at the store where it was purchased.
But I digress, Brian didn't share my passion for volunteer work at first but I'm slowly turning him around. It used to be that you couldn't get him to volunteer to do anything. Now he's more open to it. I had to start with the really fun stuff like Zoobilee. After he realized how much fun you can have volunteering for things, he's starting to warm up to the idea. I'm hoping that my little sister will begin to see the value of volunteer work and that you can have fun while feeding your soul. She has many years ahead of her and can really make a difference in this world.
We were assigned to the Kids' Zone on Friday night so our volunteer work was really less work and more play. Our shift didn't start until six o'clock but I picked Kira up an hour early so that we would arrive at the even early and have a few minutes to look around. I wish Brian could have been there with us. I know nothing about cars and couldn't tell a Corvette from a Camaro (okay, I'm exaggerating) but Brian would have been able to name them all off as we walked past. They all look cool to me.
People did some really creative things with their display. Kira asked to pose with several.
It should be no surprise that she wanted a picture with the pink car because pink is her favorite color. I couldn't tell you what kind of car that is, though.
She wanted a picture with this big truck also.
The Corvettes are always well represented at these events.
We also ran into the Holder family. Andrew had his station wagon in the show. We had to get a picture with his car. LOL.
Speaking of Andrew, he started an auto detailing business a couple of years back. He detailed several cars for the show and I'm sure his own. I hadn't seen his work in person until now. It's amazing. If you guys need your cars thoroughly cleaned, Andrew Holder is your man. You can get more info on his Facebook page: Holder's Auto Detailing.
This isn't even half of the cars in the show but I wanted to show you guys the variety of entries. Today is the last day to of the car show so if you haven't been, I highly recommend checking it out.
They have plenty of activities for the kids also so you won't even need to leave them at home. There are characters working around to take photos with and entertain the kids.
We caught up with a few of them.
Other activities for the kids included a coloring station (that was our assignment), face painting, bracelet making, model car making, bounce house, car racing, shooting baskets for prizes, and various other games. They also have some scheduled entertainment throughout the day like magic shows and such. We didn't get to see one while we were there on Friday but they had a stage area set up for it. I was thinking that must have been for Saturday or Sunday. There's also a bicycle exhibit and a car model exhibit next to the Kids' Zone. It's really cool.
I forgot to mention the photo station where they had cutouts of several cars and kids can take photos with them like they're inside. We only took a photo with one but there were several of these that you could choose from.
Even if you're not into cars, it would be fun to go to the Kids' Zone and hang out. It's something different than the usual weekend activity with the kiddos. There's so many cool things to do at the Kids' Zone that the coloring station was pretty slow. That's actually why we got to play.
We had so much fun that we stayed 30 minutes past the end of our volunteer shift. Kira really wanted to build a model car so toward the end of the evening I told her she could go to the model car make and take station while I manned the coloring station. It had slowed down enough so I was able to pack up the coloring station and join her at the model car making station.
There were three different cars you could choose to build and, wouldn't you know it, this little girl picked the most challenging one. Five minutes before the closing time (Kids' Zone closed at eight o'clock on Friday night) and she was no where near done. The man said we could take it and finish it at home but he didn't mind staying to help because he's there until ten. I felt guilty because I'm sure he had other tasks. It sure was nice of him to offer, though.
Kira wanted two more cars so she wanted me to start building some too. I told her we wouldn't finish in time. I think she just wanted me to start some so we could take a couple of extra cars home. They weren't giving away model car kits. They're there to make on site and then you could take the finished car with you. Of course, if you didn't finish then you could choose to finish it at home. In Kira's case, we were able to assemble the car but we didn't get to put the stickers on. She gets to do that later.
Anyway, I had to explain to her that they couldn't give all the cars away because they needed some for kids to do the next day and the day after. She is so thoughtful, though. She is always thinking of her brothers and her cousins. Any time we go somewhere we can take stuff, she always wants to take extra so she can share it. I knew she wanted the two extra cars for her brothers.
This clever little girl who charmed the man at the car model make and take station into practically building her car for her almost talked him into giving us a couple of car kits to take home. Seriously. Had I gone along with her scheme we probably would have had three cars instead of one. I'm not much of a rule breaker, though. And, the man said he wasn't supposed to give out the kits so I didn't want him to do anything he wasn't supposed to do. Plus, it wouldn't be fair to the other kids.
I wish that I would have gotten his name so I could send him a thank you note. He was the nicest, most patient person ever. And, he practically built Kira's car while still let her participate in the easier parts of the build so she had a sense of accomplishment.
We had so much fun that Kira didn't want to leave. If she had her way, we would still be there today. If you have no plans today, I highly recommend checking out the Starbird-Devlin car show.
Things were going so well… until I got sick. Here's what I missed documenting because we got super busy with stuff.
Brian and I got to watch a Shocker game. Thanks to our awesome neighbors for passing their tickets our way while they were out of town. Men's basketball tickets are in high demand and difficult to come by because most of the games are sold out and people with season tickets do not give them up.
My friend Hideki who can always be counted on covered for me in my 11 AM Zumba class so Brian and I were able to enjoy a nice leisurely lunch at Granite City before the game.
It was a wonderful afternoon, punctuated by more fun and games in the evening at Becca's birthday party/luau.
Mama Dill did an awesome job organizing games. Jay provided fantastic food.
Oh, and Jay and Becca have some awesome neighbors as well. We know this because we went to the wrong house at first and they actually let us in. We think they were after the pies, though. Jokes aside, Brian and I were really grateful that they allowed us to realize our mistake on our own rather than slamming their door on our faces. Granted, I wouldn't have slammed the door on anyone but I wouldn't have let complete strangers into my house. Then again, this was Thanksgiving weekend so maybe people are just super nice and exceedingly trusting around this time of year. Good thing we aren't a couple of serial killers like Juliette Lewis and Brad Pitt in Kalifornia
.
The following weekend was the white elephant gift exchange at our house. I know it seemed really early in the season but we always get so busy as Christmas approaches and it becomes even more challenging to get everyone together. I was worried no one would play, but we had a pretty good turn out.
Brian and I also attended my department holiday celebration at Emporia Country Club. It was a long drive but worth it. It's always nice to spend time with coworkers outside of work. Since I don't really take breaks (except to have lunch with Brian or go home and let the dog out) I don't really get much opportunity to visit with coworkers about non-work stuff. I'm grateful for opportunities to mingle and visit on a personal level.
Of course, immediately after I say this I show you pictures of Faith, Nickira, and Noel at a basketball game. Faith is more than just a coworker to me. Our friendship really developed this year. When I found that I could get extra tickets to the WSU women's basketball game against K-State (thanks to Big Brothers Big Sisters), I immediately thought of Faith and her daughter because I knew they would enjoy it.
I was able to get quite a few tickets so in addition to saving a couple for Faith and Noel, I gave some to my team members also. That's why you see Shanda and Nykole in the background in the photo above.
It was my first time watching the WSU women's basketball team play. Their games are not as popular as the men's (which was good for us because we got to sit just a couple of feet from the floor and watch the game unfold up close, rather than having to watch from the nosebleed section) but they are amazing in their own right. K-State was in the lead at first and then WSU took the lead. By half time it looked like it was going to be a blowout until the last 4-5 minutes when K-State mounted a comeback. It came down to the last few seconds because it was anyones game at that point.
What also heightened the excitement was that Faith had some friends from her church sitting right behind us and they were cheering for the opposing team. It's always fun when you have people to tease and rile up during the game.
Just one more video clip from that exciting basketball game…
In other exciting news, team Alobaker finally made #1 on our Sunday night bowling league. This is huge because we were one of the bottom teams during the first month of Fall league season. We started to mount our offensive while mom and dad were on vacation in the Philippines. I recruited a couple of ringers to sub for us. LOL.
We joked that we were booting mom and dad out of the team because we were starting to do really well. When mom and dad returned our luck (awesome bowling performance?) continued and we continued our slow and steady climb to first place. We still have several weeks to go so I hope we can keep it up.
Oh, and since I really enjoy making you all jealous, I'm posting pictures of my two newest keychains. I worked hard for these! 😉
You don't care about the keychains? Fine.
What about this? We finally got an Xorbee Xotic!
Here's what it looks like immediately out of the box, before expanding.
We been eyeing one of these for almost two years. Ever since I got my giant floor pillow from them. We had to save some money first, though. We are now enjoying the heck out of it. Well, Brian more so than me. He uses it as a gaming chair/bed.
I have a few more things to catch you guys up on but that's pretty much everything that happened until I caught the crud that is going around. I hate getting sick because everyday there is something exciting happening and when I'm sick I can't participate. Everyone knows how much I like to be involved. I prefer living life rather than just watch it go by and often wish I could multiply because it seems like several things are going on at the same time and I want to do it all.
The first night that the flu finally hit me, we had originally made plans to have dinner with Jay and Becca at Red Rock. That same night my friend Cari had a cookie swap. I really hated that I could do neither. It all worked out for the best though, because we're going to do a rain check on dinner. Brian had to work that night anyway and wasn't going to be able to join us. I know there will be another cookie swap because they have these fairly regularly.
I guess this is all I have time to document for now. Come back in a couple of days for more updates on this well-documented life. Happy Holidays!
XOXO,
Ching