My little sister Nickira and I got to hang out on Sunday. We had dinner at Freddy's again because when we went there last Sunday, she didn't get to have funnel cake. This time she had her funnel cake first. I really should have objected because, as expected, she had no room for her bacon cheeseburger after that. Anyway, this just validates my decision not to have children. I think I'm a decent friend/big sister, but I would make a terrible mom.
Nickira and I went to see Big Fish at Century II. It was awesome. I think I enjoyed it more than she did, though. She kind of fell asleep during the mostly talking parts. We got popcorn and skittles during intermission and she was fine after that.
I just love Music Theatre Wichita. Last year Nickira and I went to see Joseph and the Amazing Technicolor Dreamcoat, and Brian and I got to see West Side Story. They were both very good. Big Fish was great, too. I'm looking forward to seeing Hello Dolly with Brian. Each year and each show just gets better and better. We are so lucky to have fantastic shows here in Wichita.
The previous week we went swimming at the Andover YMCA water park. That's another thing we are blessed with — we have the best YMCA facilities in the nation here in Wichita. The water parks at the YMCA are super cool. Kira and I had a great time going down the slides (both of them) and floating along the lazy river.
Before that we attended the Sundaes on Sunday event at the Big Brothers Big Sisters office. This is Kira's sundae creation.
I kept mine pretty basic.
Anyway, it was really cool because we got to play games with other matches. We played Apples to Apples
(one of my favorite games) first and then we played Uno
and Skip Bo
. I'd never played those two card games before.
I had so much fun I ended up ordering both that day from Amazon. They were less than $10 each and relatively inexpensive as games go. It worked out great because we got to play Uno with grandma on Saturday when Brian fixed us lunch at the house. We also played Uno with Kira before going to Big Fish on Sunday.
The time before that we got to do some watercolor painting. We had some extra time and extra resources so we got to paint several works of art.
Pink is Nickira's favorite color so she had to make an all pink one.
We are really lucky that our local Big Brothers Big Sisters organization comes up with some neat match activities. It's fun for just the two of us to hang out but sometimes it's even more fun when we get to do stuff with others. For instance, we've been to Roller City a few times now. While it's fun every time, I think the time that we went with Faith and her kids and Eleanor and Peter and Ella was way more fun even though it was in the middle of what seemed like a blizzard.
One of my most favorites times we've hung out that I haven't shared with you guys is when we were learning Zumba routines. The video above is of Eleanor practicing one of her songs and Nickira was learning it with her.
Nickira and I have now been matched over a year and, more than just being a rewarding experience, it's been really fun. For those of you who have the time to spare, I highly recommend volunteering with Big Brothers Big Sisters. There are several kids waiting for matches. Or, if this isn't your cup of tea, there's many other volunteer opportunities in the area.
Last Sunday was a busy day for us. Brian helped his mom and dad sort through what they could take to Oklahoma. They didn't have room for everything in their car so his mom will take the rest home on her next visit in a few weeks.
I dropped off a Father's Day present for my dad who lives in Derby. I hung out with my family until it was time to head to my Sunday afternoon Zumba class at Andover YMCA. After Zumba I had to skedaddle. Took a quick shower so we could head to Bartlett Arboretum to celebrate Father's Day with David and Donna.
We initially planned to taking Bebot but our new cooler was too big to fit in the trunk filled with folding chairs so we ended up taking two vehicles. Brian and his dad were in Bebot. Donna and I were in Alex. I hate driving in general and I hate driving to unfamiliar places even worse. Brian's GPS decided to go berserk and I was totally stressed out. About an hour later, we miraculously found our way to Bartlett Arboretum safely and unscathed. Thank you, Jesus!
It was a beautiful day for an outdoor concert. Bartlett Arboretum is so magnificent, I couldn't stay upset. The stress and frustration soon lifted away as we sat enjoying the music. I'd never seen or heard Moreland & Arbuckle before but I really enjoyed their performance. The parts we got to watch anyway, since we arrived at the end of the first set. (In addition to getting lost and taking a long time to get there, we actually misread the web site info. We thought the concert started at 5 PM rather than 4 PM. Oops!)
At least now we know how to get there and we know what to expect. It's so beautiful there. Brian and I hope to return for another concert or maybe even attend the Winfield Warm Up in September or the Ecofest in October. There's not any info yet about these two events on the Bartlett Arboretum web site but they're both listed on the Tree House Concerts page so I'm penciling them in.
If you've never been to Bartlett Arboretum, I highly recommend it. It's so peaceful and beautiful, and it's not even that far away (about 40 minutes from our place, without getting lost). Here's a little documentary about the century-old landmark in Belle Plaine. After watching this, I'm positive you'll want to schedule a visit.
See you at one of the concerts!
I had the opportunity to help with the Youth Entrepreneurs summer partnership program at work this year. Our Topeka office has participated in the program for a few years. Last year was our first year to participate. Isaac and I had the opportunity to spend a couple of hours with the kids when they came to tour our Customer Relations Center. These were the most brilliant young minds and they had great questions. I remember wishing that I could have spent more time with the students. This year my wish was granted when our Community Relations Manager Ebony reached out to me to be part of the 2015 summer partnership committee. My work schedule was already hectic but I didn't even have to think about it. Of course, I said yes.
Some important meetings prevented me from being with the class the full two weeks but I did get to interact with the kids a lot more this year, beginning with the mingle/speed interview session we hosted a few of weeks before our June 1 start date.
I was there on the first day when the kids learned about the basics of electricity from Mr. Joe Drassen. It was a really informative presentation.
Several executives made it a point to speak to the class. Mr. Jimmy Martinez talked to the kids about how he got his start, the different jobs he's held in the company, and what he learned along the way.
We got to tour DSO. Pictured above is Mr. Phil Sadler talking to the kids about his area of the business. That same day is when the kids learned about emergency operations from Ms. Natalie Rolfe and Automated Metering Infrastructure (AMI) from Ms. Sherii Farmer.
Since we were in the area, we took the opportunity to get a group photo of the class in front of the Keeper of the Plains. What a great looking group!
Here's a picture of the group at lunch.
The class also got to tour our Emporia Energy Center and learn about our generation portfolio and public relations efforts. I didn't get to go with them on that day because I had mandatory training with my department. That was a really cool day though because the YE class from Topeka met the Wichita class in Emporia so the two groups got to mingle and work together.
The next time I got to join the group was when they went to our service building on Central to learn about safety and training. I was one of the drivers designated to shuttle the kids from the Wichita office to the service building on that day.
The students learned about the importance of wearing safety gear and they got to experience climbing poles. Don't worry. We asked them all to sign waivers ahead of time.
The students were quite competitive, each one trying to climb higher than the last.
Some of the students opted to skip the pole climbing in favor of getting up in the bucket. Others did both. It was really hot but everyone seemed to have a great time. It's so much better when you can make learning fun. I think so, anyway.
I was relieved when it was time to head back inside for the power town demo because I was melting. Couldn't leave the kids, though.
On the day that we were supposed to take the kids to the Symphony in the Flint Hills work site, we had transportation issues so we ended up staying in town instead. It worked out alright because I was a little nervous about driving the 12-passenger van for an hour and half. I'd never driven any kind of van before until that week.
Since we canceled the trip to Strong City (kind of a bummer because we were going to meet up with the Topeka YE class there), I didn't have to drive very far (just to the American Red Cross). The kids still got to experience doing some community service. Some of the kids helped with the fan distribution and disbursement of supplies. Our group helped fold brochures and stuff envelopes and bags.
On one of the days I missed, the class got to tour JR Custom Metal Products and Freddy's Frozen Custard. I was bummed because I really wanted to join them on that day.
I was grateful that our strategy summit ended at noon on Friday because I was able to make it back to the office in time for the final presentations. All of the teams did great but had to be ranked first, second, and third. Potato Power took third, WattStars took second, and Electric Eels finished first.
All of the presentations were very good and demonstrated the depth of knowledge the kids learned in such a short amount of time. During the two weeks the students were exposed to various aspects of our business and then some. Looking back at my own experiences growing up, I really wished that YE was around when I was in high school because the summer partnership experience is amazing. It allows you to learn about the company from the inside and meet people. It's a great networking opportunity. In fact, one of the YE participants last year got an internship this year.
There are several great companies that participate in the summer partnership program. This year the list included Case New Holland, Morgan Stanley, Koch Industries, BKD, Eric Fisher Academy, High Touch Technologies, Cocoa Dolce, General Motors, and RSA. The Youth Entrepreneurs organization participated by hosting a summer partnership as well. Not only do the kids earn valuable experience, they also earn YE points which they can use to either fund their business or higher education.
I wish YE was around when I was young. I highly recommend it. It's a shame it's not available at Derby High School where my nephew goes. Classes are available at several schools in Wichita, though. Check the web site. If you're a student (or have high school age children), this is an opportunity you definitely don't want to miss!
I hope you've taken time this week to enjoy the Wichita River Festival. It only happens once a year after all. If you missed it, I guess there's always next year.
Brian and I got to walk in the Sundown Parade on opening night.
Faith and her kids were there too. It was a ton of fun. Next year I'm thinking of inviting my little sister Nickira to walk in the parade with us. You can see more pictures here.
Last Saturday we did Zumba at Ackerman's Backyard at Riverfest.
It was such a blast!
I'm so grateful to Pat for organizing the event.
Here's a picture of me and Missy below.
After doing Zumba, Brian and I waited in line to for the Wichita Wagonmasters River Boat Tour. I'd been to Riverfest before but I'd never had the patience to wait in line for one of the boat tours. This time we decided to wait it out because my friend Bill who is a Wagonmaster was the "voice" or tour guide.
It was super fun and totally worth the wait. The river boat tour is definitely my favorite event at Riverfest.
Tomorrow is your last chance to check out the 2015 Wichita River Festival and participate in some of the fun events. I encourage you to swing by and check out the festivities because it's not happening again until next year. See you there!
Ever wondered how old you look? Wonder no more. Microsoft came up with a web site to help with just that. I played with it a few weeks ago. Here are the lovely results.
The first photo I tried had me older than mom.
I just couldn't have that so I had to try another. Much better. LOL.
I tried one where I'm by myself so my age isn't influenced by others in the photo.
It got better still.
Here's one where it said I looked younger than Jenni.
These two photos are the best results I got.
What I learned from this is that I look older next to mom and younger next to Brian. I'm just going to stand next to Brian from now on and stay are far away from mom as possible in photos. LOL.
Anyway, it's kind of interesting. You should check out the site and try your own photos.
No trip to North Carolina is complete without checking out the NASCAR Hall of Fame. As luck would have it, the NASCAR Hall of Fame just happened to be right next to the my hotel and the convention center. It was super convenient. And, the conference organizers rented out the whole facility for the evening for our "special event" during CS Week.
The highlight of the event for me was definitely getting this photo with NASCAR legend Junior Johnson, who was there promoting Midnight Moon and signing autographs.
They were doing free tastings of Midnight Moon, handmade moonshine based on Junior Johnson's family recipe. Despite all of the delicious varieties, I skipped the moonshine tasting in favor of getting a picture with Junior. I'm sure it's delicious but Brian told me that it's really strong and warned me to stay the away from it.
Here are a few more pictures from the NASCAR Hall of Fame.
I'm really glad I had the opportunity to attend this conference because I don't know if I would have ever seen the NASCAR Hall of Fame otherwise (it wasn't on the bucket list) and also it was a super duper fantastic conference. (I'm sure I've mentioned it several times already but one of my favorite TED speakers, Shawn Achor, was our keynote speaker on the second day.)
CS Week rented the whole facility for our "special event" so we were free to explore every inch of the museum. It was awesome! I think the look on my face in this photo pretty much sums it up.
This is a racing simulator like none other. You get into real cars and race other people. Alex and I didn't want to stand in the long line so we skipped it.
I heard it was really fun, though.
There was also a pit crew simulation. They had two stations set up so that you could compete with another group to see who could do it faster.
Back on the main level, there was a bluegrass band.
There was also lots and lots of food. There were food stations and bars at every level of the museum so you didn't have to hungry.
I was in sensory overload so I missed taking pictures of the rest of the food but I had to take a picture of this one. As if bread pudding weren't decadent enough. They made theirs with Krispy Kreme donuts!
Alex and I got some souvenir photos.
I'm not a huge NASCAR fan but the NASCAR Hall of Fame is a really cool museum. There were so many interactive things on every level. I couldn't take a picture of everything.
Brian was jealous about this part of the trip. I think he would have really enjoyed the NASCAR Hall of Fame. We may have to go back to he can experience it.
See you again soon, Charlotte!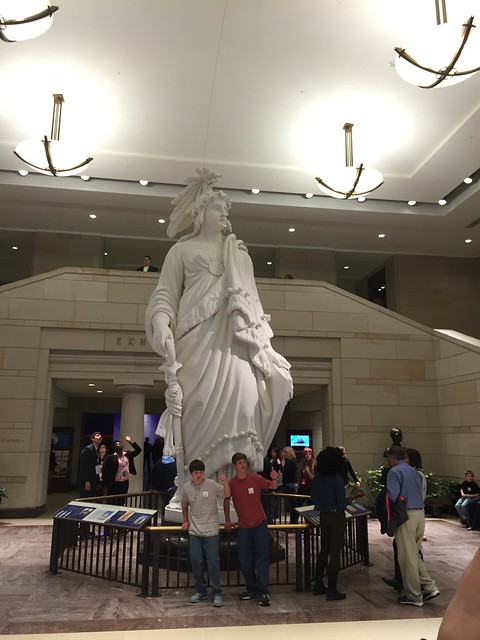 These pictures just give you a hint of the architectural details and art that you can see at the Capitol. They don't do justice to the real deal, though. You'll just have to go check it out for yourself. Click here to arrange for a tour.
I recommend booking a tour in advance because the lines are really long. There's also a "Public Walk-up" option but I wouldn't advice it as there's a chance you may not get a tour at all.
We got our tour through Congressman Huelskamp's office. We were told that the Senators' offices are way busier with their pages giving a couple of tours a week. If you go through the House of Representatives then it's easier to get a tour scheduled because they only do about one or two a month. I'm not sure if this is the case in other states, but it's true for Kansas.
You can book a tour here. If you're not sure who your Representative is, you can find out here. If you're not sure who your Senators are, click here.
Spring and summer are generally busy times for the US Capitol but, if you go, I recommend avoiding field trip season. Seriously. When we were there a couple of weeks ago, the Capitol was so crowded that you could barely move. There were several tours going on at the same time and we kept running into other tour groups.
It was still a great, educational experience overall but I think that it would have been way better if there were fewer people. I hope you all get a chance to visit and tour the US Capitol. Despite the crowds, it was pretty darn cool.
Every time I pick up Kira we drive by a Spangles and she always asks to eat there. Influenced by Brian's dislike of the chain, I usually find ways to dissuade her by offering a better alternative. Last week, on our way to Color Me Mine, I finally caved.
Kira and I had fun painting our projects. I cannot post the pictures here because they are meant to be presents. I'll post the pictures once the have been presented to the intended recipients. Until then, have a fantastic week everyone!
Remember to celebrate love everyday. Not just on special occasions like Valentines Day or birthdays or Christmas. Brian got a surprise gift this week.
I've been really lazy about creating books of our recent travels because it is so much work. Finally got around to making one of Brian's 40th birthday celebration in Dominican Republic. What I love most about photo books is that they let you relive fun memories of travels and various life experiences.
Photo books make great presents. I can attest to this as both a receiver and giver of photo books. If you need a special reason to make one, Mother's Day is just around the corner. Plus, right now you can get one free 8 x 8 photo book from Shutterfly using code 1FREEBOOK. If you want to make a larger book the coupon code gets you $29.99 OFF the total. Hurry! This offer ends tomorrow, March 23.
I recently put a new sign in sheet by my door to help raise money for Big Brothers Big Sisters Bowl for Kid's Sake. I was hopeful that I'd have several donations by now but I've actually had fewer visitors lately. I'm really bummed.
Big Brothers Big Sisters is a cause that is close to my heart so it would really mean a lot to me if you guys help me support them through our generous donations.
Did you know that 67% of former Littles surveyed agree that their Big played a role in their decision to attend college? Donate today to help develop more college grads, community leaders and entrepreneurs.
Will you make a donation today and join my effort to give a child the resources he needs to be successful. Your donation can start a child on the path to academic achievement. Click here to visit my personal donation page.
Don't wait! Donate Today!
Your donation will help change a child's life for the better, forever.