Posted on June 19, 2014 by Ching under Travel.
Chess was one of our favorite activities at the resort. Yes, we're nerdy like that.
It's hard to resist a giant chess board. It just begged to be played.
Hmmm… Decisions, decisions.
This is the forlorn look on Brian's face when he lost. LOL.
This is what he looks like when he wins!
Besides chess, Brian also did a lot of reading. Thank you, Stephen Coonts
! And, yes. That guy behind Brian is smoking. Apparently, smoking is welcome everywhere. Even at the Palace Deluxe (family side) smoking was permitted everywhere. Except the casino. We thought that was a little weird or, at least, backwards. LOL.
Here's another photo of Brian reading.
BTW, the coconut cocktails in the fresh coconut are not to be missed. They cost $2 but worth ten times that. They are delicious. Even Brian liked them.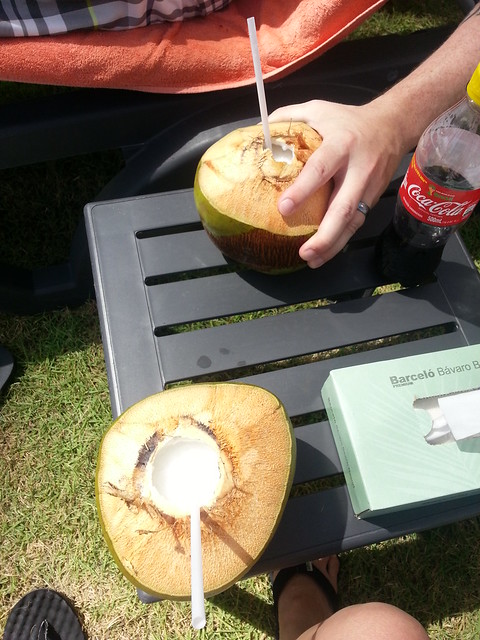 You can get these at La Piña at the West end of the resort.
We thought they were even better than the pineapple cocktails in the fresh pineapple, also available at La Piña for $2. I kept mine and just get refilling it with frozen cocktails from the bar. I could use one of these cocktails right now.
I have more pictures and trip recaps coming. Stay tuned!
Related Stories
« Barceló Bávaro Beach Resort « this post » Poolside Massage, Anyone? »