Posted on June 15, 2014 by Ching under Travel.
Barceló is definitely the largest all-inclusive resort property we've ever experienced. We've now stayed at a small all-inclusive property with limited amenities, a medium-sized all-inclusive with lots of activities and nightly entertainment, and a large scale property where you actually have to take a train to get to parts of the resort.
The Barceló trains run every 15 minutes from about 8 o'clock in the morning to 4 am the next day. There are several stops throughout the Barceló Resort complex.
Our room is the on the leftmost tip of building 4 (upper left corner of this photo). We felt it was the best room on the property because we were ocean front, had our own private lounge chairs on our lawn, and had beach access from our patio. It was also away from all the noise and activity at the pool so it was a peaceful retreat for us at the end of the day.
The room assigned to us was perfect in every way, including the room number. We got 4013, which is perfect because we were there to celebrate Brian's 40th birthday and 13 is his favorite number.
When you look at this panoramic photo below, our room is the one that is right next to the La Piña hut on the right.
The pool on the adults only is huge but it's actually just a fraction of the size of the pool at Palace Deluxe (the family side). It was plenty big enough for me and Brian. The only down side is that there's not a swim-up bar. They have one at Palace Deluxe.
The best feature of Barceló is the location. The property is on one of the best beaches in the world.
There are ample lounge chairs. The setting is natural and beautiful. The grounds are well-maintained. The powdery, white sand feels amazing beneath your feet.
This is view of the Palace Deluxe beach from a distance.
That's the biggest downside. You had to ride a train to Palace Deluxe in order to take advantage of the water sports and borrow kayaks etc. You also had to make a reservation in order to take out one of the hobie cats.
The one thing they didn't have at the Palace Deluxe is Zumba Week.
Yira and Johanna, a couple of awesome Zumba instructors from Santo Domingo, led Zumba throughout the week. This is a photo of Johanna teaching Aqua Zumba.
Here's a video of us doing regular Zumba at the pool.
I'm so glad I brought a pair of sneakers! They came in handy for Zumba.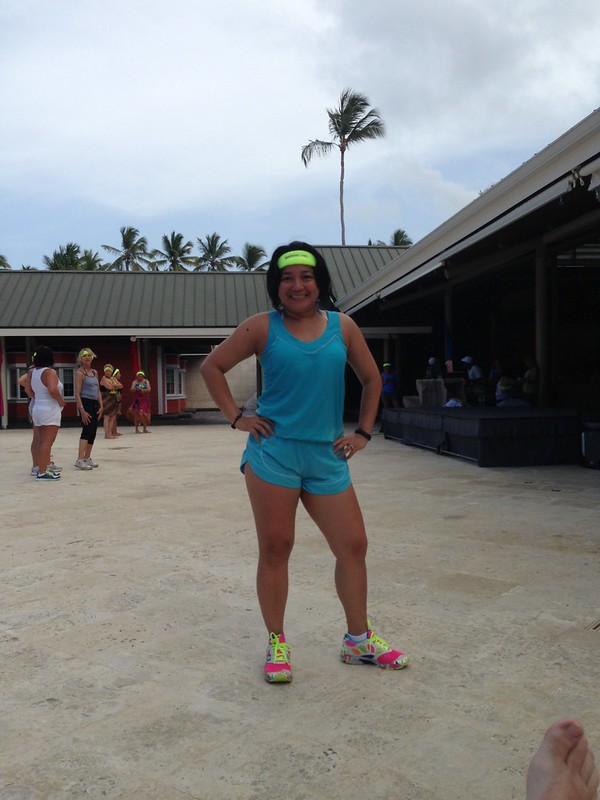 Besides Zumba Week there were actually lots of activities throughout the day. The activity coordinators (they call them "animators" at the resort) did a great job of getting people involved. My favorites were Amiley and Julio.
Activity coordinator Amiley led yoga on the beach. That's one activity that Brian and I enjoyed together.
I also got to play dardos or darts. I actually won against four others and they gave me a small bottle of rum that night during the nightly award ceremony prior to the evening entertainment.
I played beach volleyball with some Russians. I think they were Russians anyway. Some European people too. It seemed like the Americans just wanted to do their own thing and didn't want any part of the resort activities. The Europeans seemed more social or they were interested in the games at least. There was this one guy (I can't remember his name or where is he from) who participated in almost every resort activity available. Well, everything but Zumba. LOL.
They had dance lessons on the beach, language lessons, bocce… Lots of stuff. I recommend participating, specially in the individual sporting events, because they choose winners and then the winners get prizes at the end of the day. They're not cheesy resort knick knacks either. You get a bottle of rum, and who wouldn't want that? That's how I won a bottle of rum for Brian.
Another fun activity I participated in at the resort is Zumba on the beach.
The variety of swimsuit styles we saw made me feel severely over-dressed. Seriously. I'm buying a thong bikini and taking it on our next trip. LOL!
Speaking of swimsuits, you could actually tell where people were from based on their swimsuits styles. The Brazilian women wore the skimpiest swimsuits and tended to sunbathe topless. Anyway, the swimsuit theory was even more true for the men. The American men tended to prefer longer surf shorts. The European men preferred Speedo bikinis or tight, skimpy, little swim trunks that left nothing to the imagination. Some younger European guys did tend to wear surf shorts, but they were shorter in length and you can tell they're not American based on the colors and pattern. Shorts worn by European men were often colorful and wild. Not the sort of prints that American guys go for usually.
Brian's favorite resort activity was double-fisting beers. Although, he was quite disappointed that the only beer he could get for free was the local beer El Presidente. If you want American or other foreign beers then you had to pay for it. Apparently, Barceló's idea of all-inclusive excludes all beers except for one brand. I don't drink beer so it didn't really bother me. It only bothered Brian the first day. Although he wasn't too fond of El Presidente, it didn't really matter much after you've had a few. Specially if you're double-fisting them.
Brian turned double-fisting beverages into an olympic sport. He was even double-fisting at breakfast. This time coffee on one hand and beer on the other.
We did a lot of laying around at the pool also.
This is my favorite chair at the resort. It's so comfortable that you could sleep in it, which makes me wonder how many people have gotten drunk and passed out in it.
They really should have added mango-picking as a resort activity. The mango trees throughout the property were overflowing with fruit. Check out this tree.
Anyway, now that we've stayed at a variety of all-inclusive resorts, I'd have to say that a medium-size adults-only all-inclusive resort like Couples is more my style. We loved staying at Barceló and had a lot of fun last week but the resort was just too big for us. We wanted water sports to be more accessible and we hated having to go over the crowded Palace Deluxe side.
Related Stories
« Adventure Boogies « this post » Chess, Reading, and Cocktails »