Archive for "Web"
Posted on January 23, 2016 by Ching under Web.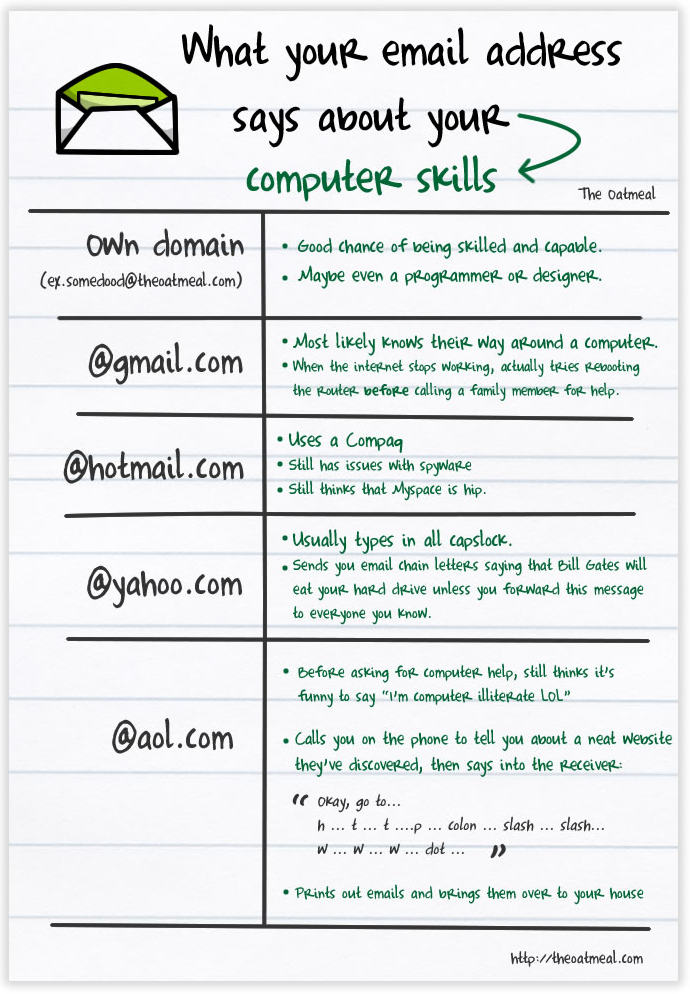 This is old but it still cracks me up. Most of the time I use my Gmail address but depending on who I'm emailing I do use different email addresses. I use my @wichitazumba.net email address when communicating with my Zumba pals, my @brubakers.us email address when communicating with others, my @cox.net for another group, and so on. I have specific email addresses for specific reasons although, despite my best effort, I have gotten lazy over the years and junked a few of these up.
One can only be so organized, you know?
P.S. I have different phone numbers for different purposes too. I'm weird like that.
Ever wondered how old you look? Wonder no more. Microsoft came up with a web site to help with just that. I played with it a few weeks ago. Here are the lovely results.
The first photo I tried had me older than mom.
I just couldn't have that so I had to try another. Much better. LOL.
I tried one where I'm by myself so my age isn't influenced by others in the photo.
It got better still.
Here's one where it said I looked younger than Jenni.
These two photos are the best results I got.
What I learned from this is that I look older next to mom and younger next to Brian. I'm just going to stand next to Brian from now on and stay are far away from mom as possible in photos. LOL.
Anyway, it's kind of interesting. You should check out the site and try your own photos.
Posted on October 27, 2011 by Ching under Videos, Web.
Here's another video clip we got to see today. I wanted to share it with all of you guys before I went to bed. Some things to think about. Good night.
Posted on April 14, 2011 by Ching under Web.
This is by far the funniest thing I've read all week, so I thought I would share it with you guys. Here is a message that I received in my Facebook inbox from Mr. Frank Hustek:
So I saw your post about the KLM Luggage tags. I nearly wrecked my car laughing. As you can see by the picture I sent, how it showed up on my phone. Related Posts: Freebies by Ching: Russian Girl for Marrige!!! Had to share that with you.
I'm so glad you didn't wreck your car, Frank! Thank you for sharing this with me and also for letting me share it with everyone else.
P.S. Has it really been 3 years?! Let us know next time you are in town so we can get together!
Posted on November 21, 2010 by Ching under Tips, Travel, Web.
I had the opportunity to attend the Social Media Customer Response Summit held at the Westin Kierland in Scottsdale, Arizona a couple of weeks ago. There were several great presenters, namely keynote speaker Robert Lamb (AT&T) who wrote Improving Your Bottom Line Through The Contact Center
, Marianne Curran (Go Daddy), John Belanger (Yahoo!), Steve Kaay (US Auto Parts), Keith McArthur (Rogers Communications), Garry Schultz (Sonic/Roxio), John Hernandez (Cisco), Eve Mayer Orsburn (Social Media Delivered), and on and on and on…
Lessons from AT&T's
Social Media Journey
– be responsive
– be empathetic
– map out processes ahead of time
– know and communicate the necessary commitment
– never rest
– offer a clear means of accessibility
– ask your community for ideas and feedback
– measure twice, cut once (something that Lamb mentioned several times during the presentation)
In his keynote presentation, Robert Lamb shared the potential benefits that businesses stand to gain by engaging in social media: [a] competitive advantage, [b] market with targeted demographics, [c] enhance company image and customer loyalty, and [d] increased customer satisfaction. Lamb also pointed out that only 14% of consumers trust ads, while 78% trust peer recommendations. In today's society, our peers include our social media connections.
As someone who relies heavily on web reviews and recommendations, I can relate to this. While I wouldn't consider strangers on a review web site as peers, I will carefully consider web reviews of a product or service I'm buying prior to pulling the trigger. We usually do this as part of our pre-purchase reconnaissance whenever we buy anything, specially electronics items like TVs, cellphones, DVD players, etc. We also did the same thing when we were looking for an apartment earlier this year. We were ready to sign a lease at this new apartment complex in Derby, Kansas (where my parents live) until we read some horrible reviews of the place at Apartmentratings.com. We looked up reviews of two other complexes that made the short list before settling on the place where we currently live. Rent is actually considerably higher here than the two other places we considered, but the rave reviews were the biggest factor in making our final decision. This proved to me how powerful customer recommendations truly are… And now with the increasing ubiquity of social media, the impact of "word of mouth" is significantly amplified. When someone complains on social media, it has a huge impact on the company brand/image — which is exactly why companies can no longer ignore social media.
The second presenter, Marianne Curran, talked about the three main areas of focus: customer service, marketing, and public relations. There is no substitute for real-time human interactions so her advice is to listen and engage, be proactive and timely, and be prompt in your responses. She also shared some of their guidelines at Go Daddy of when not to engage such as when there is nothing actionable, when the comment is simply taunting or baiting, or if legal action is threatened. In these situations, it's best not to engage in the social media interaction.
Social Media Tools Used by Go Daddy
Social Visibility – for broadcasting messages to multiple social networks
x.co – their URL shortener
CoTweet – for managing tweets
TweetReach – to analyze reach and impact
The interesting part for me is that in visiting with the corporate communications and public affairs rep who handles everything that relates to social media in our organization, I found out that he has established similar guidelines for himself when deciding whether or not to respond to social media mentions. He has actually created a decision tree. This is something that is easy to take for granted, but is important to establish so that there is consistency in how social media interactions are handled.
Curran's keys to embracing social media are as follows: be open to engaging, respond promptly, know when to listen and when to engage, don't avoid complaints, and work to turn critics into "super fans." At Go Daddy they've seen an increase in their fans/followers and referred orders and were able to attribute these to their social media endeavors.
Steve Kaay mostly talked about AutoMD, a "comprehensive automotive repair resource designed to empower car owners with the best way to repair their vehicles" that is owned and operated by US Auto Parts. What is brilliant about this do-it-yourself automotive repair portal is that it's helping to grow the DIY market. Rather than stealing market share from its competitors, US Auto Parts is actually making the pie bigger by educating customers through the AutoMD web site so there's more than enough for everyone. I think it's great because their efforts not only benefit consumers, but also their competitors. It reminds me of the "Got Milk?" and "Beef, It's What's for Dinner" and "Cotton: The Fabric of Our Lives" campaigns.
Social Media Customer Care Maturity Model
Level 5: Proactive Engagement
– proactive customer care
– proactive sales
– social media business intelligence
Level 4: Social Media Customer Care
– scalable engagement process
– managed process
– work queues
– teams activity reports
Level 3: Social Media Marketing
– social media strategy
– engagement marketing
– brand dashboarding
– minimal customer care involvement
Level 2: Social Media Broadcasting
– facebook page and twitter presence
– broadcast standard marketing via social media
Level 1: Listening (or Ignoring)
– occasional reporting
– reactive/surprised by social media
John Hernandez talked about being able to achieve "proactive engagement," or what seems to me as the holy grail of social media, where a company is able to provide proactive customer care and harness social media business intelligence. By looking at chatter on your products/services and that of your competitors, you can connect with customers and target real-time opportunities. I think those few companies who have reached Level 5 have considerable strategic advantage over their competitors.
Hernandez also spent some time talking about and demonstrating SocialMiner, Cisco's robust, scalable social media customer care solution (which you can learn more about by clicking on the link). It looked really cool, but was also a bit pricey. Unless you already use Cisco Unified Contact Center Enterprise, in which case I think they throw it in for free.
John Belanger talked about the movement toward customer advocacy, which made me think of what US Auto Parts is doing with AutoMD — members of the community answering questions from other members, helping and supporting one another. He shared with us the case of Piper of Love and how Yahoo! handled the situation. Yahoo! has adopted a customer centric view where the value proposition is focused on servicing all of the customers' (and therefore, the customers' buy decision dictates who the vendors will collaborate with). They're using the See : Act : Learn social support models to further their customer advocacy mission.
Keith McArthur showed us this interesting video produced by Rogers Communications. It depicts the human connections empowered by rapid changes in communications technology in Canada and around the world. McArthur shared with us the Rogers social media journey and gave us the ten commandments of engagement:
1. Make it easy for customers to do business with you.
2. Respond to all direct questions within an hour.
3. Don't replace customer care/support.
4. Try to divert calls from care/support.
5. Take it offline, when possible.
6. Always view the customer profile and recent discussions.
7. Ask yourself, "Will my reply help or make things worse?"
8. Be human — not sales-y or PR/marketing-like.
9. Treat all customers the same, but
10. Don't feed the trolls!
Besides the ten commandments, McArthur also stressed the importance of transparency.
In talking about social media ROI, Garry Schultz said you have to consider the cost/risk to your organization if you do not take any action. It's tough to put an exact dollar amount on that. You can talk about system costs, personnel costs, cost per contact of various communications mediums, but in the end fear is the best way to get the attention of company leadership — or so says LinkedInQueen, Eve Mayer Orsburn. We all had a good chuckle about that during the panel discussion, but it's true.
By the way, Orsburn (author of Social Media for the CEO) recommends the following update frequencies: 7 to 10 times per day for Twitter and 1 to 3 times per day for Facebook. Also, the two largest social networks require different strategies. What works for Twitter won't necessarily work for Facebook and vice versa.
I could probably go on and on and on about all the little morsels of social media knowledge I picked up at the conference, but I think Brian is ready for bed. Probably the best part of the conference, besides listening to each speaker's account of their social media journey, is hearing from the other conference attendees and knowing that you're not alone. Everyone is trying to figure this social media thing out and thinking about how to proceed. Some companies are much further along than others, but we're all in this together and we can all learn from one another's experiences and ideas. The sessions were interactive with good participation from the audience. I think that even the speakers learned from the audience and other speakers. It was a great conference and I'm glad that I was able to attend. I think there is another summit planned for spring 2011, though the date and location have not yet been announced. I highly recommend attending.
So sorry about the long blog entry. I promise the next post will have lots of pictures. Good night all!
Until next time,
Ching