Martin's Tavern is actually where we ended up eating dinner. It's a cozy, little restaurant in Georgetown with limited seating and the smallest restrooms ever built.
They put us in a couple of booths at the very back of the restaurant. Brian and I ended up sitting at the Sam Rayburn Lyndon Johnson booth.
Here are some photos of our delicious dinner, starting with the potato skins.
Calamari and shrimp.
Crab cakes.
I think this might be the lobster risotto.
Leave it to Brian to order the most basic thing on the menu.
Filet mignon.
The chocolate awesome lived up to its name. This was Brian's favorite dessert in DC. He said he liked it even better than the Open City.
I'm so glad we had the opportunity to dine at Martin's Tavern when we were in DC. The food was fantastic and not to be missed.
A word of advice, if you go, do not sit in the very back corner of the restaurant. That's we were seated and it was hot. It felt like we were in an oven. Maybe we were closest to the kitchen and that's why it was so hot? The tavern may be small but there are better places to be seated. Don't let them put you in back.
Another thing to consider is to avoid drinking so much. The restrooms are in the same corner of the restaurant, right above where we were. To get to them you have to ascend stairs that are both steep and narrow. I'm not sure what the men's room was like, but the women's restroom is barely enough for one person. It reminded me of a restroom that you would find on a plane. Actually the whole back section of the restaurant where we were is so narrow and compact that it made me feel like I was on a ship, without the rocking side to side with the waves.
Given the setup, the best advice I can give is to enjoy the food but refrain from excessive drinking. The stairs will be hard to navigate when you're inebriated. They were challenging enough for me and I was sober. Also, the less you drink the fewer restroom trips you'll need to make.
I'm not even done blogging about Washington DC yet and I'm about to leave again. LOL. I better get on it.
These next set of photos were taken at Sequoia, a neat restaurant in Georgetown with breathtaking views of the Potomac River, Kennedy Center, Roosevelt Bridge, Roosevelt Island, Key Bridge, and the magnificent Virginia skyline.
I wish we had a place like this in Wichita.
I wouldn't mind spending hours at the restaurant, drinking and taking in the views.
Did someone ask for a table for two with a great view?
I forgot to mention the splendid view of the fountain below.
Two of my awesome coworkers, Sherry and Selena.
My handsome husband.
Our Sequoia selfie.
Sequoia was the most beautiful restaurant that Brian and I set foot in while in DC. I wish we would have had the opportunity to dine there. Unfortunately, we only had time for drinks (or in my case, a drink).
If I had to do it again, I'd put a nice romantic dinner at Sequoia on the agenda. I can only imagine what the food is like. If it's half as good as the view, then it must be phenomenal. I can't wait to go back!
I forgot to mention to you guys that the buildings in Washington DC are connected by these really cool underground tunnels. One of the tunnels that we walked through had all of these artworks by high school students.
Each congressman got to pick an artwork from a student in their district. These are the four that represented Kansas along the tunnel wall. What a great idea turning the boring tunnel wall into an art gallery. Some of these works were amazing!
The best part was that we got to ride in this special elevator that was just for members of Congress. I pushed the wrong button on accident and it the elevator showed up really fast. We weren't supposed to get in it but since it was already there we did. As we exited the elevator, this prerecorded message (which sounded like the female voice from one of those science fiction films Brian loves to watch) reminded us that this particular elevator was only for members of Congress.
I guess regular people aren't allowed to use it so that there's always an elevator on standby for the representatives when they're hurriedly going to and from places. But, silly me. I wasn't paying attention and clicked the wrong button. LOL.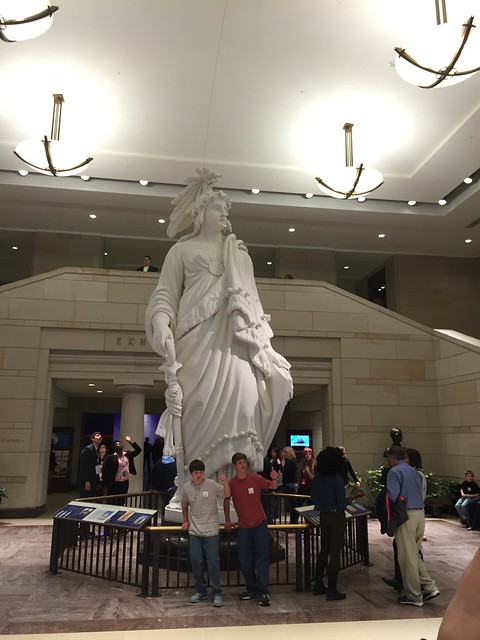 These pictures just give you a hint of the architectural details and art that you can see at the Capitol. They don't do justice to the real deal, though. You'll just have to go check it out for yourself. Click here to arrange for a tour.
I recommend booking a tour in advance because the lines are really long. There's also a "Public Walk-up" option but I wouldn't advice it as there's a chance you may not get a tour at all.
We got our tour through Congressman Huelskamp's office. We were told that the Senators' offices are way busier with their pages giving a couple of tours a week. If you go through the House of Representatives then it's easier to get a tour scheduled because they only do about one or two a month. I'm not sure if this is the case in other states, but it's true for Kansas.
You can book a tour here. If you're not sure who your Representative is, you can find out here. If you're not sure who your Senators are, click here.
Spring and summer are generally busy times for the US Capitol but, if you go, I recommend avoiding field trip season. Seriously. When we were there a couple of weeks ago, the Capitol was so crowded that you could barely move. There were several tours going on at the same time and we kept running into other tour groups.
It was still a great, educational experience overall but I think that it would have been way better if there were fewer people. I hope you all get a chance to visit and tour the US Capitol. Despite the crowds, it was pretty darn cool.
District Kitchen is this really cool restaurant in Woodley Park just around the corner from our hotel. With its exposed brick walls and hip ambiance, the restaurant reminds me of 715 in Lawrence. Maybe it's the lightbulbs.
It didn't take long for the restaurant to get packed.
It was a busy evening so it took a while for our food to arrive. It was well worth the wait, though. Here are some pictures.
These brussel sprouts don't look like much but they were quite popular. Everyone who tried a bite loved it, except for Ginger who found it too sweet. I didn't try it myself though, so I wouldn't know.
After dinner we got three of the desserts to share and sample.
This is the apple and fig bread pudding with vanilla ice cream.
This is the banana créme brûlée.
Brian didn't have dinner because he already had dinner earlier that evening (the babe calzone from Open City, which was his favorite meal DC) but he did enjoy the triple chocolate brownie. It was quite decadent and super delicious. I know because I shared it with him. It's definitely not to be missed.
Another thing that's not to be missed is a trip to the restroom.
Theis is definitely one of the coolest restrooms I've ever used.
I also liked this sign on the wall which is a clever way of saying not to flush anything but toilet paper down the drain. It's in keeping with the bathroom theme and decor.
I really liked District Kitchen. There are lots of neat little restaurants in Woodley Park and I think this is one of the better ones. Darcy did a great job in picking it out.
If you are ever in the area, District Kitchen is definitely worth checking out. And, the best part is that it's only a metro stop away. (At least check out the restroom.)
Just wanted to share with you all my favorite pictures from the National Mall. There are no stores there, by the way.
Jokes aside, it was a beautiful day for a nice walk around the park.
These photos were taken at the Lincoln Memorial.
There were a ton of people there.
Getting a picture of Lincoln's statue without any people in it was quite a feat.
This is a view of the Washington Monument from the Lincoln Memorial.
The reflection pool was empty, which was kind of a bummer. Anyway, here are some more pictures of the impressive Washington Monument.
Did I mention that there were a ton of people?
These photos were taken at the National World War II Memorial
Pictures from the Korean War Veterans Memorial.
These photos were taken at the Vietnam Veterans Memorial.
Brian got some amazing photos of the statues.
We walked along the Tidal Basin where they were celebrating the National Cherry Blossom Festival. We wanted to check out the cherry blossoms, which is a huge attraction in DC during this time of year. They hadn't bloomed yet, though. I was kind of bummed about that also.
We did get a nice picture of the Jefferson Memorial in the background, though.
Anyway, you get the idea. There's a ton more pictures on Flickr if you feel so inclined. Browse away.
P.S. We did get to see the cherry blossoms bloom on our last day, but they weren't in their full glory until after we left.
We walked by this sushi place on our way to the metro station. I wanted to try the $1 sushi at happy hour but Brian was a party pooper and wouldn't let me. I looked at the restaurant's reviews online and they were all favorable. I think we really missed out.
We found a Dunkin' Donuts right by the metro station which was fantastic because it ended up being Brian's daily coffee stop.
I had to take a picture of the restroom at Dunkin' because it had a keypad. You couldn't use the restroom unless you had the code. Weirdest thing ever.
Descending down the metro station at Woodley Park was a trip. It was a long, long, long way down. Naturally, we had to take an obligatory escalator selfie to commemorate our very first time using the WMATA.
This super nice WMATA lady helped us figure out the best way to get around. SmartTrip cards are definitely the way to go because you save $1 on the cost of each fare on Metrorail, which comes out to $2 for each roundtrip far (compared to using a paper farecard). It cost us $10 each to get our SmarTrip cards but each card came with an $8 load, and they're reloadable.
Speaking of fares, we also learned that fares during peak times (before 9:30 AM and between 3:00 PM and 7:00 PM) are more expensive than off-peak fares so, to save on fares, Brian usually didn't leave the hotel to go on sightseeing adventures until after nine.
WMATA has quite an impressive rail system and it continues to improve. They're in the middle of an expansion right now actually. Metrorail pretty much allows you to go anywhere you need to go. We got quite familiar with it during our stay. We'd just take the red line from Woodley Park, where our hotel is located, to Metro Center and we could hop on the silver, orange, or blue lines. It was amazing, and fast too! I can't imagine driving.
If you ever find yourself in the Washington DC area, I highly recommend getting one of these SmarTrip cards. Trust me on this one!
And we take a break from all of the DC blog posts to show you pictures from dad's 60th birthday dinner at Cy's Hoof & Horn.
They say that it's better to spend money on experiences rather than buying things so rather than buying a present for dad we opted buy dinner for the family instead.
For dad's birthday Brian and I took mom, dad, and Jenni to our new favorite place to eat steak. Jenni got the filet mignon, which is what I had the last time. I thought it was good but I really, really liked Brian's chicken fried steak so I ended up getting the chicken fried steak this time around.
Brian and dad both got chicken fried steak also.
I don't know why we each had to get one, all three of us could have shared one piece. The chicken fried steak portions at Cy's are enormous.
Mom got a steak salad. Only my mom would get a salad at a steak place. LOL. At least her salad was topped with slices of beef, I guess.
Brian and I can't wait for his mom and dad to visit because we want to take them to Cy's also. Now that we've discovered Cy's we just want to bring everyone there.
Cy's isn't just a great place to eat steak, it's a great place for a nice family dinner. I hope dad enjoyed his 60th birthday dinner just as much as we did.
Brian and I found this neat restaurant by our hotel called Open City. It's so close that you can see the hotel from the restaurant's patio.
The big windows fold out of the way so that even when you're inside it feels like you're outside. We asked for a table on the patio, but we didn't really have to be outside to enjoy dining al fresco.
The cover of the menu has a drawing of the restaurant's facade.
Lots of great items on the menu, including gluten free pizza. I'm not sure I've come across any other restaurant that offers these. Probably because it's a risky thing to offer considering the crust ends up tasting like cardboard sometimes (or so I've heard). We found positive feedback about Open City's gluten free pizzas online though. Someone sitting at a table close to us who had it even mentioned that they couldn't tell the difference. That's huge. I wonder if cooking the pizzas in their special firebrick pizza oven makes the difference?
Oh, and the best part about Open City is they serve brunch all day long.
I ate at Open City a couple of times with Brian (on our first day and also our last day in DC). I think he ate there more than that because (a) it was cheaper than eating at the hotel, (b) the food is great, and (c) it's just a short walk from our hotel.
We shared the carnivore pizza on our first time at the restaurant. With its generous smattering of pepperoni, bacon, ham, sausage, etc. it's the perfect pizza for meat-lovers like Brian and me.
We had to try one of their pies for dessert because they bake their own pastries. This pie consisted of chocolate mouse and chocolate ganache. They serve it topped with whipped cream. It was delicious! If I didn't know it was so bad for you, I would have had one every single day I was in DC.
There were lots of delicious pastries to choose from in the pastry case. They even had some vegan options.
Brian and I decided to go to Open City again for our final meal in DC. Brian had the babe calzone the day before and he just had to have it again. It doesn't look very appetizing but, after he had me try a bite, I realized why he liked it so much. The calzone was filled with the perfect combination of sausage, ham, pepperoni, and mozzarella cheese. Almost like the carnivore pizza folded over.
I got the Open City grilled chicken wings with blue cheese. They were perfect. They were so good that I wanted to eat them all, except I couldn't because I got so full.
It didn't help that I couldn't stop eating the vegan, gluten free homemade potato chips. They weren't greasy like they sometimes are at other restaurants.
If you ever find yourself in the Woodley Park area in DC, I highly recommend checking out Open City. There are many reasons I can think of why it's popular with locals and visitors alike — they have great food; they offer lots of vegetarian, vegan, and gluten free options; they serve brunch all day; they bake their own decadent pastries; and they're conveniently located close to a metro station. It's definitely worth checking out!
My first Omni experience was amazing so I was super excited to find out that we'd be staying at an Omni for the conference in Washington, DC.
The opulent lobby is consistent with what you'd expect from an Omni hotel, except this hotel is in a really old building so it isn't modern like the Omni I stayed at in Fort Worth.
Our room was spacious but very old school in terms of decor and furnishings.
The room had two skinny doors with glass door knobs. One door led to a walk in closet, while the other door led to a tiny bathroom. The small bathroom wasn't really a surprise considering the age of the building.
We had a nice view of the pool from our room which was good and bad. Good because the view was nice. Bad because we could hear noise from the pool even though we were seven floors up. I can't imagine what the people below us had to deal with.
Other old school touches in the hotel include shoe shine stations…
Old fashioned railings, chandelier, and carpet…
And rotary phones that actually work. I thought they were just decorations and I was startled when I heard ringing when I picked up the receiver.
The backside of the hotel features an extravagant terrace…
With a fancy fountain, beautifully manicured garden/lawn, gazebo…
And a wildlife observation deck just beyond that overlooks a jogging/biking trail.
The hotel itself was nice. The service was not as good as what I'd come to expect from the Omni brand. Housekeeping was really slow, but I think that might be partially due to the super slow, ancient elevators. LOL.
Dining options inside the hotel were limited. However, the one thing that the hotel has going for it is its fantastic Woodley Park location. There are lot of great shops and restaurants just outside the hotel and the closet Metro station is within a short walk. There's also a Dunkin Donuts nearby, which worked out really well for Brian.