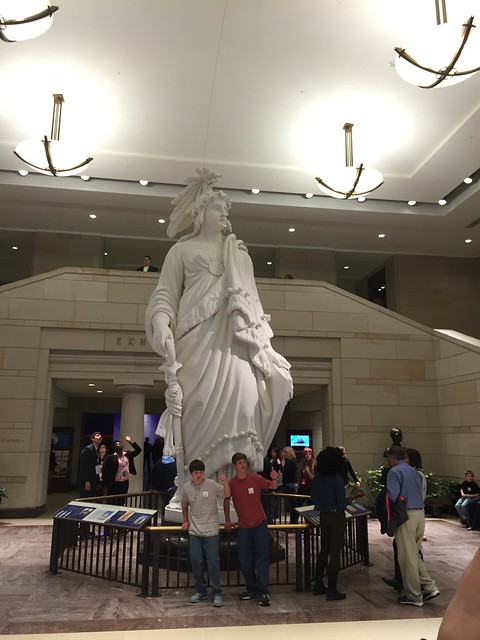 These pictures just give you a hint of the architectural details and art that you can see at the Capitol. They don't do justice to the real deal, though. You'll just have to go check it out for yourself. Click here to arrange for a tour.
I recommend booking a tour in advance because the lines are really long. There's also a "Public Walk-up" option but I wouldn't advice it as there's a chance you may not get a tour at all.
We got our tour through Congressman Huelskamp's office. We were told that the Senators' offices are way busier with their pages giving a couple of tours a week. If you go through the House of Representatives then it's easier to get a tour scheduled because they only do about one or two a month. I'm not sure if this is the case in other states, but it's true for Kansas.
You can book a tour here. If you're not sure who your Representative is, you can find out here. If you're not sure who your Senators are, click here.
Spring and summer are generally busy times for the US Capitol but, if you go, I recommend avoiding field trip season. Seriously. When we were there a couple of weeks ago, the Capitol was so crowded that you could barely move. There were several tours going on at the same time and we kept running into other tour groups.
It was still a great, educational experience overall but I think that it would have been way better if there were fewer people. I hope you all get a chance to visit and tour the US Capitol. Despite the crowds, it was pretty darn cool.
Related Posts
« District Kitchen « this post » Tunnels Between Buildings »