Archive for January 2016
Posted on January 23, 2016 by Ching under Babies, Life.
I finally got Nickira's Christmas present to her after hanging on to it for a couple of months. Ironically, it was the first Christmas present we purchased and it was the last one we had left at home. Nickira asked for the Barbie shopping mall
back in October. I agreed to get it for her and asked her mom to make sure no one else got it for her for Christmas. I think she pretty much forgot that she asked for it. LOL.
The package arrived back in November and we just hid it in the office. I wanted to give it to Nickira before Christmas but she ended up going to Texas and didn't return until after the holidays. Instead we just hung on to it until she got back and I gave it to her on our first meeting of the year.
Nickira set it up in her room the same night she got it and texted me a picture of the completed mall really late. I think it was well after midnight. I didn't see it until the morning. She said it's right next to her dollhouse.
In other news, my boss just celebrated her 60th birthday. Brian and I were fortunate to be there for the surprise party. Carmen and Nick were there too, which is a good thing because besides Ginger's kids we didn't know anyone else there.
Speaking of kids, we're seeing some progress with Molly and Saki. It's slow but I think they're starting to get along bit by bit. They still fight at least a couple of times a day but I'm optimistic that the fights will eventually become less frequent.
Saki is growing exponentially quick. She doubled in size in her first month. When we got her she was only 4.5 lbs, about half the size of Molly. When we took her to the vet for her pre-spaying assessment and treatments she was 7.5 lbs. I left for Topeka that Monday and when I returned a couple of days later she was 9.5 lbs. That was about two weeks ago. This morning Brian took her to the vet to get weighed and she's now 10.5 lbs. She is officially way bigger than Molly who tops out at about 8 lbs on a good day.
We mailed out our "Happy New Year" cards a few weeks ago to make up for not sending out Christmas cards this year.
I love Mixbook because they have really cool templates that you can easily customize. I was able to design the card with just a few clicks. I rushed the text a little bit and later found I omitted a few things. Oh, well. That's what I get for rushing. Overall I was really pleased with how the cards turned out, though.
That's it. That pretty much catches us up, which is good because Brian and I are leaving town tomorrow and we will not have access to internet.
Come back next week to hear about our adventures on the first ever Zumba cruise!
Posted on January 23, 2016 by Ching under Web.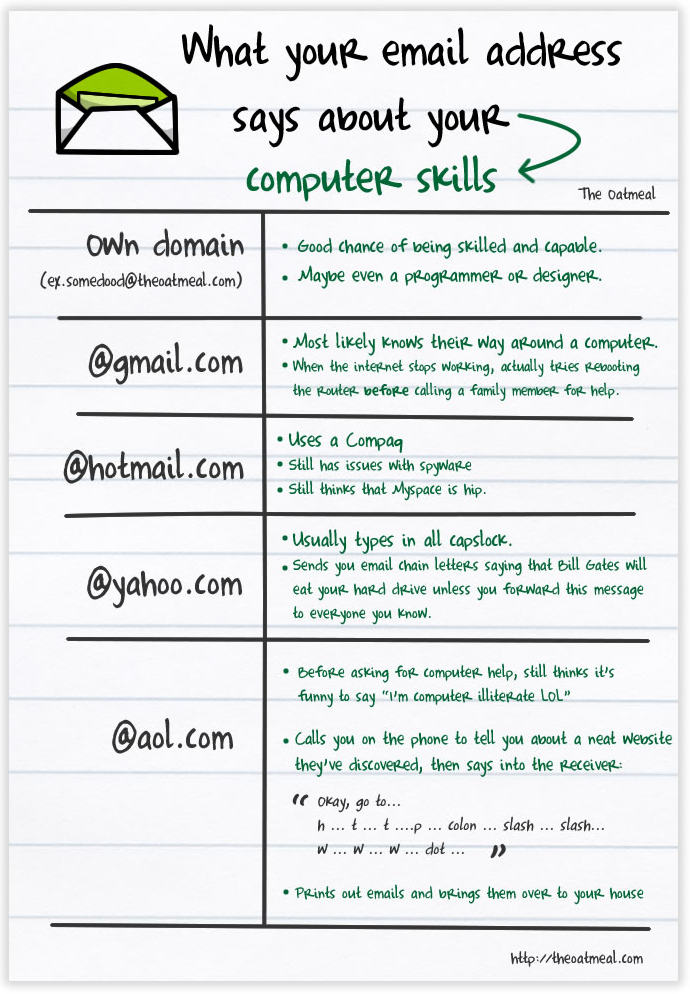 This is old but it still cracks me up. Most of the time I use my Gmail address but depending on who I'm emailing I do use different email addresses. I use my @wichitazumba.net email address when communicating with my Zumba pals, my @brubakers.us email address when communicating with others, my @cox.net for another group, and so on. I have specific email addresses for specific reasons although, despite my best effort, I have gotten lazy over the years and junked a few of these up.
One can only be so organized, you know?
P.S. I have different phone numbers for different purposes too. I'm weird like that.
Posted on January 23, 2016 by Ching under Life.
So, I have 30 minutes before I have to get up and about and I need to catch the blog up on everything before I am a couple of months behind.
Missy's class had the honor of being my very last Zumba class of the year. She was subbing for Sasha downtown on December 31. It was supposed to be a 30 minute class, but we turned it into an hour-long mini-Zumbathon with me, Todd, Holly, Abby teaching a few songs. Above is our "before class" pic. Below is our "sweaty mess" after class pic.
Brian dressed the part but didn't shake it with us. He was just there for moral support but it worked out well because then we had someone to take our photos.
Later that evening we had dinner with Jenni and her friend Adam.
It was a quiet NYE as the NYE party that we were all supposed to attend got canceled due to weather. It was nice being able hang out at home and not having to drive home after too much "celebrating" although it didn't matter much for me because I could not drink as I was on antibiotics.
Nothing against Jenni and her friend but that night made us realize that we prefer to someone else's party on NYE so we can leave right at 11 pm and be home for our annual NYE tradition. This year was the first year that we missed ringing in the New Year in our own special way and it's because we had people in our house until past midnight. I suppose we could have excused ourselves to follow through on our New Year tradition but that would have been both rude and weird.
Despite missing our traditional NYE thing, 2016 is off to a great start. I taught a Zumba class on January 1 to an awesome and enthusiastic group! Of course, I bribed them gifts and that might have been why some were more enthusiastic than usual. But, you have to incent people every now and then. For instance, my mom hasn't come to one of my classes in over a year because "it's so far from Derby" but with a little bit of coaxing and bribing I was eventually able to persuade her to attend.
Chiding aside, I am happiest about being able to teach class on New Year's Day. I wanted to teach so badly last year but I had pneumonia over the holidays and couldn't. The New Year's Day class happened this year and everyone seemed to have a great time.
The high energy of the New Year's Day class is now the standard for 2016 for me.
P.S. Huge thanks to Charis and Abby for leading some songs and bringing their positive energy. With their help, we were able to create a mini-Zumbathon. I had a blast!
I hope this isn't the last time this year that mom and Jenni make it to one of my classes!
A couple of local dancing superstars, Gina and Abby, were in class which was a huge treat. Abby taught a song that was super fun to do. Everyone loved it! The only thing that could have made the day better was if Gina could have taught a song too. Maybe we can work on that for next year's class!
Another huge accomplishment was our organized pantry.
It had gotten really out of control so Brian spent a good amount of time organizing everything. This is him trying to explain to me where everything goes.
Brian got chicken adobo as a reward. Most people think I can't cook because I rarely ever do. I really can cook. I just prefer not to. LOL. It's like Molly and barking. She can bark. She just doesn't. I leave the cooking to the people who enjoy it.
The chicken adobo I made was really good, though. I'm thinking I really should make it more often. Maybe after we return from vacation.
Alright. I'm out of time. The blog is still way behind. I will try to make another cram post this evening. Stay tuned!
Posted on January 16, 2016 by Ching under Family.
Our family had a nice time celebrating Christmas Day at our house. Grandma spent the night so we didn't have to get her first thing in the morning. David and Donna came up for the Christmas holiday so they went to pick grandma up on Christmas Eve.
Grandma met Saki for the first time on Christmas Day.
Both of the girls got special presents, handcrafted by Donna.
This is the present that we received from my half-sister who lives in New Jersey. We received them a few days before but wanted to wait until Christmas Day to open the presents because the packages looked so good under the tree.
She sent us his and hers mugs with our initials.
We experienced a Christmas miracle: a rare moment of Saki and Molly not fighting. It was short-lived, though. Within seconds they were not getting along again.
This isn't a gag gift. Grandma specifically asked for fruit cake.
She also asked for flavored popcorn.
So we got some for her.
She didn't ask for these cookies but we know that she loves them so we try to get some for her every year.
David and Donna also got grandma a basket full of goodies.
Grandma always gets lots of food items at Christmas time.
Donna asked for these Rachel Ray cooking utensils.
We try to follow instructions. LOL.
She also wanted coloring books. So we got her several different kinds. This is one of the books we got her.
We followed instructions except for the colored pencils. Donna had a different brand on her list but Brian insisted that we get Prismacolor because they're of better quality.
David mostly just wanted tools.
All of the presents we got him this year came from Harbor Freight.
Brian got this hoodie, which he absolutely loves.
He wears it everyday.
He also got a monogrammed tie, which he loves.
He doesn't wear it everyday but he has worn it a few times since Christmas.
His favorite present of all is his new bowling bag. Up until now, he'd been using his grandfather's old bag.
Now he has his very own, and it matches his shoes and bowling ball.

Brian, David, and I all got one of these lighted beanies.
They're going to be great for walking the dogs at night or before sunrise.
I got some She & Him CDs from David and Donna.
Saki was my Christmas present from Brian. 🙂
We had a great time celebrating Christmas with the Brubakers. These are just some of the highlights. Click here for more Christmas Day photos.
Posted on January 13, 2016 by Ching under Family.
I just realized that I never posted the photos we took over Christmas. Here are some highlights from Christmas Eve.
We got dad some new Zumba sweatpants and a gift card to Lowe's since he's currently remodeling the basement. He's actually used his gift card already so that worked out really well.
I really didn't know what to get mom because she already has everything and never asks for anything. I decided to get her the Zumba Gold box set. She was super thrilled and has been using it at home since her favorite Zumba class is on hold until February.
I got Jenni a Passion Planner. That was a no-brainer.
Brian and I got these super soft throw blankets for Christmas last year (Brian got a blue one and I got a cream colored one) and we loved them so much that we decided to get Matt and Jen their own. We figured brown was a safe bet.
Logan just wanted cash again. We decided to make him work for it this year so we put the money in smaller wrapped presents inside another wrapped box inside another wrapped box. I noticed he wasn't so excited about the present at first.
I don't think he realized what he was getting until the boxes got smaller. Once he realized he was getting cash, he got pretty excited.
Eli always has some odd requests. One year he wanted a stick vac. Another year he wanted an electric pencil sharpener. This year he wanted a clock that makes relaxation sounds. Brian picked out a really cool one that, in addition to making several nature sounds, projects time on the wall or ceiling.
QQ was pretty easy. He just wanted Hot Wheels.
Click here for the rest of the photos from Christmas Eve.