Archive for "Food and Drink"
Posted on December 22, 2016 by Ching under Food and Drink.
I definitely think I eat out too much. It's something I regret but also enjoy at times. Specially when I'm in good company.
Last week I met Kelsey and Terry at 715, my favorite restaurant in Lawrence. Brian and I got to try it out a few years ago and it has been a favorite of mine ever since. They always have really interesting specials.
That night with Kelsey and Terry they had arroz con pollo on special for $10. Terry and I both had it. It was delicious. It reminds me of arroz caldo, which is a fancy form of lugaw (Filipino rice porridge).
I have made lugaw for Brian a few times before just from scraps I can find in our fridge and pantry. Brian likes it when I make lugaw but this is something way better than anything I could make.
Anyway, the dish had a familiar texture and excellent flavor and I, therefore, loved it. It also helped that I was in the company of two of my favorite people, which made the dinner all the more enjoyable. We had a great time catching up with Terry and his post-corporate-life adventures. I am super sad that he is moving but he is moving somewhere fabulous and closer to his daughter and grandchildren. Who can blame him?
If you are wondering why I am super sad about this and asking yourself who Terry is, then you probably haven't been reading this blog long enough. Just kidding. LOL. Terry was my boss' boss for several years. He inherited the call center when we reorganized in 2009 and so we all became his children. He wasn't officially my mentor but he was my mentor (and still is, kind of – we keep in touch). Seriously. This man pretty much imagined me into being, put me on this path, and made me who I am today.
So that's who Kelsey and I had dinner with last week. The man is incredible. He even bought our dinner. Of course, he probably had some extra change from selling all of their belongings to empty their Lawrence house in preparation for the big Florida migration. They got rid of pretty much everything and they're getting all new stuff for the new place; even kitchen stuff.
He told Kelsey and I about this cool company called Dreamfarm. They make the world's best kitchen tools and gadgets. Period. End of story. And, they even send you cool "thank you" videos when you buy stuff from them.
Anyway, I purposely haven't written about this because I'm worried that as soon as Brian sees all of the gizmos they're hawking on their site he's going to scrap all of our kitchen utensils. That can get expensive.
So, Brian, if you're reading this – don't get any crazy ideas!
Dinner in Lawrence was a nice break from the long drive the Kansas City, which is where I normally spend my Monday nights (so I don't have to get up super duper early in the morning to get to the office). The routine is now a familiar one and I actually kind of enjoy working in downtown KC. There are downsides of course but there are definitely upsides. One of them is Wrap It Up – this new Tex-Mex place I discovered in the food court inside the building across the street.
They serve amazing breakfast burritos!
I can't believe I only discovered them a couple of weeks ago! Selena and I were trying to figure out how we missed this place when we have been getting breakfast from Subway, which is in the same food court, this whole time. I realized why when I got there at 7:45 AM one morning and they were still closed. This place doesn't open until eight. Selena and I are usually getting breakfast well before that (generally no later than 7:30 AM) so all of those times that we'd walked over to get breakfast, we never noticed Wrap It Up serving breakfast because the lights are usually still off and it's completely dark on that side. Had we been coming later in the morning, we would have noticed the long lines of people waiting for their breakfast order. Trust me. It's worth the wait. I haven't been back at Subway since I discovered this place.
The downside is that Selena prefers to eat before eight (I do, too) and she actually likes the flatbread breakfast sandwiches at Subway. They're not bad but I really, really, really like the breakfast burritos at Wrap It Up. I guess I'll just have to stall every morning so that I can still walk across the street with my breakfast partner.
That same day we had our team holiday lunch with Kelsey and Michelle. The four of us went next door to Yard House. Not our first choice but when you only have an hour and you want a nice sit-down meal, your options are kind of limited. Kelsey actually suggested Webster House, which is where she had lunch with the One CIS change management team the week before. Unfortunately, that restaurant is quite popular for holiday lunches around this time of year because there weren't any reservations available until 1:45 PM. We were stuck with Yard House.
Here are pictures of our four plates:
You'll never guess which one mine is because I usually pick the crappiest, fattiest food item on the menu. This time I decided to go with a healthy option based on the advice of my friend Tammie who told me that I would be more successful with my running venture if I had better nutrition. I'm not much of a salad-eater but that last plate is mine. I had the summer salad (minus the leeks) which is a vegetarian option but, seeing as I'm not a vegetarian, I added chicken.
My salad consisted of romaine, strawberries, avocado, oranges, candied walnuts, and, of course, chicken, and it was absolutely delicious. I have never been so happy eating healthily in my entire life. I would get this salad every time. I now look forward to my next visit to Yard House because I've found something amazing on the menu that isn't completely terrible for me. No more vampire tacos or greasy mac n' cheese for this girl. LOL.
Finally, there was dinner at Anton's, which I will have to write about separately. There will be pictures and words to go along with it so stay tuned.
Anyway, I eat out way too much.
Posted on December 21, 2016 by Ching under Food and Drink.
So I finally got my wish of eating at Lulu's. LOL.
When we were in Kansas City a few weeks ago over Thanksgiving break, I suggested eating at Lulu's when we drove by the restaurant after our Boulevard Brewery tour. The restaurant doesn't look like much on the outside and Brian felt the area was a bit sketchy so he wanted to go back to the more familiar Kansas City Power & Light District. We ended up having a nice dinner at BRGR so it was all good but I couldn't help feeling disappointed that I missed an opportunity to eat at a place I hadn't tried before. Seeing as I don't like to drive, I figured I may never get a chance to try Lulu's.
I was telling my coworkers about it the following week and, after checking out the Lulu's menu and reviews on the web, they all decided that we should check it out. Ha! Take that, Brian!
Here's what the restaurant looks like inside. It's kind of dark with a hip vibe. We definitely do not have any Thai restaurants like this in Wichita.
This is a picture of their crab rangoon made with real crab meat.
I can't remember what this is. Actually, I'm not sure I had any because there were only three pieces and I was too busy stuffing my face with crab rangoon.
This a picture of the "build your own" lettuce wraps, served with fresh carrots, bean sprouts, red cabbage, cilantro and a side of peanuts and ginger peanut dressing.
Kelsey had the lettuce wraps for dinner. She has been eating very clean. These next two dishes are Michelle's and Selena's. I wish I could remember what they had. They both really enjoyed their entrees.
I had the massaman curry, which is what I always get on my first visit at every Thai restaurant. It's a safe bet and gives me a good basis for comparison.
Also, Lulu's offers bubble tea. Naturally, I had to try it.
So the food was absolutely delicious. I think we all enjoyed every bite and ate too much. I know I did. The tea was just okay. I had taro bubble tea and it wasn't as good as the taro bubble tea I had at ICTea not too long ago.
I still really like the place and I will definitely be back – but not for bubble tea.
When we were in Kansas City last week and trying to decide where we wanted to have our first meal of the trip, I wanted to try somewhere I'd not been before and suggested Lulu's Thai Noodle Shop. It's just around the corner from Boulevard Brewing and it had great reviews. I also had an ulterior motive in that, since I'd have to drive to get to Lulu's (and I hate driving), I wouldn't have any other opportunity to check it out except at that very moment.
Brian, who is not adventurous and can be a party pooper, didn't want to go there. The place didn't look like much on the outside and the area didn't look like the best part of town (forgetting that sometimes that's where the best restaurants are). Anyway, he wanted to go back to Power & Light where things are familiar and asked to eat at one of the restaurants I've tried and enjoyed.
He's not much of a risk-taker so, rather than roll the dice, he wanted to eat somewhere that's already been vetted.

I get it.
Because of our shared love of truffle fries, I decided to take him to BRGR Kitchen + Bar which was just a short walk from our hotel by the Kauffman Center. He had seen pictures of the food I'd eaten there and had been wanting to try it for a while. This place serves all sorts of fries and tater tots (regular, truffle, sweet potato) and also serves onion straws and onion rings and they have various delicious sauces for dipping. I highly recommend getting "the combo" (which is a fantastic deal for $9) and trying three different ones and then going back twice and doing the same thing until you've tried them all. I have to warn you though, the sweet potato tater tots are like crack. They are so sweet and delicious that they almost taste like dessert. At least, they're just as enjoyable to eat.
Quick side story: For some odd reason I kept thinking that this restaurant was related to Rok:BRGR in Hallandale. I told Kelsey that we'd eaten at BRGR before when we were in Florida. I was wrong. I guess I saw "BRGR" in the name and assumed they were related but they are two completely separate restaurants. And, BRGR Kitchen + Bar is tons better than that restaurant in Florida. Then again, I'd only eaten there once so I could have ordered the wrong thing. I could also be very biased because I've eaten at this other one a few times now and all of the experiences have been great. For the sake of this post, and so we can move on, I'm going to say this BRGR is the better one.
Are you ready to see some pics?
This is what the place looks like inside. So, as you can see, it's got a really neat ambiance. They also have these glass doors along Main that can open when the weather is favorable so it feels like you're outside while you're dining inside.
There's several sets as you can see from this photo I stole from the BRGR web site. I had to steal this photo because I didn't get a good photo of the doors when we were there. You can kind of see the doors behind Brian in the picture below.
These doors are all along the side of the restaurant so they can pretty much open the entire place up. Of course the weather was fantastic up until last week. Just our luck! We didn't let the cold winter weather spoil our fun, though.
We started our BRGR dining experience with some fried deviled eggs. Not the best when you're trying to diet but these are amazing.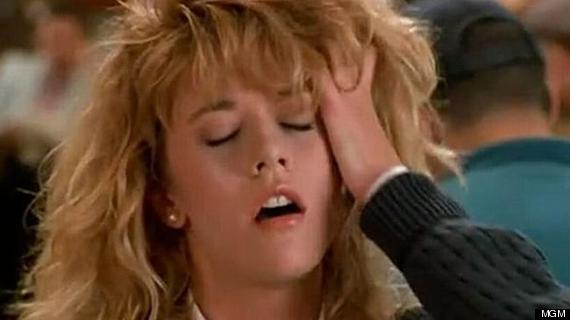 They're "When Harry Met Sally" o-face AMAZING!
Here's a better picture of them up close. I love deviled eggs anyway (not the Dillons kind, but definitely the ones that my mother in law makes) but when you fry something it just kicks it up a notch. I mean, I hate eating veggies but, when you bread it and fry it and make it crunchy, I'll eat them all day long. LOL.
These delicious deviled eggs are not just fried, though. They wrap them in prosciutto (something Brian and I both LOVE) and some kind of crispy sausage first and then fry them. The end result is this great crunchy texture and amazing flavors. It definitely set the bar high for all of our meals on this KC trip.
Because we blew all of our calories (and then some) on the fried deviled eggs, Brian and I decided to just split a burger rather than each getting one. We agreed on the Big Hoss. The burger patty is made of a half pound of ground chuck and short rib blend and served in a salt and pepper bun with a fried egg, bacon, Wisconsin cheddar, steak sauce and onion straws.
Their burgers are enormous but you don't get the full effect in these two photos above. I think next time we should just ask for the burger and split it ourselves because the whole burger will make for a better picture.
We had truffle tots as our side. The truffle tots tasted amazing but the presentation wasn't as cool as that time I ate there and shared "the combo" with Michelle and Selena. We had (from left) truffle fries, truffle tots, and sweet potato tater tots.
I just realized I didn't get a picture of the cool metal containers that they came in so I had to steal this picture from another site.
When Michelle, Selena, and I dined there, Michelle had the chicken not-so-burger. She let me try a piece of it. It was delicious!
I also enjoyed the Roadhouse burger that I split with Selena. It's similar to the Big Hoss except they use barbecue sauce instead of steak sauce, there's no fried egg, and it's served in a corn bun.
That's another thing that I love about BRGR. Other places serve their burgers in the same boring bun. At BRGR they have all sorts of buns to choose from so you can really make your own perfect burger combination.
I like BRGR so much that I'm already thinking about what I will order on my next visit. So, yes. Even though I didn't get to try a new restaurant as I'd wanted, I was completely satisfied with our meal at BRGR. You can never go wrong there!
Brian and I took the week off (well, most of the week – Brian actually has to work today) for Thanksgiving and so we started our celebration on Friday evening. We wanted to celebrate the fact that we wouldn't have to go back to work for a week. And we decided to take our celebration Carrabba's.
Neither of us had been to Carrabba's in years. Brian and I figured it's because we no longer live on that side of town. Besides that though, the restaurant is on a really busy street and we, like most people, like to stick within a few miles of our comfort zone. Whatever the reason, Carrabba's ended up not making the restaurant rotation. But that changed last Friday.
When we ran into Joe at Brew Ha-Ha a few weeks ago, he talked up their new apple cider sangria. And you know me. Sangria is synonymous with celebration so I talked Brian into going their for our first meal of officially being on vacation.
It doesn't look like much but this is the most delicious sangria I've had in a really long time. You all know how much I love the blackberry sangria at Carrabba's. I drink pitchers of it at a time. This recipe is even better than that. You all will have to try it. You won't be disappointed. I promise.
Another thing I like about Carrabba's is their fresh bread and flavorful dipping oil. I had to get a picture of our bread basket and the oil and herbs.
Then we started with a couple of small plates. Joe really talked up their small plates too, so we had to try some of them. Naturally.
This is the arancini. They're crispy risotto balls. Brian loved these so much that he wanted to order a few more and make a meal out of them.
We also ordered the meatballs and ricotta. Now this, I could have made a meal out of! The meatballs were so good and I love who the ricotta and romano cheese worked with the pomodoro sauce. Incidentally, the pomodoro sauce is my favorite type of sauce at Carrabba's. I always get it on my pasta.
Anyway, this is the small plate that keeps on giving. Even after you finish eating the two meatballs, you can still enjoy the sauce by dipping your bread in it.
One of the servers tried to take it away and we told him no. I wanted to enjoy every last drop. Our server confessed that the sauce is her favorite part as well and she makes a meal out of this on some days.
Brian and I agreed that on our next visit, we're just going to get several small plates and dessert. And maybe a pitcher of that apple cider sangria for me. LOL.
For our meal we decided to go back to our old standby, the Chicken Bryan. We like not not because it shares Brian's name but we really do like the flavors. You can't beat wood-grilled chicken and goat cheese.
I always ask for capellini pomodoro (angel hair pasta in their pomodoro sauce) because the pomodoro sauce is my favorite. And then Brian and I usually just split that. We also split a Caesar salad before the entree so between that and the appetizers we are usually too stuffed to each get our own meal. Doing it this way ensures we don't have to take home any leftovers. It works perfect.
We finished our celebratory meal with the sogno di cioccolata (chocolate dream). It's my favorite dessert there. I liked the dessert Rosa also, which was a light, fruity cake but I think they quit making it years ago.
Anyway, Brian was like, "This is amazing! I don't think I've ever had this before."

I was like, "Yes, you have! You've had it several times and you like it so much that we ordered an entire pan of it for my birthday one year."
It was my 35th birthday and we bought dessert for everyone. Thus, we ordered the entire pan. Anyway, I searched and searched my Flickr albums for a picture of that pan of the dessert but the next set of pictures were all I could find.
It was 2011 and I had just started losing weight so I guess I was more concerned with getting pictures of myself than pictures of food in those days. LOL.
Speaking of birthday celebrations, we're coming back to present day now.
We went to Margarita's (another place we haven't been in a long time) to celebrate Andrea's 30th birthday on Saturday night. Margarita's is a popular place for celebrations. I think there must have been a dozen different birthday celebrations going on there that evening.
Here are a few more pictures from that evening.
Missy took her shoes off to get down on the dance floor. Naturally, I took a picture with it. They were some cute boots.
Here's Missy and Charis together.
This photobomb by the guy at the next table (found out his name is Corbin) was by far the funniest. I think everyone at their table tried to be part of our picture. LOL.
And then Brian and I didn't make the group photo because we had already left by then. We are old and, after dancing a few times, were pretty much done.
We gave Andrea her birthday present and card, and had a wonderful dinner with friends, and we danced a few times, and then we were pooped. I guess that's what happens when you get old.
Oh, to be young and 30 again! I miss those days.
That's pretty much how our vacation started. Come back soon for more of our time off adventures. I have lots to share!
Posted on November 21, 2016 by Ching under Food and Drink.
Brian and I discovered a new sushi joint last weekend. It's in the space that formerly housed the Pink Boa in the strip by the Dillons Marketplace in Andover.
The interior of the space, which sat empty for a long time after the store closed, has been completely remodeled. It definitely no longer looks like the Pink Boa.
They have a pretty extensive menu.
They also have really good lunch specials.
I thought their miso soup was good but Brian didn't think it had enough flavor.
I only had a taste of it though because I ordered the seafood soup for myself.
Here's a picture of their delicious seafood soup. I thought it was an excellent value with lots of yummy shrimp, crab, scallops, and pieces of squid all for less than $7.
Of course, Brian and I had to try the sushi.
We ordered the specialty roll called the Lion King.
Brian had the chicken teriyaki box, which was also an excellent deal.
All of their prices are actually pretty reasonable and the food is fabulous. Brian and I have already talked about returning to try some other things on the menu. We may even take grandma on our next trip there.
And, in the event you're looking for something different to do on Thanksgiving, they're open. If we weren't already hosting Thanksgiving at our house, this is probably where we would be. LOL. It's definitely nontraditional.