Brian fit right in. All he needed was a badge.
Brian with ZES Tony Witt, one of my Zumba idols.
My friend Sarah at the kick-off of her very first ZINCON.
There were a few awards given at the kick-off. Dr. Tal Ben-Shahar was our keynote speaker this year. He was great, but the highlight of the kick-off was definitely Claudia Leitte. What a treat!
My first session was with Lindsey Taylor, another one of my idols.
Then it was time for Reggaeton Rebellion with Loretta Bates and Marcie Benavides, two more of my Zumba idols.
Loretta Bates is amazing!
It wasn't until halfway through the session that I realized Missy was in my same workshop! It was a great surprise!
We got great pics with Loretta, Marcie, and DJ Francis.
Lauren and Kelsi were on the same floor as me at the hotel.
Mastering the business of fun!
Zumba Step master class with Marcie.
Here are some pictures from Zumba Gold training.
I learned Zumba Gold from the best, Ann Saldi and Lars Wensink.
Brian did some shopping for me while I was learning stuff.
Brian also ran into Johanna and Yira from Santo Domingo.
We met these two amazing Zumba instructors while we were at Barceló a couple of months ago. They're like the Latin American versions of Lauren and Kelsi. These partnerships make me wish I had a ZIN BFF of my own.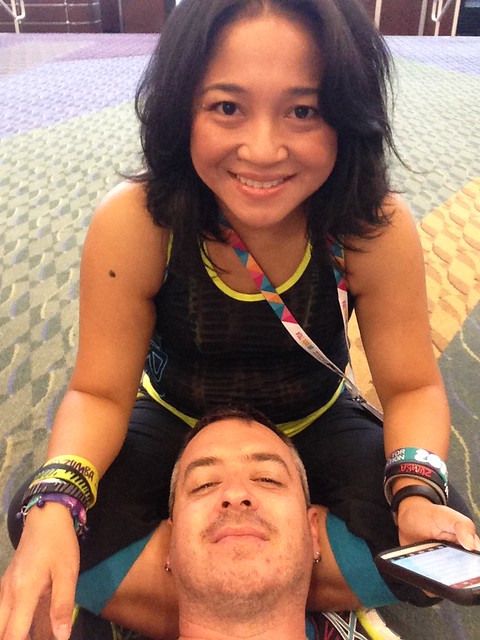 Here's a picture of us waiting in line to enter the fitness-concert.
While we were in line for the fitness-concert, a group of Venezuelan Zumba instructors entertained us by singing and dancing. Brian got some videos.
We were in the line for the fitness-concert for an hour or so but the entertainment made the wait go by faster.
It seemed like there were a lot more people at this year's fitness-concert. I thought the fitness-concert last year was cooler though. This year people weren't following the rules. They brought bags and water bottles even though they weren't supposed to and people wouldn't spread out so we could barely move to dance.
Here's a video of the mass exodus after the fitness-concert.
Pictures really don't do it justice. You just have to experience a ZINCON fitness-concert for yourself to truly appreciate the craziness.
The next day I had Zumba Step training with the amazing Marcie Benavides and Eric Aglia. Several other ZESes helped also.
Here's a picture of Marcie with all the ZESes who helped during training.
If you think Eric Aglia (guy in the red pants) looks familiar, it's because he's one of the instructors featured in the Zumba World Party video game.
I am in such awe of Marcie. I can't believe this woman is 40. She doesn't look like it at all. My goal is to hopefully be as healthy and fit as she is when I'm 40.
I snapped a few photos to memorialize my Zumba Step training. I feel so blessed to have learned Zumba Step from the best.
Here's a picture of me with the trainers taken at the end of our training workshop.
I had to get another pictures with Eric when I ran into him in the elevator because this guy is amazing. I was front and center for training but apparently I wasn't memorable because he didn't remember me from class. LOL.
This is a photo of Francesca Maria performing at the theme party.
Dahrio Wonder and Gina Grant performed.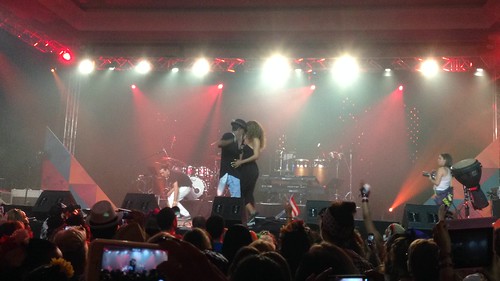 Armando Salcedo and Heidy Torres performed.
Other performances included Myrto, El Chevo, and Mara. Claudia Leitte performed during the kick-off event. Wisin performed during the fitness-concert. For the theme party there were several performances. There are rising Zumba performers everywhere so each time someone came out they would say which country was represented.
It's so amazing how Zumba brings the world together. There were 97 countries represented this year. ZIN members from all over the world traveled to Orlando to participate in this year's ZINCON. Amazing feels like an understatement. I always say that there are no words to describe ZINCON. It just has to be experienced first hand.
This year's theme party was not as elaborate as last year but the performances were great. People had some crazy costumes last year. It also felt like several people opted to skip the theme party this year. Last year that whole area right outside the ballroom was packed. We were shoulder to shoulder, and there were even more people inside the ballroom. I'm thinking that the $9 Bud Light bottles might have something to do with it. Yes, the drinks were crazy expensive. I think they were even more expensive this year than last year.
Brian and I were smart this year, though. The Walgreens next to the Rosen Centre sells beer and wine so we stocked our fridge and pantry. Since we were drinking every night we were there, we didn't feel compelled to spend hundreds of dollars on drinks at the party. Plus, I didn't really care to drink the Bud Lights because I had Angry Orchards back at our hotel room.
We didn't stay at the theme party too late. We just stayed for all of the performers we'd never seen perform live before. After all of that, the official ZINCON house band took over and we'd watched them perform last year. They just do mostly covers anyway. They sang this year's hits but it's still the same guys. We didn't really feel like we were missing much by taking off before midnight.
Besides, I had a big day the next day. I had a session with Filipino ZES Prince Paltu-Ob. He came highly recommended by my friend and fellow ZIN Gerard Patalano who I met at last year's ZINCON. I'd heard great things about Prince from others also so I was super excited. I was actually the first one in class. I got there even before he did. We snapped this photo before our session started.
I met other Filipino ZINs in our workshop. We snapped this photo after class.
The session with Prince was my last one before the closing session. This was a big deal because this was the first time ever that they'd had a closing session on the schedule. Usually everything just kind of ends after your last session.
Anyway, we finally got to see the third Alberto, Alberto Aghion. Everybody knows Alberto Perez aka Beto because he is the face of Zumba. If you've ever been to ZINCON, then you've also seen Zumba CEO Alberto Perlman. He always speaks at the kick-off event. There's rarely ever an Alberto Aghion sighting. I guess you could say he is the "silent" partner. LOL. I always thought the guy was imaginary until now.
This is the holy trinity of Zumba, the three Albertos, all in one place right here. It's amazing the universe didn't implode. You never see these three guys together. Or as Beto would say, chugether.
Here's something else you don't see very often: Beto, Gina Grant, Kass Martin, Loretta Bates, Marcie Benavides, and Ann Saldi all dancing on the same stage.
What a treat!
Here's a short clip. Pardon the audio quality.
After the closing session we headed to the pool to hang out. Holy cow! It was so packed. I think word got out that this was the place to be at the end of ZINCON. It was the complete reverse of the theme party. There were actually a ton more people hanging out at the pool this year than last year. There were no lounge chairs available. At all.
We were lucky that Pat and Missy decided to skip the closing session. They were already hanging out at the pool. They were leaving for the airport at three o'clock so we just ended up taking over their two lounge chairs. If it wasn't for that, we would never have gotten lounge chairs. People actually ended up putting towels on the pavement and just setting their stuff down because there were no lounge chairs available. It wasn't like this last year.
I don't really like the way I look these days because I'm way up in weight compared to a couple of years ago but I have to post this picture. I can't believe I finally met Azuka Boutcher in real life. She's another one of those mythical creatures.
She was one of the original faces of Zumba along with Gina Grant and Tanya Beardsley. It was the Gina, Tanya, and Azuka before it was just Gina and Tanya. And now there is only one. Just Gina.
I had met Gina and Tanya for the first time during the Gina and Tanya Rock the Stage Tour a couple of years ago. Azuka was already doing her own thing, Kazaxe, a this point. Azuka is not really one you will see unless you go to take one of her classes in Virginia. I mean, I don't really see her traveling to Kansas so it was awesome to see her at ZINCON. I felt like such a stalker walking over to ask for a photo with her but it was totally worth it in the end. I would have regretted not getting this photo.
We had dinner at B-Line on our last night at the hotel. We didn't really feel like venturing out because we still had to pack and at this point, I wasn't even sure that we'd have enough room in our luggage for all the stuff that Brian bought for us. On our way back to our room, we ran into Ricardo Marmitte and his friends. All I have to say is, he is the coolest guy ever.
Ricardo and his friends were so friendly and welcoming. If we didn't have to pack and didn't have an early flight the next day, I would have totally just tagged along with this group. I still kind of regret not taking advantage of the opportunity to visit and learn about everyone. I mean, how often do you get a chance to hang out with Zumba celebrities. Maybe next year.
And then, just like that, it was over. I have more pictures from ZINCON 2014 on my Flickr so be sure and check those out. I met some new people this year. Saw friends I had met previously like Charisse and Gerard. I also captured some videos. I could only send a few of them to Flickr. The rest won't upload for some reason. I'll probably post some of my favorites videos here — of those that I could upload anyway. Stay tuned.
I really had high expectations this year after an amazing Zumba Instructor Conference in 2013. I didn't think this year's ZINCON was as cool as last year's — I mean, last year was amazing, so it would be pretty hard to live up to it — but I still had a ton of fun. There were aspects of ZINCON that were better last year than this year and vice versa.
Check in was really smooth this year. I think it's because they had the desks open for longer hours. Our bags this year were a different style than last year, which is good because I already have two of those one-shoulder backpack bags (one from the 2013 Conference and one from the 2014 Convention). We got a commemorative convention shirt, but the quality of the shirts isn't as good as last year. Also notably missing were our ZINCON 2014 bracelets. I didn't really miss those as much as other attendees. I thought the free luggage tag more than made up for the bracelets. I love, love, love my Zumba logo luggage tag. I actually used it on my carry on luggage on the way home.
I thought the signage was somewhat scaled down this year. The graffiti walls were a really nice touch, though. There were several throughout the convention center and Hyatt Regency. I wrote several notes. Brian wrote on them too.
The graffiti walls were great! Totally made up for not having as many of the massive signs all over the convention area.
Here's a picture of me in front of the Orange County Convention Center in Orlando. It is hands down the largest convention center I've ever been in.
The hotels around the convention center got in on the festivities by having drink specials. Found this board at the Hilton.
We didn't really spend a lot of money on meals (other than our $150 anniversary dinner at The Oceanaire) because we picked up groceries. This is what the pantry and fridge of a ZINCON pro looks like. LOL.
We were so much more prepared this year compared to last year. It helps to know what to expect. We got wine, beer, and snacks. We didn't go hungry at all.
I also loved all of the flash mobs this year. They were popping up everywhere. Last year the focus was the Zumba World Party video game demo. This year they added the ZIN DJ stage which was really a great area for showcasing some talented instructors. The districts really got into it. I loved watching all of their performances.
One of the reasons ZINCON 2013 is hard to top is because it was so well-conceived. This year the theme was somewhat all over the place. It wasn't as cohesive as last year. However, there are so many great things they added this year that we didn't have last year. For instance, we actually got to see the third Alberto. I thought he was a myth for the longest time. He's a real person after all.
I guess part of the reason that I still think that ZINCON 2013 was the best is because it was my first. Your first is always the most memorable, I guess. However, there were so many awesome things about ZINCON 2014 so I think it's equally amazing in its own right. If you've never been to a Zumba instructor convention, you have to check it out. There really are no words to describe this event. It has to be experienced in person. Oowa! Oowa!
Jocelyn worked on both Brian and me. She's one of the friendliest and most enthusiastic massage therapists we have ever met. Super nice and friendly. I highly recommend requesting her if getting massage services at the spa.
Our poolside massage was complimentary for booking the club premium package. We thought it was a really good deal. But it's only a good deal if you take advantage of all the perks such as the free poolside massages, unlimited wifi for multiple devices (that is, if you want to stay connected), room service etc.
I have read reviews online from people who say that it's not worth paying the extra for club premium but Brian and I really found it worthwhile. Club premium guests get the best rooms on the property. From a couple of people who absolutely loved the room that we were given, we think that alone was worth the difference in price.
The club premium lounge isn't really anything spectacular but it's less busy than the regular client services desk. The ladies are all very friendly and helpful also. You wouldn't think that you'd need that much assistance throughout your stay but you'll have to make dinner reservations and club premium guests supposedly get priority.
You also have access to a couple of restaurants that are not available to other guests unless they pay extra. And, you have access to the hydrotherapy section of the spa throughout your stay.
Speaking of spas, the facilities at Barceló are top of the line.
Check out this amazing relaxation room where you get to hang out before, after, and between treatments.
The spa has several treatment rooms just like these.
We've been to many and few can compare to their treatment rooms. Almost every room had a private pool.
They also had outdoor massage beds. The downside is that these are right by the main pool at Palace Deluxe so it's not really the most peaceful or quiet place to get a massage despite the privacy fence. You can still hear people (and their kids) yelling and screaming in the background.
The spa is connected to an amazing fitness facility that rivals the best gyms in Wichita. Plus, you can't beat the view.
The walls are glass so you can enjoy the view outside as you workout, which also allows lots of natural light into the workout areas. Imagine doing yoga in this studio.
The health and wellness facilities at Barceló are amazing. If I had one complaint it's that it's at the Palace Deluxe so you have to either walk a long ways or take the Barceló train to get there. And, Palace Deluxe always seems so crowded which can be a turn off if you want to relax. Once you are inside the spa, the noise dies down except if you're outside in one of the private pools or in the outdoor massage area. That would be my one complaint about the spa/fitness center.
Other than that it's a fantastic resort amenity that is not to be missed. You'll have to check it out at least once during your stay.
Chess was one of our favorite activities at the resort. Yes, we're nerdy like that.
It's hard to resist a giant chess board. It just begged to be played.
Hmmm… Decisions, decisions.
This is the forlorn look on Brian's face when he lost. LOL.
This is what he looks like when he wins!
Besides chess, Brian also did a lot of reading. Thank you, Stephen Coonts
! And, yes. That guy behind Brian is smoking. Apparently, smoking is welcome everywhere. Even at the Palace Deluxe (family side) smoking was permitted everywhere. Except the casino. We thought that was a little weird or, at least, backwards. LOL.
Here's another photo of Brian reading.
BTW, the coconut cocktails in the fresh coconut are not to be missed. They cost $2 but worth ten times that. They are delicious. Even Brian liked them.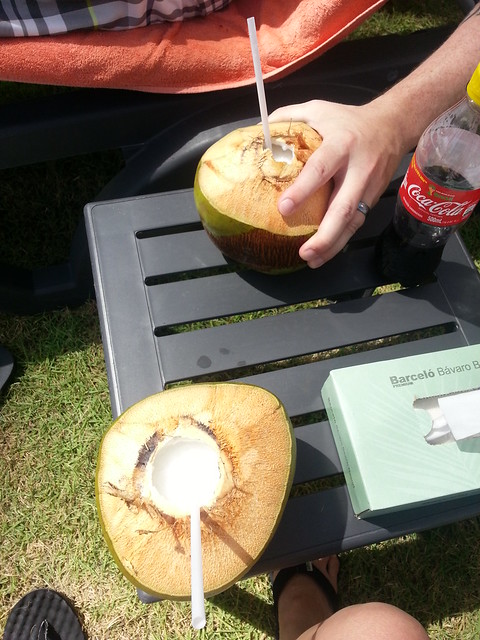 You can get these at La Piña at the West end of the resort.
We thought they were even better than the pineapple cocktails in the fresh pineapple, also available at La Piña for $2. I kept mine and just get refilling it with frozen cocktails from the bar. I could use one of these cocktails right now.
I have more pictures and trip recaps coming. Stay tuned!
Barceló is definitely the largest all-inclusive resort property we've ever experienced. We've now stayed at a small all-inclusive property with limited amenities, a medium-sized all-inclusive with lots of activities and nightly entertainment, and a large scale property where you actually have to take a train to get to parts of the resort.
The Barceló trains run every 15 minutes from about 8 o'clock in the morning to 4 am the next day. There are several stops throughout the Barceló Resort complex.
Our room is the on the leftmost tip of building 4 (upper left corner of this photo). We felt it was the best room on the property because we were ocean front, had our own private lounge chairs on our lawn, and had beach access from our patio. It was also away from all the noise and activity at the pool so it was a peaceful retreat for us at the end of the day.
The room assigned to us was perfect in every way, including the room number. We got 4013, which is perfect because we were there to celebrate Brian's 40th birthday and 13 is his favorite number.
When you look at this panoramic photo below, our room is the one that is right next to the La Piña hut on the right.
The pool on the adults only is huge but it's actually just a fraction of the size of the pool at Palace Deluxe (the family side). It was plenty big enough for me and Brian. The only down side is that there's not a swim-up bar. They have one at Palace Deluxe.
The best feature of Barceló is the location. The property is on one of the best beaches in the world.
There are ample lounge chairs. The setting is natural and beautiful. The grounds are well-maintained. The powdery, white sand feels amazing beneath your feet.
This is view of the Palace Deluxe beach from a distance.
That's the biggest downside. You had to ride a train to Palace Deluxe in order to take advantage of the water sports and borrow kayaks etc. You also had to make a reservation in order to take out one of the hobie cats.
The one thing they didn't have at the Palace Deluxe is Zumba Week.
Yira and Johanna, a couple of awesome Zumba instructors from Santo Domingo, led Zumba throughout the week. This is a photo of Johanna teaching Aqua Zumba.
Here's a video of us doing regular Zumba at the pool.
I'm so glad I brought a pair of sneakers! They came in handy for Zumba.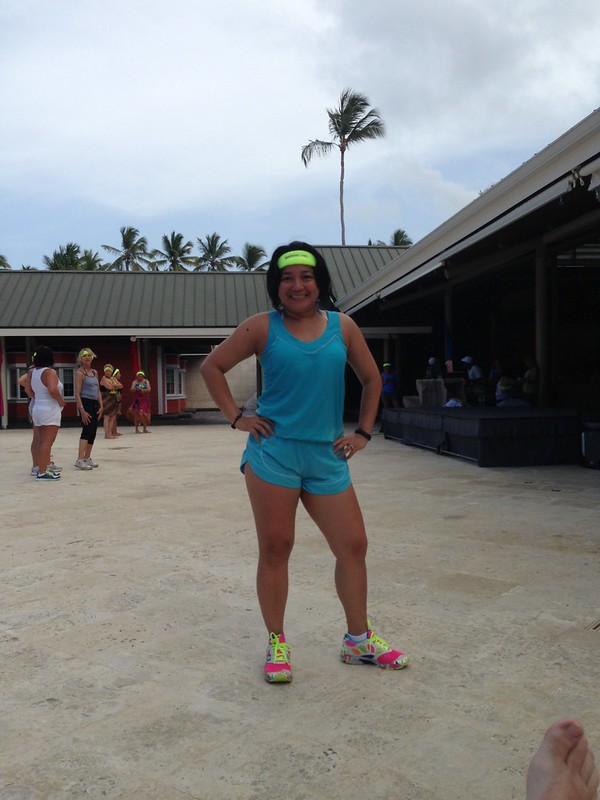 Besides Zumba Week there were actually lots of activities throughout the day. The activity coordinators (they call them "animators" at the resort) did a great job of getting people involved. My favorites were Amiley and Julio.
Activity coordinator Amiley led yoga on the beach. That's one activity that Brian and I enjoyed together.
I also got to play dardos or darts. I actually won against four others and they gave me a small bottle of rum that night during the nightly award ceremony prior to the evening entertainment.
I played beach volleyball with some Russians. I think they were Russians anyway. Some European people too. It seemed like the Americans just wanted to do their own thing and didn't want any part of the resort activities. The Europeans seemed more social or they were interested in the games at least. There was this one guy (I can't remember his name or where is he from) who participated in almost every resort activity available. Well, everything but Zumba. LOL.
They had dance lessons on the beach, language lessons, bocce… Lots of stuff. I recommend participating, specially in the individual sporting events, because they choose winners and then the winners get prizes at the end of the day. They're not cheesy resort knick knacks either. You get a bottle of rum, and who wouldn't want that? That's how I won a bottle of rum for Brian.
Another fun activity I participated in at the resort is Zumba on the beach.
The variety of swimsuit styles we saw made me feel severely over-dressed. Seriously. I'm buying a thong bikini and taking it on our next trip. LOL!
Speaking of swimsuits, you could actually tell where people were from based on their swimsuits styles. The Brazilian women wore the skimpiest swimsuits and tended to sunbathe topless. Anyway, the swimsuit theory was even more true for the men. The American men tended to prefer longer surf shorts. The European men preferred Speedo bikinis or tight, skimpy, little swim trunks that left nothing to the imagination. Some younger European guys did tend to wear surf shorts, but they were shorter in length and you can tell they're not American based on the colors and pattern. Shorts worn by European men were often colorful and wild. Not the sort of prints that American guys go for usually.
Brian's favorite resort activity was double-fisting beers. Although, he was quite disappointed that the only beer he could get for free was the local beer El Presidente. If you want American or other foreign beers then you had to pay for it. Apparently, Barceló's idea of all-inclusive excludes all beers except for one brand. I don't drink beer so it didn't really bother me. It only bothered Brian the first day. Although he wasn't too fond of El Presidente, it didn't really matter much after you've had a few. Specially if you're double-fisting them.
Brian turned double-fisting beverages into an olympic sport. He was even double-fisting at breakfast. This time coffee on one hand and beer on the other.
We did a lot of laying around at the pool also.
This is my favorite chair at the resort. It's so comfortable that you could sleep in it, which makes me wonder how many people have gotten drunk and passed out in it.
They really should have added mango-picking as a resort activity. The mango trees throughout the property were overflowing with fruit. Check out this tree.
Anyway, now that we've stayed at a variety of all-inclusive resorts, I'd have to say that a medium-size adults-only all-inclusive resort like Couples is more my style. We loved staying at Barceló and had a lot of fun last week but the resort was just too big for us. We wanted water sports to be more accessible and we hated having to go over the crowded Palace Deluxe side.
Brian and I went on this dune buggy adventure. They spell them as boogies in Punta Cana. I thought that was funny because boogies here are dried snot hanging from your nostrils. LOL. Their boogies are the kind you ride.
The excursion was through Wild Tiger.
This photo was taken before we got really dirty. If you go on a similar excursion we recommend wearing sunglasses (though Brian thought goggles would have been better) and bandanas to keep the debris from getting into your eyes and nose.
My handsome dune buggy driver. Too bad you can't see his face.
This is how you get dirty and why you need a bandana.
Brian tried some freshly rolled tobacco. He said it was delicious. We should have brought more cash so we could have purchased a box of them to bring home.
We also got to drive to Macao Beach. One of the best beaches in the Caribbean.
This was taken right before we left Macao Beach. This is of Brian with our hilariously funny tour guide, Chico, who speaks seven languages: Haitian Creole (he is from Haiti), French, German, Russian, Spanish, Portuguese, and English.
La Cueva Taina was a bit of a disappointment. I thought it would be a bigger cave. This one was small and there were way too many people trying to get down there to dive.
Chico expertly maneuvered our group down into the cave past the long lines of people.
This is a video I took of Brian diving into the dark abyss.
Dune buggies parked by the cave entrance.
Street vendors set up shop by the cave to entice tourists.
Here's a group photo we took at the end of the excursion on our way back to our respective resorts. What a fun group of people!
Some tips for when you go:

Negotiate the price of the excursion. Don't pay more than $60. I think the web site had the price double that. When you get to your resort, talk to the tours rep. They'll usually let you know what kinds of deals are available. Brian and I only paid $50 each. Another group we met who came from the Melia Caribe Tropical paid $45 each for the excursion.
Don't wear your best clothes because you will get super dirty. At worst you'll have to throw the clothes away at the end of the adventure. At best you'll have to hose yourself off before stepping foot in your hotel room. That's what we had to do. We're not just being pansies either. You drive over mangoes and the guts splash all over you. It's also hard to avoid the cow pies. The wheels kick them up and some may land on you. The mud puddles are the least of your worries.
Wear sunglasses and a bandana. The sunglasses will protect your eyes from dust and debris. The bandana will help you breathe while keeping dirt out of mouth. If you did not pack a bandana you can buy one at the adventure site for $5. They sell some souvenir trinkets and stuff, but I bet it's the bandanas that they make them the most money. If you're resourceful like Brian and me, you'll buy some from the resort gift shop for half that. We got two bandanas for the price of one.
Bring lots of singles for tipping. You'll need cash to tip the driver that gets you to and from your resort. You'll need cash for the tour guide, the tobacco guy, the guy who sells the coffee grounds, the guy with the docile iguana, etc. Just bring lots of cash because you may want to buy stuff from the local shops too. And, if you want to purchase photos and videos, that costs too. The pricing they gave us was $40 for photos, $42 for video, or $60 for both. We didn't have enough cash but I took enough photos and videos for us.
Driving the buggy requires a lot of effort. It's not a smooth ride and these buggies aren't in the best shape. There's only one gear that works — drive. We know park didn't work because the buggy continued to move forward even when you put it in park. We didn't get to try reverse but I'm sure that probably didn't work either.. There's also a lot of play in the steering. Brian said it took a lot of strength and effort to overcompensate for the play in the steering. Brian said he was sore the next day.
Bring snacks, specially if you are hypoglycemic. Your tour guide will have water on hand and that's included. However, food was not included for us since it's technically a half-day excursion. Lunch is typically only provided on full-day trips. If you want more than just water, bring your own snacks.
Here are some photos from our dinners at the resort.
La Brisa
Out of all the restaurants, La Brisa was our favorite. I think it was the only restaurant that we went to with a full bar. The other restaurants offered only regular drinks and wine. The location was perfect. The restaurant had spectacular views and the breeze felt great against your skin.
La Comedie
La Comedie is one of two French restaurants. This one isn't included in the regular all inclusive package but it's free to club premium guests. Naturally, we had to give it a try.
Brian was not too fond of this place because he said it smelled very fishy. I couldn't smell anything because I caught a cold while we were there and I was at the peak of my illness at this point. The creepy puppets didn't help matters any either.
This is how they served water out of water bottles.
My shrimp cocktail starter was served out of a pineapple cup.
I got the lobster thermidor entree. I'm sure it was very good but I didn't have much of an appetite that night.
Brian had chicken cordon bleu.
I did eat all of my crepe suzette despite my lack of appetite.
Brian had chocolate ice cream.
Kyoto Teppanyaki
The following night we had dinner at a Japanese hibachi place. Like La Comedie this restaurant is also located on the family side, Barceló Bávaro Palace Deluxe.
This is their version of miso soup. I thought it was good but Brian didn't like it because it had a lot of crap in it. He's used to the clear miso soup that they serve at the teppanyaki restaurants here in Wichita.
I didn't get a picture of my plate but it looks exactly the same as this with shrimp instead of chicken. I ate a lot of shrimp while we were down there.
I had coconut encrusted flan. Brian had some kind of chocolate cake roll/log.
La Dolce Vita
La Dolce Vita is an Italian restaurant at Barceló Bávaro Palace Deluxe. It was Brian's pick and his least favorite of all the restaurants that we tried.
They gave us bread that reminds me of lavosh.
The minestrone was not very good. It was very watery.
The chicken cacciatore was just okay.
Brian fared worse. His spinach and four cheese ravioli was overcooked.
The only thing good, besides the cheesy flatbread, was the tiramisu.
Chez Gourmet
We ate at Chez Gourmet on our final night at Barceló. This French restaurant is included in the regular all inclusive package and the best part is that it's located in the adults only side so we didn't have to take the train over to Palace Deluxe. Even though my lobster wasn't cooked all the way, I actually liked this place better than La Comedie.
Brian said the place didn't smell fishy and there were no creepy puppets. I still couldn't smell so I can neither confirm nor deny the existence or lack of fishy odor, but I was definitely glad there were no creepy puppets watching us eat our meal. Jokes aside, the restaurant was furnished nicely and well-decorated. The ambiance of this restaurant is also more romantic than stuffy.
This is the stuffed squid starter offered to everyone at the restaurant. Brian didn't touch his. I ate mine. It wasn't bad.
The seafood soup was watery just like the minestrone from the previous night.
This is the martini shrimp. The fried shrimp outside was yummy. The shrimp ceviche under the martini glass was just okay. Cool presentation, though.
I had the seafood trio of shrimp, crab, and lobster. The shrimp was good but the crab was overcooked and the lobster was not done all the way.
Brian had the chateaubriand. He said it was just okay.
I had the crepe suzette again for dessert.
I don't get to eat crepes very often so I took advantage of it while we were at Barceló. I ate crepes everyday. If not at dinner, at breakfast. I didn't know there was a crepe station at Caribe Buffet until our second or third day at the resort but after I found out, I got it every time.
As far as resort dining goes, La Brisa and Caribe are your best bets. They're on the adults only side so you don't have to ride the train to Palace Deluxe. Lots of options at Caribe (and guys can wear shorts because there's no dress code) and they have a full bar at La Brisa so you can enjoy cocktails with your meal.
Seafood was abundant at the resort and you have lot of choices. I took full advantage and ate a lot of seafood, specially shrimp. Brian is not a seafood lover so he ate a lot of pasta. LOL. I hope you enjoyed all the food photos and you found the comments helpful. Until next time.
XOXO,
Ching
Brian and I ate at the Caribe Buffet on our first night at the resort. The buffet is nice because you can wear pretty much anything you like. Actually, that's true for women anywhere you go. However, guys are required to wear pants at the restaurants except for the buffet. They don't care if you wear shorts at the buffet. As long as you're not in your swimsuit and have shoes on, they pretty much don't care.
They always have various fresh fruits.
There are several food stations.
This is the create-your-own-pasta section. It's was Brian's favorite station.
This is the crepe station.
They always have all sorts of fish dishes. That first night I was surprised to see these two whole fish, complete with the head and everything.
This is one of the dessert stations.
There are always so many choices.
There's so much food. If you go hungry, it's your fault.
This is the view from the restaurant. It's pretty nice, but there's actually an even better one. I will show you guys next time.
My strategy at the buffet was to try a little bit of everything first and then once I figured out what I liked that's all I got for the most part. Brian really liked the pasta and the pizza. I leaned more towards rice, beans, shrimp, and pork.
The buffet has some slightly different options at breakfast and lunch than at dinner. During breakfast there is a mimosa station and a smoothie station. The mimosa station is self-explanatory. They have bottles of wine and orange juice. You make your own mimosa. The smoothie station is really cool. They have a wide selection of fruits and you just tell them which ones you want in your smoothie. It's really cool.
They also have an omelet station where you can create your own omelet. What I like best about their omelet station is that they don't assume that you want cheese so they don't put cheese in your omelet unless specifically requested so I never have to say "no cheese" every time. LOL.
The breakfast buffet is actually much better than getting room service. Even though room service was included for us and, despite the convenience, the wide array of food options makes it worth going to the buffet for breakfast. The room service menu is quite limited. Plus, I don't think you can get smoothies via room service (but I don't know for sure since I didn't try).
The Caribe is a really good option for casual dining. If you don't really care about trying the restaurants, just plan on eating at Caribe buffet every time and you don't even have to pack any pants.
Since Brian and I figured we would probably pay for internet anyway, we went ahead and paid extra for the club premium perks. Club premium guests get the best rooms at the resort. I think we got the best room at the resort without upgrading to a suite because it's ocean front and it's on the most quiet, peaceful side of the property. And, we have easy access to outdoor showers.
The one thing that I didn't care too much for is having to wear wristbands. I guess that's the thing here in DR. We didn't have to wear wristbands when we stayed at Couples. Here, I've yet to see anyone without some sort of wristband. Even the folks we met who were staying at other resorts had wristbands on. I guess that's how they identify you and what perks you get. You wear it everyday, every where you go.
Anyway, if you're going to have to wear a wristband, you might as well wear a cool, wooden one that says "CLUB premium" on it instead of a cheesy plastic one. LOL.
You also get robes and house shoes. I kept trying to wear mine outside the room because I'd forget to switch my shoes out.
Room service isn't included in the regular all-inclusive package. You can get room service, but it costs. For club premium guests, it's free. Brian and I took advantage of this perk on our first couple of days. They give you so much food that they're practically bringing the breakfast buffet to you.
This is just regular breakfast and they gave us a ton of food. The food could barely fit on our patio table. Seriously.
The next day we asked for the Desayuno Romantico (Romantic Breakfast) with champagne so we could make some mimosas. It was an enormous breakfast. It required two tables. No wonder you have to schedule it a day in advance.
Some of the perks on the list were stretching it (they're not really that much of a perk), but room service was a real perk. We really enjoyed being able to have breakfast on our private patio.
Other perks we found valuable were access to the hydrotherapy section of spa, access to the club premium lounge, priority dinner reservations, the free bottle of Rob Barcelo imperial rum, etc. One perk that we didn't really take advantage of and weren't really interested in is the access to the VIP section of the disco. Their disco club doesn't open until 11 pm and we're usually in bed by then.
This is where are resting our heads this week.
Not much privacy but you can't beat the location. We are on the far West end of the resort, where it's quieter and there's not as much traffic.
We have our very own lounge chairs and we're just a few steps from the beach.
La Piña is right by our room. This is a bar but it's not like the other bars. They only serve fresh pineapple and fresh coconut drinks and only on specific days. It closes at 5 pm so the noise factor isn't an issue. And they actually shut down early when they're out of stuff. The thing to remember is that the pineapple and coconut drinks aren't included in the all-inclusive package. The pineapple and coconut drinks are actually $1 for the non-alcoholic version or $2 with booze so, if you venture out this way looking for one of the fancy drinks, don't forget to bring cash.
There are a couple of outdoor showers right outside our room. It's actually come in handy several times. We've made good use of them.
The sidewalk spans the length of both Barcelo properties: Barcelo Bavaro Palace Deluxe (the main complex and family area) and Barcelo Bavaro Beach (the adults only side).
Here are a few more pictures of the resort.
This is the beach that is directly in front of the Barcelo Bavaro Beach pool area.
Orange towels represent the adults only side. The Barcelo Bavaro Palace Deluxe guests get yellow beach towels. We're allowed to play on their side but they're not allowed on our side. Thank heavens for that!
There are a lot of people staying here but the beach never feels crowded.
The beach on our side never feels crowded anyway. It's a different story on Barcelo Bavaro Palace Deluxe side. There are people everywhere. You can't escape them.
You don't have a choice but to go over there though, because that's where you get equipment like kayaks, pedal boats, etc. for water sports.
The pool was really crowded on Sunday, but nothing compared to the family side. They have a much bigger pool and it's always crowded. At least on our side we've only seen it super packed one day. On the Barcelo Bavaro Palace Deluxe side it's packed everyday.
There are several lobby areas so be specific when meeting someone.
No worries if you are not so fond of taking long walks or if you get lost because there are trains that make several stops throughout the Barcelo complex. There's one every 15 minutes (sometimes sooner, and sometimes more than one). The trains run until 4 am, we're told. We've not tested it though.
Anyway, it's getting late and almost time for bed. I will write more about our vacation next time. Check back soon.