No trip to North Carolina is complete without checking out the NASCAR Hall of Fame. As luck would have it, the NASCAR Hall of Fame just happened to be right next to the my hotel and the convention center. It was super convenient. And, the conference organizers rented out the whole facility for the evening for our "special event" during CS Week.
The highlight of the event for me was definitely getting this photo with NASCAR legend Junior Johnson, who was there promoting Midnight Moon and signing autographs.
They were doing free tastings of Midnight Moon, handmade moonshine based on Junior Johnson's family recipe. Despite all of the delicious varieties, I skipped the moonshine tasting in favor of getting a picture with Junior. I'm sure it's delicious but Brian told me that it's really strong and warned me to stay the away from it.
Here are a few more pictures from the NASCAR Hall of Fame.
I'm really glad I had the opportunity to attend this conference because I don't know if I would have ever seen the NASCAR Hall of Fame otherwise (it wasn't on the bucket list) and also it was a super duper fantastic conference. (I'm sure I've mentioned it several times already but one of my favorite TED speakers, Shawn Achor, was our keynote speaker on the second day.)
CS Week rented the whole facility for our "special event" so we were free to explore every inch of the museum. It was awesome! I think the look on my face in this photo pretty much sums it up.
This is a racing simulator like none other. You get into real cars and race other people. Alex and I didn't want to stand in the long line so we skipped it.
I heard it was really fun, though.
There was also a pit crew simulation. They had two stations set up so that you could compete with another group to see who could do it faster.
Back on the main level, there was a bluegrass band.
There was also lots and lots of food. There were food stations and bars at every level of the museum so you didn't have to hungry.
I was in sensory overload so I missed taking pictures of the rest of the food but I had to take a picture of this one. As if bread pudding weren't decadent enough. They made theirs with Krispy Kreme donuts!
Alex and I got some souvenir photos.
I'm not a huge NASCAR fan but the NASCAR Hall of Fame is a really cool museum. There were so many interactive things on every level. I couldn't take a picture of everything.
Brian was jealous about this part of the trip. I think he would have really enjoyed the NASCAR Hall of Fame. We may have to go back to he can experience it.
See you soon, Charlotte!
On one of the nights our group walked to the EpiCentre in downtown Charlotte to find somewhere relatively inexpensive to eat. We were originally going to go to Fleming's but it had four dollar signs next to its name on the restaurant list. We had to keep it three or under because some people ate at Ruth's Chris Steak House and already blew the dinner budget. Yup. That happened the night before I arrived. I totally missed out!
To David's credit, he did get one of our vendors to take us out to dinner one night. They must really like David because they took us to a fancy restaurant called the Capital Grille. The food and service was fantastic. It was a wonderful dinner.
Anyway, he tried to find a different vendor to take us out the next evening. No luck. That happens when you're just window shopping I guess. Vendors only like to wine and dine you if you're actually in the market for their product. Our other existing vendors were busy courting new customers. We were on our own.
We ended up at Blackfinn, a two dollar sign restaurant that's conveniently located right as you arrive at the EpiCentre. Several people in our group wanted to check out Howl at the Moon, a piano bar in the same area so it was perfect.
Here are some pictures of our food…
I think these are the crab cakes.
Steak!
Meatloaf.
I had the grilled mahi, except I subbed spinach for broccoli because I love spinach.
I didn't get a picture of the other plates because they were either duplicates or too far for me to reach. To check out the other foods, I guess you'll just have to go to the restaurant. You won't be disappointed. I promise.
Overall, I really liked Blackfinn. The food was good and the prices were reasonable. The menu is extensive so there's something for everyone. Whether you're a steak or seafood person or you just want plain ol' chicken, you'll find something on the menu that appeals to you. It's great for large groups with different tastes. No one will end up starving.
They also have a great selection of starters, some of which are quite filling. Blackfinn is a great choice for if you just want to have appetizers and drinks. We got to try the crab cakes and ying-yang shrimp starters. Both were very good.
They have flatbread pizzas; all sorts of salads; pork, chicken, steak, and seafood entrées; sandwiches and burgers; pasta and noodle dishes; and they even allow you to order extra sides for sharing. The dessert options looked really good too, but we didn't have any. No one was interested after all of the cheesecake and other desserts they were feeding us at the conference. LOL.
After dinner Sunni and I walked back to our respective hotels. I registered late and ended up the Hilton Charlotte Center City, while everyone else in our group got rooms at the Westin. I found out the next day that, since Howl at the Moon wasn't open yet, the group ended up at the Tendril after party at Whisky River, where they had an open bar all night long. They said it was a great time; even better than the piano bar.
I was bummed about missing out at first but, after finding out that some of them stayed out until 2 AM, I didn't feel as bad. I really wanted to be at breakfast early the next day to get a good seat for Shawn Achor's keynote so there was no way I could hang. Walking back to the hotel right after dinner was a good call.
Mimosa Grill was my favorite restaurant out of all the restaurants I got to try in downtown Charlotte. I think I liked it so much because the food is so fresh. Our server made it a point to tell us that the vegetables are all locally grown at least half a dozen times during our meal. It was almost comical.
Jokes aside, what I really liked best was the mimosa tea. It's the most delicious non-alcoholic beverage I've had in a long time. I've had Arnold Palmer's (half lemonade, half iced tea) before but their tea takes it up several notches. Chad liked it so much that he got multiple refills. I can't pick on him too much about the refills because I did too. It was delicious. I wanted to go there again and again just for the mimosa tea.
I had the lobster mac and cheese. Not the best choice. That part of the meal was just okay. I prefer the one here at Wine Dive better. I though the mac and cheese was a tad greasy. The salad was great, though. Probably because the veggies are super fresh. The super delicious tea made up for the lackluster mac and cheese so I forgave them.
David had the sea bass.
Chad had crab cakes, which is what I wish I would have ordered. The crab cakes were piled on top of each other with fried green tomatoes sandwiched in between. He said they were just as scrumptious as they looked. After seeing his plate, I really wanted a do over.
Alex got a very healthy salad, which looked amazing also. I bet it was really good. You know, because the vegetables are super fresh, being locally grown and all. LOL.
I joke around but, truly, I really liked Mimosa Grill. The prices were reasonable and the food was delicious and I wish I could have bottled that mimosa tea and brought it back with me to Kansas. I tried to talk the group into eating there again on our final day in Charlotte but no one really wants to eat at the same place twice, no matter how great it is. Usually when you're out of town, you want to try a bunch of different restaurants. Specially ones that you can't find your hometown. Such is the case for me, anyway.
Although, Brian seemed really interested in the Nascar Hall of Fame so I see another trip to Charlotte in my future. See you soon, Mimosa Grill!
These are pictures of my hotel room in Charlotte, NC.
The room was small but sufficiently furnished.
I really have no idea why they put so many chairs in a tiny room. I would be just as satisfied with only a bed and more floor space. LOL.
The desk did come in handy on nights that I needed to catch up on work.
The bathroom and shower was pretty basic.
I had an oddly shaped room at the far end of the hotel. I thought it was a weird shape at first, but it was really functional the way they had the furniture situated. It made the space work.
The hotel is conveniently located next to the Charlotte Convention Center.
View of the front of the hotel, which I didn't get to see much of because I always went the back way next to the train tracks, because it's the quickest path to the Charlotte Convention Center.
Also next to the hotel is the Childress Klein YMCA, which is accessible via a covered walkway. I asked for an "away card" from my home YMCA before I left but it turns out that I didn't need one. Hotel guests have complimentary access to this YMCA branch. You just have to show them your room key and sign in on the clipboard at the front desk.
There weren't many options as far as group exercise classes went, at least not for the time frame I was there because I was tied up in conference activities the entire time and, by the time I was free, it was way late.
The gym did have a decent running track (9 laps equaled 1 mile) and an olympic-sized lap pool. That was cool. The hours are quite limited though. The gym closes at 9 PM Monday through Thursday and even earlier on Fridays and Saturdays. They are not even open on Sunday.
The only way I could make it work with my conference schedule was to go at 5 AM. Surprisingly, there were a lot more people at the gym than I expected for that early in the day. I saw a few guys walk in with their suits in hangers. I'm thinking the branch's main patrons are downtown Charlotte workers who go for an early morning workout before heading to work. In which case, their operating hours make a lot of sense.
Anyway, I just have to put a plug for Hilton Charlotte and the entire city. The hotel staff was super nice. When you fly in via Atlanta and experience the airport customer service there, interacting with the friendly people of Charlotte is quite refreshing. It's truly night and day. Everyone I met in Charlotte was wonderful. And, I think the niceness must be contagious because even the people who weren't from there were also really nice. It was such a nice experience I wouldn't mind going back just to visit next time.
I hope to see you again soon, Charlotte!
Here are some pictures of the Arlington House.
Most of the furniture is original.
This room was first used as a parlor. Mrs. Lee converted it in 1855 after arthritis restricted her mobility. Her father, George Washington Parke Custis used it as his painting studio. This is where he painted American Revolutionary War scenes, including the Battle of Monmouth, New Jersey.
This room served as Mr. and Mrs. Custis chamber. Both Custises died here. Agnes and Annie Lee were reciting the Lord's Prayer with their grandmother when she died on April 23, 1853. You can learn more about the family tree.
This is the family dining room.
According to family tradition, Lee proposed to Mary Custis in the family dining room. Lee often gathered roses, placing one at the plate of each woman present for breakfast. Family and guests shared meals here, using the dinnerware and silver featured in this exhibit. Original pieces include china, silver, and the twin serving tables.
Meet Mary Custis Lee. Since our visit fell on the 150th anniversary of General Robert E. Lee's resignation from the US Army, there were several people in costume throughout the property on the day of our visit.
I believe this is what is referred to as a winter kitchen, where slaves prepared meals for the family. The picture below is of the winter kitchen in the Arlington House.
We were so fortunate to visit when we did.
I'm not sure all of these costumed people would have been there otherwise.
The Arlington House is like a museum that showcases the house as it would have been during that time. There's also a memorial housed in a separate building with letters, mementos, and other artifacts. There are audio recordings at various points to tell you more about General Lee and his family. It is an amazing exhibit and one of the highlights of our visit to Arlington Cemetery.
This is the post that grandma has been waiting for.
It was really easy to get to Arlington Cemetery from our hotel and Getting Around in DC. We basically took the red line from Woodley Park to Metro Center and then transferred to the blue line from there, which drops us off directly at Arlington Cemetery. Easy peasy.
The cemetery is open until 7 PM but we both made a mental note to return before peak so that we could take advantage of the lower fares. Sad, but true.
Here are some of our favorite photos from Arlington Cemetery.
The structure that you see in the distance is the Arlington House. I have a separate blog about that. For now, here's a picture of the Kennedys' gravesite.
It's one of the highlights of every tour of Arlington National Cemetery.
This is the outdoor amphitheater next to the Tomb of Unknown Soldiers.
The Tomb of Unknown Soldiers is guarded by a soldier 24 hours a day, through rain, sleet, or snow. There's always someone there marching back and forth with incredible precision. We witnessed a "changing of the guard" ceremony while we were there so we got to watch at least a couple of soldiers march back and forth.
The soldiers moved exactly the same way. The soldiers' footsteps are so precise that their feet land on the exact markings where the heels of soldiers that have gone before them have worn down the ground.
The well-timed clickity clack of their boots on the pavement reminded me of a metronome. Nothing phased the stoic soldiers as they each completed their shift. Their movements so precise and mechanical that they almost didn't seem human. They looked like wind-up toy soldiers.
Here are some pictures from the "changing of the guard" ceremony that we had the good fortune to witness while we were there.
The inspector walks around the new soldier and checks him from head to toe.
The inspector makes sure that nothing is out of place and fixes the soldier's hat and everything using the same precise movements.
We also got to watch a "wreath laying" ceremony while we were there. Brian got great video of it. I didn't get to take any pictures, though.
Both of the ceremonies we witnessed were solemn events. There was a huge crowd around but as soon as each ceremony began everyone fell silent. I can try to describe it and show you guys pictures but it's not the same. These are the types of ceremonies that you just have to watch for yourself because, beyond the beauty and artistry of it all, there's so much emotion involved.
Arlington National Cemetery definitely tops my list of things to see and do while you're in Washington DC. With the station just outside the gates, there is no excuse to miss it. Next up, I will share some pictures of the Arlington House. Come back soon.
Martin's Tavern is actually where we ended up eating dinner. It's a cozy, little restaurant in Georgetown with limited seating and the smallest restrooms ever built.
They put us in a couple of booths at the very back of the restaurant. Brian and I ended up sitting at the Sam Rayburn Lyndon Johnson booth.
Here are some photos of our delicious dinner, starting with the potato skins.
Calamari and shrimp.
Crab cakes.
I think this might be the lobster risotto.
Leave it to Brian to order the most basic thing on the menu.
Filet mignon.
The chocolate awesome lived up to its name. This was Brian's favorite dessert in DC. He said he liked it even better than the Open City.
I'm so glad we had the opportunity to dine at Martin's Tavern when we were in DC. The food was fantastic and not to be missed.
A word of advice, if you go, do not sit in the very back corner of the restaurant. That's we were seated and it was hot. It felt like we were in an oven. Maybe we were closest to the kitchen and that's why it was so hot? The tavern may be small but there are better places to be seated. Don't let them put you in back.
Another thing to consider is to avoid drinking so much. The restrooms are in the same corner of the restaurant, right above where we were. To get to them you have to ascend stairs that are both steep and narrow. I'm not sure what the men's room was like, but the women's restroom is barely enough for one person. It reminded me of a restroom that you would find on a plane. Actually the whole back section of the restaurant where we were is so narrow and compact that it made me feel like I was on a ship, without the rocking side to side with the waves.
Given the setup, the best advice I can give is to enjoy the food but refrain from excessive drinking. The stairs will be hard to navigate when you're inebriated. They were challenging enough for me and I was sober. Also, the less you drink the fewer restroom trips you'll need to make.
I'm not even done blogging about Washington DC yet and I'm about to leave again. LOL. I better get on it.
These next set of photos were taken at Sequoia, a neat restaurant in Georgetown with breathtaking views of the Potomac River, Kennedy Center, Roosevelt Bridge, Roosevelt Island, Key Bridge, and the magnificent Virginia skyline.
I wish we had a place like this in Wichita.
I wouldn't mind spending hours at the restaurant, drinking and taking in the views.
Did someone ask for a table for two with a great view?
I forgot to mention the splendid view of the fountain below.
Two of my awesome coworkers, Sherry and Selena.
My handsome husband.
Our Sequoia selfie.
Sequoia was the most beautiful restaurant that Brian and I set foot in while in DC. I wish we would have had the opportunity to dine there. Unfortunately, we only had time for drinks (or in my case, a drink).
If I had to do it again, I'd put a nice romantic dinner at Sequoia on the agenda. I can only imagine what the food is like. If it's half as good as the view, then it must be phenomenal. I can't wait to go back!
I forgot to mention to you guys that the buildings in Washington DC are connected by these really cool underground tunnels. One of the tunnels that we walked through had all of these artworks by high school students.
Each congressman got to pick an artwork from a student in their district. These are the four that represented Kansas along the tunnel wall. What a great idea turning the boring tunnel wall into an art gallery. Some of these works were amazing!
The best part was that we got to ride in this special elevator that was just for members of Congress. I pushed the wrong button on accident and it the elevator showed up really fast. We weren't supposed to get in it but since it was already there we did. As we exited the elevator, this prerecorded message (which sounded like the female voice from one of those science fiction films Brian loves to watch) reminded us that this particular elevator was only for members of Congress.
I guess regular people aren't allowed to use it so that there's always an elevator on standby for the representatives when they're hurriedly going to and from places. But, silly me. I wasn't paying attention and clicked the wrong button. LOL.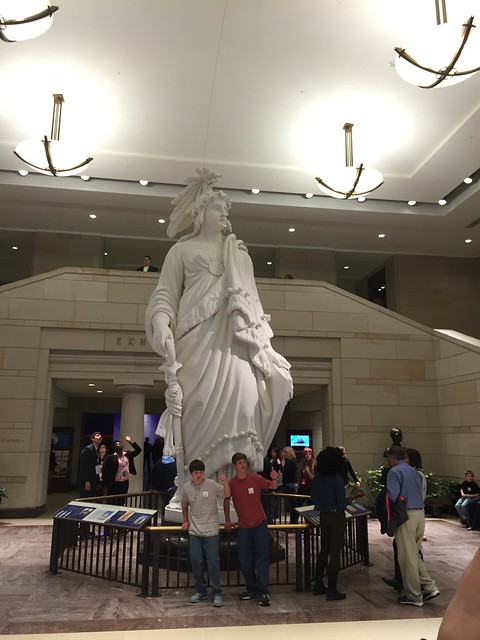 These pictures just give you a hint of the architectural details and art that you can see at the Capitol. They don't do justice to the real deal, though. You'll just have to go check it out for yourself. Click here to arrange for a tour.
I recommend booking a tour in advance because the lines are really long. There's also a "Public Walk-up" option but I wouldn't advice it as there's a chance you may not get a tour at all.
We got our tour through Congressman Huelskamp's office. We were told that the Senators' offices are way busier with their pages giving a couple of tours a week. If you go through the House of Representatives then it's easier to get a tour scheduled because they only do about one or two a month. I'm not sure if this is the case in other states, but it's true for Kansas.
You can book a tour here. If you're not sure who your Representative is, you can find out here. If you're not sure who your Senators are, click here.
Spring and summer are generally busy times for the US Capitol but, if you go, I recommend avoiding field trip season. Seriously. When we were there a couple of weeks ago, the Capitol was so crowded that you could barely move. There were several tours going on at the same time and we kept running into other tour groups.
It was still a great, educational experience overall but I think that it would have been way better if there were fewer people. I hope you all get a chance to visit and tour the US Capitol. Despite the crowds, it was pretty darn cool.