My dad recently found a hole under the concrete slab that his AC rests on behind his house. He couldn't figure out what had been digging that hole. It could be anything. Rather than speculating, he put a camera down the hole and captured video. It wasn't in there and there burrow had no clues as to what kind of animal had been using the hole for shelter. The animal did not come back while dad's camera was in the burrow.
Dad removed the camera and filled the hole up. As soon as that happened the animal returned and there's the hole again. It drove dad crazy not knowing what he was dealing with so he did what any resourceful Pinoy would do. He didn't want to have to buy an outdoor camera so he rigged his Foscam
for outdoor use. Not only that, he set up the monitoring features so he could watch from his PC and he also set up the camera to auto-record using motion detection. Here are some pictures of his outdoor camera contraption.
Pretty clever, right?
He mounted the rig to a stick staked to the ground and pointed the camera right at the hole. Sure enough he got the perpetrator on video. He posted the video on his Facebook wall but I'm not sure how to share it with you guys because of the privacy settings.
Turns out, a skunk has been making a home under that concrete slab. I suggested calling Animal Control but it seems like dad is having too much fun playing cat and mouse with the skunk. Now he wants to build some kind of one-way door so that when the skunk leaves the hole it can't get back in. Seriously.
For those of you who someday find yourself in this predicament, there are a couple of options: (1) make a trap, or (2) call Animal Control. I'm a proponent of the latter myself because it's less hassle. If you are like my dad though, then you think it's fun to rig things. I'm guessing there will be people out there who will go for the first option. However, think about what you're going to do after you capture it. How are you going to release it into the wild without getting sprayed? And where are you going to release it? I say go with the second option all the way.
If you are not yet in this predicament and want to avoid it, here are some suggestions.
Don't plant fruit-bearing trees. If it's too late and you already have trees that produce nuts, berries, crabapples, or other fruits, remember rake your yard often so the goodies don't tempt critters to come over and feast on your lawn.
Protect your waste. Don't leave your trash bin out except on trash day. If there's no room in your garage and the trash bin has to be outside, make sure that it is securely fastened so the smell doesn't attract skunks and other critters.
Close off hiding places. Use rocks, fencing, plywood, etc. to close off any potential hiding places. If you have unkempt bushes and vegetation around your house, make sure these are trimmed so as not to appear so appealing to wild animals.
Install yard lights. Nocturnal creatures such as skunks don't like bright lights so this may be a suitable and attractive deterrent. Lights with motion detection will probably be most effective because it will trick the animal into thinking someone's there.
Use chemical warfare. Okay, not in the grand World War III scale. Skunks don't like ammonia so soaking rags with ammonia and placing it in potential hiding places is an option. Scattering orange or lemon peels around your property, specifically under your deck or porch is a good option also.
Install motion-activated sprinklers. If you have the resources and really want to keep critters out, this is another alternative. It's a nice surprise for two-legged unwanted visitors also. LOL.
I hope you find these tips helpful. I'll keep you posted on my dad's adventures.
After almost two years of living here we finally got around to getting rid of the rose bushes. Brian loathed them so much. Now they are finally gone. In their stead we have trees and shrubbery that are much more our style. Low maintenance and without thorns. Here are a couple of photos of the new plants.
The one on the left is a river birch. I guess they're quite popular because they are fast growing ornamental trees. My parents have some and so do others in our neighborhood. Not to be confused with the other river birch tress, we named ours Burch Reynolds. Guess who came up with that one. LOL.
The one on the right is a juniper tree. The landscape architect recommended a juniper because it's an evergreen and it will look fantastic year round when the rest of our plants lose their foliage. Brian named this one Fern.
We have an existing tree in the middle of our yard that's always been there. It appears to be some sort of redbud, though we don't know for sure. We named ours Gimp because it doesn't look as magnificent as all the other redbuds we've been seeing around town. In fact, I didn't even think it was a redbud at first. I posted some photos of it on Facebook and asked for help identifying the type of tree. Several people said redbud so we're just going with that.
We didn't name the rest of the plants because we really have no idea what they are. They look nice though. The only other thing we named is our bubbling boulder. I know rocks aren't alive like plants are, but this one bubbles. Besides, people name other inanimate objects like their cars. Our cars have names too. We didn't want to leave the bubbler out so we named it Jane Fountain.
To sum up, the newest residents of Casa de Felitaciones are Jane Fountain, Burch Reynolds, Fern, and Gimp. Next time you're over, you'll have to say hi to them.
We picked up a little before we went to bed after the party last weekend, but this is the mess that we woke up to the next day.
Rather than deal with the mess straight off, Brian and I decided that this was the perfect excuse to go have brunch at a new place, Birds on the Roof Bakery & Cafe. We'd heard many good things.
The place is actually quite nice. I really like the colorful decor.
The place is kind of quirky. I like the cloth napkins, novel napkin rings, and even mismatched silverware.
The fancy water glasses are nice too, but they don't hold much water. It wouldn't be so bad if they refilled the water glass more frequently. I kept running out of water and it would take forever between refills.
The runny eggs were strike two. Brian specifically asked for them to be fried hard.
The bacon was good but the damage was done. Brian did not want to touch his eggs but he didn't want to ask for them to get redone either so I ended up eating them.
There's not many places in town you can get crepes, so that is what I ordered. Here are a couple of pictures of my chicken and spinach crepe.
I was not particularly impressed. The crepe itself was too thick and more pancake-like than I prefer. They put a lot of filling in it also which is both good and bad. It's great that you get more chicken for your money, but all of the filling overpowered the crepe and made it even less crepe-like. Sad to say this but the chicken florentine crepe that I had at a kiosk inside the Orange County Convention Center in Orlando when we were there for the Zumba instructor convention was far superior (even if I did have to eat it out of a water cone, LOL).
Here's the dessert display case. For a bakery, it wasn't very impressive. It looked kind of sad and empty actually. If you're going to tack "bakery" at the end of your name, I'm going to expect more than this sad display case. When I think of a restaurant and bakery, the display cases I'm envisioning are the likes of Bagatelle (fantastic cakes, by the way, and they always give you free dessert which is a bonus) and Copper Oven. Their bakery here seemed like an afterthought.
They served an English muffin with Brian's breakfast and I asked for toast, neither of these tasted like they were baked on site. They gave us this hard French roll while we were waiting for our food and that didn't taste freshly baked either. I would have much rather had Tita Tessie's pan de sal over it.
As far as the price goes, their prices are pretty reasonable. No complaints there. Service was slow, but it wasn't terrible, and the runny eggs were not the servers fault so we gave her $4 bucks, which is a decent tip relative the cost of our meal. We looked at the ticket and she wrote it down correctly, Brian and I concluded that the cook either wasn't paying attention or didn't know how to make a hard egg.
I really wanted to like this place because other people I know have loved it, but everything I liked about the place had nothing to do with the food. I like the clever name. The location is great. The restaurant has a wonderful ambiance. I like having cloth napkins and real silverware. The decor is nice and cheerful. All of that stuff is fabulous so if I'm just going there to hang out, I would totally love the place. As far as the food goes, I've had better breakfast meals elsewhere, so if I'm looking for somewhere to eat Birds on the Roof wouldn't be my first pick.
On the bright side, when we came home from breakfast we were ready to tackle the aftermath of the previous night's party. We still need to do some deep cleaning (vacuuming and mopping, etc.) but we picked up the mess and wiped all of the surfaces. Look at what we accomplished.
Our house was back to normal in no time. Of course, we were still pooped from having stayed up all night so we ended up taking a nap after this and didn't wake up again until five in the afternoon. That was pretty much our Sunday.
The stove saga began with an idea. It came to me like a gentle breeze several months ago. Wouldn't it be nice to have two ovens? I thought. But there's nothing wrong with our current electric range. It works perfectly fine. In fact, though it wasn't our choice — we basically got it when we bought our house last year because the previous owners left it — it's actually excellent.
The idea persisted, as with all crazy ideas that come to me. I didn't have to act on it right away, but I'd think about how nice it would be to have two ovens every couple of months or so. The idea took up permanent residence in my mind.
The opportunity to act on the idea came when Brian asked me what I wanted for our 11th wedding anniversary. The idea reared its head and, without hesitation, I told him I wanted a new electric range with two ovens.
Are you sure? He asked me. I'm going to benefit from it more than you because I do more cooking and baking.
Yes. I am sure, I told him. I want a new stove.
Of course, I didn't end up getting my stove in August because our Orlando trip proved to be more expensive than we anticipated. We didn't want to leave a balance on the credit card (which must be paid off at the end of each month no matter what) so we had to postpone the new stove purchase. Brian and I agreed that it would be my birthday gift this year.
Over the last few months I looked at stores and web sites to comparison shop. Around Labor Day I found a good deal on a double oven electric range at Home Depot but we didn't pull the trigger right then. We were busy with some other stuff and didn't really have time to put a lot of thought into it so we decided to hold off. Brian and I like to thoroughly think things through.
Fast forward through a couple of weeks ago when we finally had a free weekend. We went to several stores — Sears Outlet, Menards, Lowe's, Home Depot, and Best Buy. There weren't a lot of selection. Lowe's and Home Depot both actually had only one double oven electric range on display at their respective stores. We had to resort to looking at their web sites which offered more inventory. We found the exact same electric range for sale at all three web sites — Lowe's, Home Depot, and Best Buy. Best Buy just happened to be running 30% OFF appliances that weekend so they ended up offering the best price.
The double oven electric range that we found is a Whirlpool so it matches our fridge and dishwasher. And we got a good deal on it. It's like this one
but we paid less than $1000 for it. That's pretty much the full extent of the stove budget. The one I found at Home Depot in September was $899. I should have pulled the trigger then because by the time I was ready it was no longer available. Must have been a discontinued model or something. Oh, well. Hindsight is always 20/20.
I managed to sell our old range, a perfectly good stainless steel smooth top electric range (also a Whirlpool) that's only five years old max, for $120 via one of the virtual garage sale groups on Facebook. The folks who bought it picked up the stove on Thursday night so the space was ready to go for the stove delivery the next day. Brian had taken a vacation day from work that Friday to study for his SQL exam.
As with most things in life, things didn't work out as perfectly as I envisioned. I imagined the old stove going out and the new stove simply taking its place. I failed to take into account the location of the electrical outlet for the electric range which was on the floor instead of the wall. The new stove couldn't fit flush against the wall because it didn't have the same cavity on the back as the old stove. Here are some pictures that Brian took last Friday on delivery day.
It didn't look too bad from the front.
But the gap behind the range was really problematic for me.
It also made the range stick out beyond the cabinets.
I was excited to look at the new stove when I came home from work on Friday, but I disliked how it looked in the space almost immediately.
I called several electrical companies to price the cost of moving the power outlet from the floor to the wall. After a few quotes we decided to go with the Jay's friend Andrew at Bybee Electric. Brian met them after work on Monday. He felt good about the meeting and so we set an appointment for this morning since I'm on vacation and will be home to let them in and oversee the work.
Tom and Cody arrived around 8:30 this morning.
We lucked out that there was enough slack in the electrical wire to relocate the outlet without having to run a new wiring.
An hour and $135 later, my new double oven electric range is finally flush against the wall. As flush as it can be, anyway. 😉
After factoring the cost of the electrical work that needed to be done, we spent a lot more on the new range than I had anticipated. I'm really happy with it though. It looks great in the space, matches the rest our our appliances, and I know we will get good use out of it. I can't wait for Brian to come home and see it.
We got our official letter today stating that we no longer have to pay PMI (Private Mortgage Insurance) on our home loan. This is the best birthday week ever!
Back in May of this year we had a really big storm that rolled through and damaged a lot of property around the city.
I had considered myself lucky because I didn't have any visible damage, unlike some of our friends who's homes looked like they have been perforated by a series of shotgun blasts. As the months progressed I had started to notice the gravel that covers the shingles had started to deposit in the driveway. It looked like I wasn't so lucky after all.
My wife had been taking a Spanish class at the Rec center that she teaches Zumba at. During her classes she had made friends with a guy that worked for Dolphin Roofing, a locally owned and operated Roofing contractor. She recommended I ask him to come take a look at the roof. Me being a person that researches companies before I let them do any work for me decided to do a little research on Dolphin. They turned out to be a really good company. They are BBB Accredited and have an excellent history in the city.
From the start Dolphin was on top of things. They started by coming over and looking at the roof, they respected that I wanted to be there for it because I like to learn about this stuff. I think that learning about these things can help me be a better homeowner in the future. Plus, if I move and have to use a different contractor, they may not be as good and the knowledge I gain from the previous contractor can help me to see that.
Dolphin advised that there was indeed damage to the roof and that I should call the Insurance company and file a claim. Then Dolphin did something that I had never seen a company do before. They sat on the call with me while I talked to the Insurance company. Providing advice and insight as we filled out all of the insurance requirements. When we were done he laid out what was going to happen next with the Adjustor.
A few days later the Adjustor came by. Me being me, I was there for that as well. Again, Dolphin Surprised me. The owner of the company showed up to make sure that the adjuster was not only through but fair with his adjustment, this was something I had never seen from a company. Again, Dolphin explained everything and made me feel confident that not only was my roof going to get fixed, but it was going to be fixed right and that they would be there until the end and wouldn't consider the job done until I was happy.
A few weeks later we were off and running with the roof replacement. The guys at Dolphin came out, and did an excellent job with the roof. I had lots of questions and they didn't hesitate to answer them. It made me feel good that we had such qualified people working on our home.
Here are a few picture of the roof from my perspective.
Once the job was done they did an excellent job of making sure that there was no trash or nails left behind. With the exception of the new roof, you would never know they had been there.
I have to give it up to the guys that were up on the roof too. I went up there with one of the guys from Dolphin to look at the damage and just about didn't get down. However, the guys at Dolphin are really nice. Instead of making fun of me fore being scared of heights, he showed me the safest and easiest way to get on and off the roof without hurting myself.
Here are a few pictures that the Dolphin guys took for me.
I really wanted to get some pictures of the work from up close and the Dolphin Guys knew I was scared of heights so they took some pictures for me and sent them to me later. I tell you these guys are not like any other company. They really take care of you.
This week the gutters are getting put in and their gutter guy called me and advised me that he had a color that matched my trim work better. I wasn't sure so he left me a sample of the gutter along with a color pallet to look at so I could compare my current gutter color with the others he suggested. Most companies wouldn't have taken the time to ask, they would have just thrown up the color you told them to and moved on.
I am so grateful that we found Dolphin Roofing. They have been professional, courteous, informative and an all around great company to work with. If you ever need anything on your house done call them first, they do more than just roofing.
I want every Saturday to be like last Saturday. I'm actually looking forward to this new Saturday routine. I basically get to do two hours of Zumba — my own class at Evergreen at 9:30 AM and then Pam's class at Orchard at 11:30 AM. I wish that there was less time in between classes so I didn't have to sit around and wait so long to do the next round. Maybe I could move my class back to 10:00 AM. The 9:30 AM schedule has been really nice, though. If I could start my day even earlier, I would. No one wants to Zumba with me at 8:00 AM, though.
Here's a picture of Brian bonding with Juan. They watch Saturday morning cartoons together while I teach my Zumba class. LOL.
Here's a photo of me and Pam before her class started. I look like a mess already, but I had a head start and no outfit change between Zumba sessions.
The best part about Orchard Recreation Center (besides Pam's Zumba classes, of course) is that it's located just around the corner from my favorite Thai takeout joint, Thai House. So guess what we had for lunch that day. I know. Sorry, John.
I just couldn't help myself. My love for food is probably the main reason why I will never, ever get skinny. I want to seriously lose weight, but I don't want to miss out on all my favorite foods either. Ay, caramba!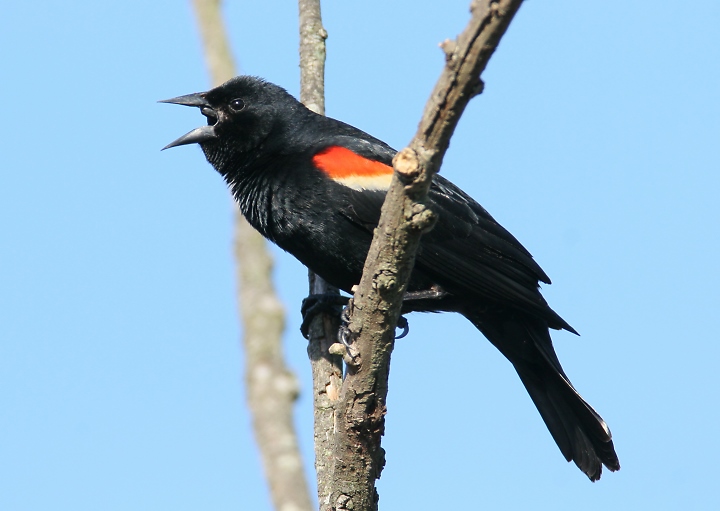 (Picture courtesy of billhubick.com photography.)
Ching and I decided to feed the ducks in our pond. While tossing the bread into the water, a red winged black bird was making a ruckus in one of the nearby trees. After a few moments, he buzzed my head. Ching asked, "What was that?!" I told her that the bird buzzed my head.
It would make noise at one tree then buzz my head and move the the other then repeat the cycle. At one point, the bird came so close to my head that I could hear the wings beat and feel the breeze from them flapping. I couldn't turn my back on him because, every time I did, he would swoop in on me. I think he is mad because his mate kept making a nest under my deck and I kept tearing it down. Now I think whenever I go outside, he will swoop. I think I will need to do something to make him happy. Just don't know what.
We love our new house and everything, but the one thing that we've always complained about Casa de Felitaciones is that the deck/backyard faces West so it gets way more sun than we like in the afternoons. There was a house behind us that we really wanted a couple of years ago (it's a really beautiful house but we liked it mostly for the East-facing yard), but we were afraid to make an offer on it. Anyway, we found our house a year later and got a really good deal on it so we were willing to compromise on the yard orientation. We figured we could always get some sun shades for the deck, which we have finally done.
I'd been wanting to get sun shades since we moved last year but hadn't found the right one until now. I found these Coolaroo sun shades
in desert sand color on Amazon, which I thought would work great. They actually far exceeded my expectations. The color matches our exterior paint almost perfectly.
It blends in so well that you don't even notice it when it's retracted.
The other thing that I love about them is that they block the sun but not the light so you still get plenty of natural light. That was one of my concerns with putting some shades on the deck. I didn't want it to get dark. I can't begin to describe in words how well these shades fit my needs. They're exactly what I wanted.
The only down side is that we underestimated the height of our ceiling. I thought the six-foot length would be sufficient. When we unroll the shades, they don't quite reach the deck railing. Brian and I came up with an ingenious solution, though.
It's not the prettiest solution but it works. Basically, we extended the tie downs by using nylon cord attached to a plastic clip. The mate of the clip is attached to our deck railing. That keeps the shade from flopping around in the wind. It's a concern for us because it's pretty windy in these parts. Anyway, when we are done, we just unfasten the plastic clips and roll the shade up. One part goes up with the sun shade and the other part is permanently affixed to the railing so we don't have to mess with tying knots every time. All we have to do is fasten and unfasten the plastic clips. Mighty clever, right? I thought so.
Brian has whined about how much he hated our mattress ever since we got it last year, so I decided to take him to Mattress Firm (it's where we've bought all of our mattresses over the last five years — well, all of them except for the one he hates) yesterday to pick his own mattress. I figured this would stop the incessant whining once and for all.
Naturally, he falls in love with one of the more expensive models. Ugh.
How can you say no to this face though? You can't. Lucky for us, they were having a Memorial Day sale. James, the sales rep who sold us our queen mattress for the guest bedroom a few months ago when the Orbases came to visit, was the same sales rep who was there yesterday. He actually remembered us. Not only that, he cut us a really good deal on our new mattress and was able to arrange for it to be delivered today.
We stripped the bed this morning before we left for church to prepare for the delivery of our new mattress. We learned our lesson the first time when Brian and I hauled the queen mattress (that we had purchased earlier this year at the same store but tried to save money by not paying for delivery) to one of the guest bedrooms in the basement. We were able to do it ourselves, but it took quite a bit of effort. I told him then that I didn't care how much they charged for delivery, I wasn't hauling a mattress myself ever again and neither was he.
Delivery was totally worth it. The guys moved our old king mattress to the basement for us so Brian and I didn't have to mess with it. They made it look so easy too.
Now we have a king mattress for Tracy and Jeff when they come to visit us later this year. It's a Sealy Posturepedic plush mattress that we had gotten from Slumberland when we purchased our bedroom furniture last year so it's not actually a bad mattress.
I didn't mind it actually. It was better than any of the other mattresses we'd ever owned except for the one in our guest bedroom on the main level, which we had bought from Mattress Firm three years ago. We had to give it up when we moved last year because it was a queen size and we upgraded to king when we moved.
Brian has never let me live that down, though. He was always quick to remind me that our guests sleep on a better mattress than we do. Well, he can't say that anymore.
Our new mattress may not be organic, but it's definitely the best mattress in our house. Oh, and by the way, what we originally thought was going to be a problem wasn't a problem at all. Yep, we already broke the new mattress in. LOL.