The Christmas tree at the Manhattan Hilton Garden Inn gave a serious case of tree envy. It looked like it was easily over twenty feet and there wasn't an unadorned inch.
The tree that I'd been working on at home looked completely naked by comparison. I was tempted to go to Michael's this morning to pick up some more ornaments. LOL.
Speaking of Christmas decorations, Brian and I were inspired by this wine-themed Christmas tree that we saw at Von Maur today. We're totally doing one next year!
We had a productive day yesterday. Then again, days are likely to go better when you start out with mimosas. Too bad we can't do this everyday. LOL.
We like to use Korbel Sweet Rosé in our mimosas for three reasons: it's sweet, it gives the mimosas a pretty pinkish tint, and, best of all, it's cheap.
For breakfast we had rice, sausage patties, eggs, mimosas, and Saturday morning cartoons — a winning combination. And, by the way, it was the season premiere of Star Wars: The Clone Wars.
I went to teach my Zumba class that morning, which only consisted of two other people besides me yesterday because there was so much going on. There were several fund raising events like Race for the Cure and Dancing for Sonya, just to name a couple. Lucky for me, Jenni was one of the two people who came so she drove me home. Since Brian didn't have to come back and pick me up, he managed to get a head start on the garage clean up.
Although, I can never leave this guy unsupervised. He managed to break the high-pressure washer that dad loaned us. When he told me what happened, I urged him to call dad immediately and tell him what happened. My thought was that surely, this has happened to dad and he knows how to make it work again. But, in the back of my mind, I'm also thinking, "They're never going to loan us anything ever again." LOL.
I was like, "Great. Now we're going to have to buy him a new high-pressure washer for Christmas." So much for getting off cheaply this holiday season.
Anyway, Brian told me that dad said he had a feeling it might have been broken when he loaned it to us because it was leaking some oil. I was like, "Nice. And he didn't bother to warn us about it maybe going tits up on us? What a jerk!" Bwa ha ha ha ha! Just kidding, dad! You know I love you.
The garage looks so much better now that almost everything has been sorted and organized. I say "almost" because Brian still has a couple of large plastic storage containers of stuff that he needs to go through. We had one plastic tub full when we moved from the old house to the townhouse and it never got sorted or looked at. We had to move the same plastic tub, in the same condition, from the townhouse to the new house and now we have another full plastic container in the same situation. I told him, I'm going to nag him every few months until we go through the stuff and sort what we need to keep from what we need to toss. I'll be darned if I'm moving those storage containers again the next time we move. Blech.
On a brighter note, I'm really glad that we finally got around to organizing the garage because now we can park the truck inside too. We should have done this a long time ago because, as you can see, the Flip and Ching mobile suffered extensive hail damage due to our negligence and laziness. Okay, we're not really negligent or lazy, we are just really busy people. Either way, sorry Crichton!
The garage is looking pretty good, though. I'm happy with how it turned out. Even though, Brian is yet to get some Versatrack to hang the bikes and the tools and free up some more garage floor space for us (for my future Zumba studio – he he).
We did so well yesterday that Brian even had time for a brief nap before we went to Old Town Square for Zumba. Of course, he was rewarded with yummy Caffe Moderne after. He is such a fantastic husband! Oh, and a really good looking one (according to Nick, who didn't realize that Brian is almost 40 — he really thought Brian's only in his late twenties). I am one lucky woman!
Only a handful of people attended our first-ever t-shirt destruction party last weekend. (I blame the weather.) Those of us who came had a lot of fun, though. And even though, we only had three hours to unleash our creativity, most of us were quite productive. Gina Ann brought her vast collection of destroyed shirts and tanks for inspiration. She also went around and helped everyone get started or helped them when they were stuck.
I helped Lori create with her shirt, and made a workout tank for Justin and a halter for Karla. I think I also ended up making a couple of shirts for myself. Except, I was using some old volunteer shirts we had that no longer fit and they're not quite as stretchy as the $4 shirts that you get at Michael's. My advice would be to pick some stretchy shirts (jersey material works) from Goodwill or the DAV. You can probably get half a dozen shirts for $5. This way, you won't feel so bad if you mess up. I wasn't worried about the shirts I was cutting up because they were all freebies that either no longer fit or we weren't wearing anyway. I'm not quite confident enough in my t-shirt destruction skills to cut up one of my Zumba stuff. LOL. I'll get there eventually, though.
We'd been talking about having a t-shirt destruction party for quite some time now. I'm glad we finally had it because it was so much fun. I just wish Mother Nature would have cooperated a little bit. She's kind of temperamental of late. Maybe we'll do this again toward the end of summer or early fall. What do you guys think?
Here is my first ever Billboard Art. I was very honored to be asked to do this for my Dad and the Kansas Museum of Military History.
Brian and I tried our hand at t-shirt destruction the other day by converting his old Zoobilee 2009 volunteer shirt into a halter top. I didn't have the foresight to take a "before" photo of the shirt, but here's the result:
The tiger stripes were originally on the right side of the shirt. Brian had the idea of saving the tiger stripes part (as opposed to using the other side of the shirt, which is plain) and using it as the focal point of the halter top. I think it turned out pretty good.
NOTE: Huge thanks to Gina Ann for the inspiration and the instructions. We would not have known where to begin if it weren't for her and her mad t-shirt destruction skills. For more inspiration and how-tos, please also visit the Zlife Magazine web site or Zlife Mag Facebook page. Good luck and happy crafting!
Gina Ann showed off her t-shirt destruction skills before AND after the Zumbathon. It's like magic! I'm going to have to learn how to do this stuff…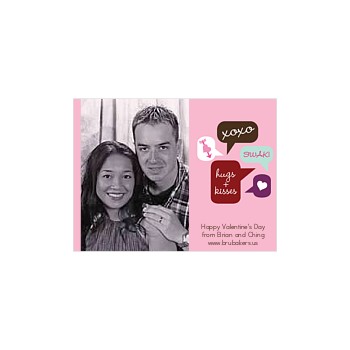 Sweet Thoughts Valentine's Day Card
For those of you who are grousing about having to listen to Christmas music before Thanksgiving, I've already moved on to the next holiday. LOL.
Brian and I decided it was time to reorganize the garage so that we'd have more room for our bicycles. We got a couple of wire shelves from Target (they're a lot like these, but ours only cost about $17 each at the store) to keep our stuff off the ground.
After moving most of our stuff to the racks and on this side of the garage, it gave us more room for our bikes.
Now we don't have to move the car out in order to take our bikes out of the garage. Hurrah! We do have a couple more projects that we have yet to complete: replace Brian's bicycle seat and get a basket for my bike. I hope we get both done in time for the free outdoor concert at Bradley Fair on Thursday.
Bowl for Kids' Sake 2008 Donors List
Brian Brubaker
$100
Achita Muthitacharoen
$50
Esper Tejano
$50
Josephine Alonso
$30
Peggy Loyd
$25
Jennifer Cannady
$25
John Withers
$25
Donna Brubaker
$25
Jennifer Alonso
$25
Denise Fundis
$20
Richard Miner
$20
Nikelia Dickson
$10
Etaf Shaban
$10
Mary Clavo-Rodriguez
$10
Angie Childers
$10
Darcy Cook
$10
Jill Frasco
$10
Irene Linn
$10
Annette McKernan
$10
Michelle Mapel
$10
Vicki Huskey
$10
Michael Caylor
$10
Barney Bernhardt
$10
Sandy Goseland
$5
The wonderful, generous, benevolent people listed above helped me raise funds for Big Brothers Big Sisters in 2008. I'm hoping that they'll help me and Big Brothers Big Sisters out again this year.
Please, please, please.
Remember that your contribution helps fund an organization that helps children, most of whom are considered at risk and live in single parent homes, achieve their full potential through long-term personal relationships with carefully screened and caring volunteers.
Children with a Big Brother or Big Sister are:

46% less likely to start using illegal drugs
27% less likely to start drinking alcohol
52% less likely to skip school
33% less likely to use violence to resolve problems
Every dollar counts! Let's work together to make a difference.
2010 Donors Update:
Lea Lacaba
Robert and Irene Linn
Vicki Huskey
My sincerest gratitude go out to the folks above for helping me toward my fundraising goals this year. You guys are the best!
P.S. There's still time if you haven't made a donation yet. Here's my donation link: http://www.kansasbigs.org/bfks/bowlerview.aspx?id=Chingay. Thanks in advance!
I can't remember where we found this HD background. You know us. We can't leave things alone, so some customization happened. Mine ended up as shown above. Brian is a little more twisted than I am so his looks like there is someone peeking at you from behind the laptop screen. =P