Just some highlights from Christmas Day…
We opened presents after breakfast. We had no idea that Aunt Sandy and Cousin Tracy had sent us gifts so that was a wonderful surprise. Aunt Sandy sent us a beautiful angel ornament that now adorns our tree.
Cousin Tracy and Jeff sent us a combination wine stopper/pourer
and a wine decanter. Thank you so much for the thoughtful gift.
We got lots of goodies from Mom and Dad B that I can't even name them all. Even though it was just us, it took hours to open presents. When we were finally done, it was time for lunch. Donna prepared a delicious feast. Brian and I ate so much that we didn't have room for any food when we got to the movie theater.
We selected Les Misérables as our Christmas movie this year, which worked out great because it was what was showing in the balcony and I'm not sure that I could have convinced Brian to go otherwise. Brian despises waiting in line at the theater. Anyway, I absolutely adore the musical specially since Lea Salonga has been a part of it. She played Éponine in the 10th Anniversary Concert (The Dream Cast in concert at Royal Albert Hall) and Fantine in the 25th Anniversary Concert (at the O2). She isn't in the movie, but she's the main reason that I'm familiar with the musical. If you are not familiar with the musical or the novel, just follow the links for more information. I also linked to the full concerts in YouTube above for your musical enjoyment.
I thought the movie was pretty good. They told the story pretty well. I was really impressed with the big name actors in the movie. I had no idea they could all sing. Well, except for Amanda Seyfried because I had seen her sing in Mama Mia!
I'm glad they kept Samantha Barks as Éponine. She played Éponine in the 25th Anniversary Concert and is amazing.
The two songs that always get me are "I Dreamed a Dream" sung by Fantine and then "On My Own" by Éponine. These solos never fail to make me cry. Of course, you guys know I'm a crier so there were several parts of the movie that moved me. Hugh Jackman is a skilled actor who was quite convincing as Jean Valjean.
Speaking of songs, "One Day More" is another really good one. I cued it to that part in the embedded video above. They did a good job of it in the movie, but it doesn't compare to the rendition in either of the two live concerts I posted above. Be sure to check it out if you want to see some fantastic singing. These performers are truly talented. I get goose bumps listening to their beautiful voices.
I highly recommend catching Les Mis if you haven't seen it yet. If you're a fan of the musical, it may not live up to your expectations. I still found it enjoyable though. Plus, I'm glad they made a movie because it brings the musical to people who wouldn't otherwise know about it.
Anyway, I was grateful that we caught a matinée because the theater was completely packed when we got out of the movie around 6 pm. It was complete and utter mayhem both inside the theater and outside in the parking lot. There were hardly any parking spots available. It wasn't that bad when we got there in the afternoon. Brian and I actually got a good parking spot.
Thank you to Mom and Dad B for watching the movie with us and for a wonderful Christmas Day celebration from start to finish. I really hope we get to celebrate together again next year.
Then…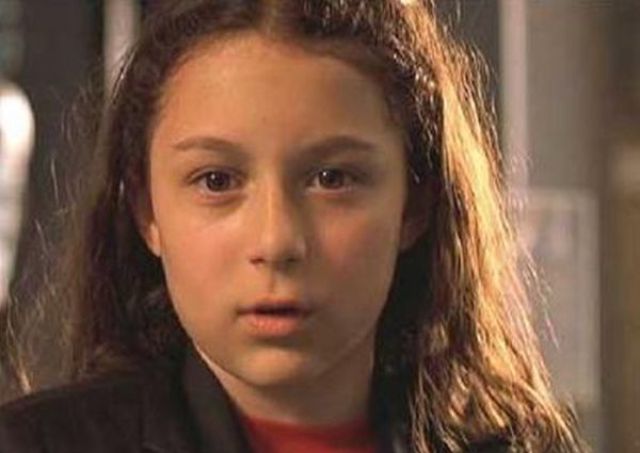 Now…
When did this happen? I feel like I'm 60 all of a sudden. In case you're curious, Machete Kills comes out in 2013.
I posted about taking Logan to the movies on Facebook the other day, but I wanted to share some of the photos we took with you guys.
Upon arriving at Warren Theater, the three of us — Brian, Logan and I — get out of the car and Logan proceeds to walk to the door. Here's a picture that I took of him because he was way ahead of us.
ME: Wait up Logan!
LOGAN: Okay.
But instead of coming back towards us, he just stands there.
ME: Look, the sign says "No Loitering."
LOGAN: I am not loitering!
Brian tries to explain to Logan what loitering means and argues that he is, in fact, at the moment, loitering.
LOGAN: I'm waiting for you guys! You're making me loiter!
Children are so adorable. LOL. Here's Brian and Logan in the auditorium.
And playing games in the game room after the movie.
I wanted to go bowling and ride go karts at the Alley afterwards too, but it was time to take Logan home. Maybe we can do it next time and then we can take Eli with us also.
BTW, we went to see The Dark Knight Rises. It's really good. I was glued to the screen and loved the plot twists at the end. Logan seemed to enjoy the movie also. You all should go see it.
Jay and Becca hung out at the pool with us on Saturday night. There's never anyone at our pool on Friday and Saturday nights so we pretty much had the pool to ourselves.
We had a good ol' time frolicking in and out of the water.
Afterwards it was time for flaming quesaDILLas.
Okay, so they weren't really flaming. But they were delicious. Good job, Jay and Brian. We all agreed this was the best batch of quesadillas the boys ever made.
Then it was time for The Vow, which made me cry but that doesn't really say much. Almost every movie makes me cry. It starts out really rough and hokey. I mean, what was up with Rachel McAdams' hair in the beginning of the movie? She looked like she was wearing a wig. The movie does get better towards the end. About the same time that Rachel's hair starts looking normal. LOL. I don't know if you guys saw Serendipity with Kate Beckinsdale and John Cusack a few years back, but how The Vow ends kind of reminds me of that movie.
Anyway, Becca is completely enamored with Channing Tatum. He's got a nice body and everything, but he just doesn't seem that attractive to me. It could be that he's too young. I mean, if I had a choice between Jason Statham and Channing Tatum, I'd pick JS every time. Now, that's one sexy man.
Speaking of, Brian and I hung out at the pool again today and saw a guy who resembled a young JS. I think it might have been the shaved head and the aviator glasses he was wearing. I told Brian we needed to get him some of those. LOL. Although, I think Brian will look more like Bruce Willis than JS when the time comes. Either way works for me. I think BW is sexy too.
Who wants to go swimming with us next weekend?
Earlier this year Brian said that he wanted to see Prometheus for his birthday movie. Yes, so even though I took him to the Grand Ole Opry in Nashville, I still had to take him to the movies on the weekend of his birthday. Brian is a spoiled brat. That is all I have to say about that. At least we compromised on a 3:45 pm showing, so I didn't have to miss my workout. Ever since I started teaching Zumba, I only get to see Amie on Sundays. I hate missing Sundays because it's my favorite workout day. We do an hour of intense, high impact Zumba, followed by 15 minutes of gut-wrenching abs. I'm not exaggerating either. Amie's ab workout is so tough that the times when we do just plain, ol' crunches feel like a break.
Anyway, the compromise (attending Amie's Sunday Zumba class at the West Central Genesis) meant having to go straight from the gym to the theater since we were coming from way out West to way East where 13th Avenue Warren is… Don't worry. We showered at the gym. LOL.
Brian's mom and dad joined us for the movie. It was good, but not great. The positives and negatives stemmed from the same thing. I thought it was good that the movie could stand alone, meaning you don't really have to be familiar with the Alien movie franchise to understand what's going on. At the same time, I don't think there were enough references to the other movies in the series for the hardcore Alien geeks. The movie was just okay for me. Plus, how do you put someone like Charlize Theron in a movie and not show her in her underwear? That was so disappointing!
[CORRECTION] They did show her in underwear, but it was brief and they weren't the sexy kind. LOL. [/CORRECTION]
Kidding aside, Philly D was right when he mentioned there were lots of random outbursts of emotion. I liked Noomi Rapace in The Girl with the Dragon Tattoo series and she did a good job in this movie, but she would have these random emotional outbursts that sometimes seemed out of place. I'm sure she was just following the director's instructions, though. [spoiler alert] In one scene, she and her boyfriend got into an emotional conversation about her being infertile and not being able to bear children. I was like, "Is she sure that she's not pregnant because she's been very emotional since the beginning of the movie?" LOL. She does end up getting impregnated with this alien thing, but I won't say any more in case you actually want to see the film. [/spoiler alert]
Anyway, Brian decided to take a vacation day today to celebrate his birthday. As if we haven't celebrated enough already. LOL. Because I'm a fantastic wife, I took a vacation day as well to keep him company. Brian is a hardcore movie geek so, naturally, we're going to the movies again. This time we're going to go see Snow White and the Huntsman. Charlize happens to be in this movie also. Maybe I'll get to see her half-naked in this one. LOL.
Brian and I went to see The Hunger Games
at the IMAX last night with the Dills and the Phelpi. Great choice. Nothing beats the IMAX movie watching experience. Everything else just seems like you might as well watch the movie in your own living room. Although, when we got to the theater a little after 9 pm for our 10:15 pm movie showing, the line was already around the building.
We thought that getting there an hour prior to our movie would be enough. As Brian and I walked to the end of the line, I quickly realized that we should have gotten there at 8 pm or even earlier. It was wild!
By the time we got inside, getting seats in the middle section was out of the question. Several people had already gotten there ahead of us. Between the folks already there and the saved seats, we didn't have a choice but to sit in the right section. Even then, it was a miracle that April found six seats together.
I normally prefer sitting smack dab in the middle of the auditorium and that is usually always the case because Brian and I always get first pick because we are typically at the theater with plenty of time to be the first ones there, so I really didn't know what to expect being in the section we were in. It wasn't too bad, though. Now when people say there are no bad seats at the IMAX, I can believe them. I thoroughly enjoyed watching the film, despite having to watch it from the side and not my usual middle spot.
I suppose we should have known it would be packed when we saw this on Friday night when Brian and I went to purchase our movie tickets. We were not quite nerdy enough to have dinner, in line, outside the theater, but I think that was the only way I could have gotten my middle seats. Now we know what to expect for when we go to the IMAX for The Avengers and The Dark Knight Rises later this year.
The Hunger Games
was really good, by the way. I highly recommend watching it. I'm not sure if Brian and I would have enjoyed the movie more or less if we read the books prior to watching the film adaptation, but it's definitely made me want to read the books — all of them. If anyone owns it (or the book trilogy) and doesn't mind parting with it for a few weeks, please message me.
Brian and I recently returned from Jeff and cousin Tracy's destination wedding. It was a quick (we arrived in Jamaica on Friday and we were back in Wichita by Tuesday night) but fun-filled trip. We didn't really get to sleep in because our room faced East and there was no way to keep the sun out each morning as it rose. It was all good, though. We got plenty of naps in hammocks (there were several throughout the property) and at the beach (thus, the terrible case of sunburn).
What I liked best about the trip was being able to spend some quality time with Brian. We have both been so busy lately that we rarely got to spend quality time together. This trip allowed us to do that.
My favorite part of the day was in the evening when I read to Brian before bed. He's currently reading Ender's Game
. I'm not a huge fan of science fiction novels but, the more I read to him, the more I got into the book also. Although, not enough to read it from the beginning. I'm a bit lazy and would rather just watch the movie.
I got curious about it one night so I looked at the book's copyright information. The book was actually written in 1977, the year that I was born. "This book has been around for years," I asked Brian. "Why are you just now reading it?" I can't remember what he said, but I remember also asking him why there hasn't been a movie made about the book. If the book is so good, surely someone would have bought the movie rights. He didn't have the answer that night, but guess what. We found out yesterday that production has already begun and the movie is set to be released next year. How cool is that?! If I wait a few more months, I won't have to read the book. LOL.
You never know if things are real or if it's all just hype so I looked up Ender's Game on IMDB. They had additional information about the movie, such as a list of the actors and their roles. Excitedly, I was like "Harrison Ford is going to be in it!" Brian was like, "He's got to be playing Colonel Graff." He guessed right. Other than Abigail Breslin who is playing Valentine and Ben Kingsley who is playing Mazer Rackham, I didn't really recognize any of the other actors. It looks like they're using older kids to play the characters, which I figured they would have to do. I was telling Brian about that. They always do that sort of thing in Hollywood. Heck, they had 30 year olds playing teenagers in 90210. =P
But I digress.. Brian and I had a blast with his mom and dad, Jeff, Tracy, and all of their friends on this recent trip to Jamaica. I feel like Brian and I really connected and we both got to meet some wonderful people. I will tell you guys more about our trip as time permits. In the meantime, enjoy the Shutterfly photo book I made of our trip photos below.
Click here to view this photo book larger.
As you can recall, I got into some Swedish films a while back around the time that the American adaptation of The Girl with the Dragon Tattoo
came out. I watched all three Swedish films in the series pretty much back to back right before we saw Daniel Craig's film. These days I'm into Spanish language films. I figured that it's a great way to practice Spanish.
I recently watched Guillermo Del Toro's El Orfanato
(the regular DVD version is actually only $5 on Amazon
) based on a friend's recommendation and thoroughly enjoyed it. I noticed that I could follow along pretty well even without the English subtitles. That's what got me the idea of watching Spanish language films for practice. I got several really good recommendations from friends on Facebook and have added most of them to my Netflix queue. I'm really excited.
A couple of titles were mentioned that I had already seen before, but I wouldn't mind watching them over and over again so I went ahead and bought them. One is my absolute favorite Guillermo Del Toro film, El Laberinto del Fauno
. The other is Volver
, which is Jenni's favorite. I'm really looking forward to watching both movies again, as it has been a while since I've seen them.
The other day I watched Silent Light
, which I thought was really great for learning to speak Spanish because it had Spanish subtitles. It helps to read the words and see the action. The movie was pretty good, but I wouldn't really care to watch it again. I didn't really care for the director's style, which was to drag out all of the scenes. It made the movie progress very slowly. I think other people would have been bored and given up. Were it not for my desire to learn Spanish, I probably would have gotten bored as well. Brian probably would have complained the entire time if he were watching it with me, so I'm kind of glad he wasn't.
Don't get me wrong. The movie had a pretty profound message and it was filmed beautifully. I just didn't care for the style. I also thought it was kind of weird. There was a sex scene between Johan and his mistress Marianne that left me wondering if people really had intercourse that way or just the Mennonites. Then there was the scene at the end where Marianne kisses Esther's corpse on the lips and the dead body slowly comes back to life (because all the scenes drag out for several minutes). I was like, "She did not just kiss that dead body!" I know it's a metaphor. I get it! But understanding the movie's message doesn't make it any less weird. LOL.
The Motorcycle Diaries
came highly recommended, so I guess I'm watching that next. IF you guys have other Spanish language films that you think I should see, please be sure to post them in the comments. I always love getting movie suggestions.
By the way, now that I've found this web page I'll probably start blogging in Spanish for practice. I've already started posting Spanish status updates on Facebook, but without putting the proper symbols above the letters. So far the response from my Spanish-speaking amigos has been quite positive and has given me the confidence to take the plunge and start blogging in Spanish occasionally. Thank you so much to you, dear reader, for your support, encouragement, and patience as I try to learn this new language. ¡Hasta luego!
I'm really looking forward to the American adaptation of Stieg Larsson's Män som hatar kvinnor, the first in novel of the Millennium trilogy. I had the opportunity to watch the Swedish versions (The Girl with the Dragon Tattoo
, The Girl who Played with Fire
, and The Girl who Kicked the Hornet's Nest
) over the last few weeks and have really enjoyed them. I think the first one was the best one, but part two and three of the series were good also. Even Brian got into it, and he normally doesn't like foreign films. He hates having to read subtitles.
The funny thing is that we were hanging out in our living room watching the The Girl who Kicked the Hornet's Nest
on Sunday when I told him that my stomach was upset and I needed to go to the bathroom. He was like, "You should just go to the bathroom down here so you can still hear the movie."
I just gave him this look and busted up laughing. I was laughing so hard I almost cried. "What good will that do me? I don't speak Swedish!" After realizing how absurd his suggestion was, he started laughing too. He laughed so much that he turned red. We had a good laugh about it for several minutes.
I'm looking forward to the American adaptation so that I can pick up on all those subtle nuances that I might have missed by having to read the subtitles. I'm not a huge Daniel Craig fan, but I think actually think he makes a good Micke Blomkvist. Check out the movie trailer below.
Looks pretty good, doesn't it? I'm thinking of taking Brian to watch it over Christmas vacation. Anyone want to go with us?
For those of you who aren't familiar with the novels or films, the Swedish versions of all three films are available on Netflix Instant Watch. It might not be a bad idea to watch them before the American versions are released.
Brian and I had a busy Saturday. I did Group Power and Zumba while Brian went to get a haircut and fight with the post office about my missing package. He was basically continuing the process that I had begun on Friday. LOL.
I left Zumba a few minutes early so that I could go home and shower before our 12:30 pm movie. I originally planned on showering and changing at the gym, but they were in the middle of locker room renovations. Anyway, I'm glad that we came home because someone from the post office came by and delivered my package. We wouldn't have been home to receive it, otherwise.
Brian and I were both starving, which is a really bad idea when you go to the movies because then you end up pigging out. Instead of sharing something, we both ended up ordering our own food. We did end up sharing with each other. Brian shared his bacon and cheese fries with me and I shared my egg rolls with him, but we ended up eating more than we should have. Brian decided that he would get a 32 oz beer. Not to be outdone, I figured that I would get a 32 oz drink also. I got this drink called The Dark Side. That is good stuff! LOL. Brian wouldn't let me finish it, though.
We live just a couple of minutes from the movie theater so drinking is not really an issue. However, I was already acting a little loopy so Brian had to pull the brakes. He didn't want me to be sloshed because we had a fundraising event later that night. He has to admit though, he reaped the rewards of my inebriation right before our nap.
Brian wanted to wear a suit to the event, but I didn't feel like wearing a dress so I talked him into a compromise. He got to keep the suit jacket, but had to wear jeans with it. Otherwise, we would have looked really silly together.
Here are photos of some of the people we saw at the event.
Shirley and Tiffany. I know Shirley from Zumba and work with Tiffany. I didn't recognize Shirley at first because she was all dressed up. The only time I ever see her is with her hair up in a pony tail and in workout clothes. LOL. What a small world!
The Habbarts. Mike Habbart and I started together. We were both in the same training class almost a decade ago.
Jennifer and her husband. Mel and her husband attended also, but I think they took off early. I didn't get a chance to get their photo before they left.
We also ran into Darrin, which was a pleasant surprise. We hadn't seen him in ages. I think the last time we saw Darrin was at the I Bike Douglas thing last year. Maybe we saw him at Heroes. I don't know. It has been forever, though.
There were pros and cons to having the Lights on the Lake launch party at Abode. Being inside a warm building was a definite plus, but I really wish that we could have seen the light display. As it is, we'll have to make a separate trip out there. Although, we live right by Heartspring so it's not like we have to go very far.
I had to shower three times on Saturday, but it was worth it. I like being out and about and doing stuff. I think Brian had a good time also, but I think he mostly just liked showing off his sexy, new physique. LOL.