I drove one of our electric vehicles to Topeka the other day. When I got to about El Dorado, I got a TPS alert. The right passenger tire had low tire pressure.
I know that QT has free air so I called Brian and asked if there were any QTs between where I was and Topeka. No such luck. He did tell me that there's free air at the Matfield Green service area, though.
I parked the car with the tire that needs air closes to the air compressor. I don't think I did it right at first because the tire pressure actually went down instead of up. I tried again, making sure that the hose was securely fastened to the valve. It worked that time. Except, now the car wanted air in the other front tire. Yup. That's my luck.
Although I had to wrestle with the hose to get it to reach the other side of the car, I was able to inflate the other tire without any problems. And, I got to Topeka and back home safely. However, I've come to the conclusion that the Chevy Volt hates me.
Brian is getting his studying in whenever and wherever he can. Yup. That's my studious hubby!
It was a good excuse to fire up the fireplace.
By the time Christina and I got home from MOMIX: Botanica Brian and the rest of our visitors were already three sheets to the wind, on account of Ron Zacapa (Brian's new favorite rum).
Yanila and Guille.
Jorge, Christina, and Brian.
Los tres amigos.
It was a wonderful evening of conversation and companionship. We look forward to hosting our Latin American friends again. Until your next visit!
XOXO,
Flip and Ching
I didn't want to mope around the house after dropping Brian off at the airport so I ended up driving to Jersey's to watch some friends play sand volleyball. The tournament was a fundraiser for the Sedgwick County Sheriff's Office Leaders Achievers and Winners (LAW) Camp.
It looked like so much fun that I'm now trying to convince my coworkers to host a sand volleyball team building event. I mean, who doesn't like playing volleyball?
Anyway, I worked up an appetite watching Rachel, Michael, and Stephanie play so I found myself at mom and dad's in Derby looking for food. They didn't have anything so mom took Jenni and me to Hibachi Boy in Derby.
Hibachi Boy serves food that you would typically find at fancier Benihana-type restaurants minus the performance and the high prices. If you need something to compare it to, it's a lot like Emperor's. Except I think that Hibachi Boy actually offers a better value because you get fried rice, noodles, hibachi veggies, and bean sprouts along with your choice of meat. As far as menus go, I also think that Hibachi Boy offers a much greater selection because they also serve Thai, Vietnamese, and sushi. I'm pretty sure that if it's Asian, Hibachi Boy serves it. LOL.
Places like Emperor's and Hibachi Boy are a great alternative to Sumo or Sake (two of the most popular Benihana-type restaurants in Wichita) if you could care less about the performance and you don't have that much time anyway. It's a fast hibachi meal at a lower price. Once Brian gets over his "I don't want to eat out anymore" phase, I'll probably bring him to Hibachi Boy.
I ended up hanging out at mom and dad's after lunch. I figured it was better than hanging out alone at home. Jenni rented The Bling Ring
so I ended up watching it with her. Did my homework and ended up staying for dinner. Mom made bok choy. We ended up visiting for a while and, before I knew it, it was almost eight o'clock.
After twelve hours away from my own house it felt so good to home. It also helped that Brian and I thoroughly cleaned the house the day before so the house smelled fresh and clean when I returned. Sometimes time away from something makes you appreciate it even more. The same holds true for people. I was so happy to see Brian when I picked him up from the airport this afternoon. Welcome home, baby!
I had to go to Chicago for some SAP Training, it ended up being a hectic weekend leading up to this. Ching came back from Minnesota on Friday afternoon, and we got to spend all day Saturday together before I had to leave Sunday Morning.
I got to set all of my travel, hotel and transportation up this time. I looked for Supper Shuttle planning on getting the group ride since the company was paying. To my surprise, they only offered an Execucar meet-and-greet.
In Chicago though, the guy that meets you is not the guy that drives you.
Here is my greeter.
He was a nice kid but no where near as good as the driver we had in Florida.
Larry Winget
is like Dave Ramsey
, except he's brutally honest and really annoying. LOL. He knows it too. He refers to himself as the world's leading "irritational" (instead of inspirational) speaker. Larry Winget
may be annoying, but he speaks the truth. There's a lot of value in his philosophies.
Anyway, I listen to pros like Dave Ramsey
, Suze Orman
, Larry Winget
and the like because they make sense. Brian and I went into credit counseling in 2004 because we were tens of thousands of dollars in debt. We made some changes to our lifestyle and now we have the financial freedom we have today. The advice really does work.
Brian and I haven't carried any credit card debt for about seven years. We pay our credit cards (we used to only have one, but now I have one that I specifically use for my Amazon purchases because I shop on Amazon quite a bit) off to zero each month because we don't believe in paying any interest. Interest is money you pay that gets you nothing. Blech. If I could have gotten around paying mortgage interest, I would have. But who does that? The only way to pay cash for a house is to either win the lottery or buy a mobile home. LOL.
We haven't had a car payment for about five years. When we bought my car in 2006, we financed it through Toyota Financial who charged 4% interest over a 60 month term. I wasn't about to have that so we paid off the car as soon as we could. It took a couple of years. When we bought Brian's '04 little Mazda truck in 2007, we didn't finance it at all. It was used so we just wrote a check for it.
Even though my student loans had very low interest, I still didn't like it so we paid them all off earlier this year. Our goal was actually to pay them off in 2012, but Christmas happened so we missed making our goal by a couple of months.
Monthly payments tie you down. No car payments, no more student loans, and no credit card debt means Brian and I have more freedom to do the things we really want to do because we're not wasting money on interest. Believe it or not, at one point in our lives (about ten years ago) we were paying over $600 a month on interest between various creditors. Never again.
Anyway, we don't follow any one philosophy. We read and listen and watch and we do what makes sense for us. Here's a funny one from Larry Winget.
This video made me reconsider having a gym membership. At one point Brian and I had four different gyms we could workout at — we were members of both Genesis and our local YMCA and our wellness center at my work and our apartment complex had a pretty good gym at the apartment clubhouse. Seriously. Now that Brian and I have our finances under control (read: no more debt) we have relaxed our spending a little. We are still very frugal in a lot of ways, though.
Brian and I realize that we have gotten a bit too relaxed over the last couple of years and we need to start following our budget more strictly. We are still putting money away in savings, but not as much as we could if we were really putting our heart and soul into it as we did back in the days when we were trying to get out of debt.
The first step was to trade our pricey Genesis Health Clubs gym membership for a cheaper alternative. Enter the YMCA. This also helps me because as a YMCA member, I saved $100 on the 8-week land instructor training that I started this week. Although, I'm thinking, why stop there? Our YMCA membership cost us almost $600 for the year (we prefer to pre-pay on things as much as possible because we don't like monthly commitments) but my membership to the gym at my work only cost $240 for both me and Brian. So I've decided not to renew our YMCA membership when it expires next year. I think Brian is on board with that. Besides, if I teach at least two classes a month there I get my membership for free anyways. And isn't that part of the plan? That's why I'm sacrificing eight weeks of my life to get certified as YMCA instructor.
Speaking of plans, those who know us know that we are planners. We are constantly setting and achieving goals. I think Dave Ramsey has a quote that goes, "If you aim at nothing you will hit it every time." That is so true. I'm really kind of anal about my goal setting. I reflect on my life at least once a year (sometimes every few months) to see how I'm doing relative to my goals and I'm not satisfied if I don't see any personal or professional growth of some sort. Luckily for me, that hasn't been the case over the last decade so I'm trucking along the somewhat predictable path that I've created.
Sometimes we obliterate our goals (like when I finished my MBA in two years while holding a full-time job and when we set a three-year goal to buy our house after moving to the townhouse in 2010 and we did it in less time), sometimes we miss them (like when my student loans took longer to pay off than we anticipated); however, one thing remains constant. We are always setting goals.
When my favorite work pumps broke one morning at work, I had no choice but to rubber band my shoe to my foot just to get through the day.
My shoe strap breaking doesn't mean I could go home for the day. I still had to finish my work. LOL. I wasn't going to let something as minor as a broken shoe strap ruin my day, though. Just like how I wasn't going to let a little wardrobe malfunction keep me from attending the ZIN Soiree at the 2013 Zumba Instructor Convention in Orlando. Plus, when you make lemonade out of lemons the universe will lend you a hand. Brian says I can go shoe shopping on Saturday! Woot!
Coming in early and staying late is no longer enough. I'm leveling up thanks to my new laptop docking station and hand-me-down monitor, keyboard, and mouse.
Thanks for the hand-me-downs, dad and Brian!
You know what this means right? Now I can really work from home. LOL.
I was doing some work in the office this morning — you know, taking the new set up for a spin but besides that I really had some work to do — when I was startled by a peeping tom in the window. What a creeper!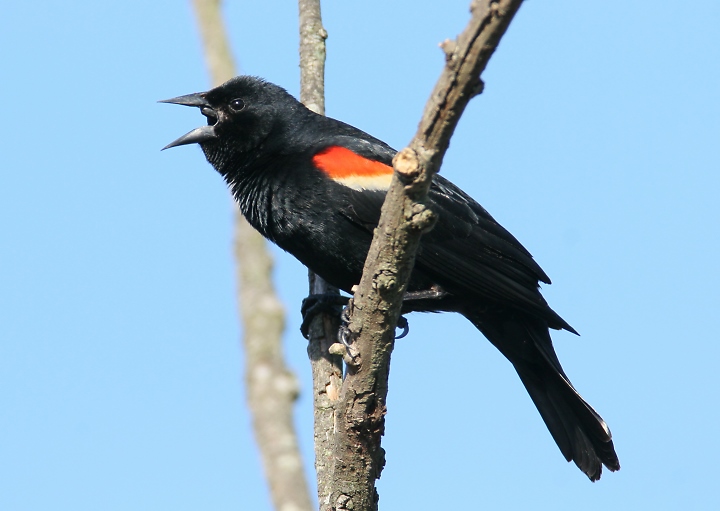 (Picture courtesy of billhubick.com photography.)
Ching and I decided to feed the ducks in our pond. While tossing the bread into the water, a red winged black bird was making a ruckus in one of the nearby trees. After a few moments, he buzzed my head. Ching asked, "What was that?!" I told her that the bird buzzed my head.
It would make noise at one tree then buzz my head and move the the other then repeat the cycle. At one point, the bird came so close to my head that I could hear the wings beat and feel the breeze from them flapping. I couldn't turn my back on him because, every time I did, he would swoop in on me. I think he is mad because his mate kept making a nest under my deck and I kept tearing it down. Now I think whenever I go outside, he will swoop. I think I will need to do something to make him happy. Just don't know what.
The weekend is winding down. It has been a productive one. My life can seem exhausting at times, but it's also a lot of fun.
On Thursday we were at the jazz concert at Bradley Fair. Those of you know know us well know that it's our favorite thing to do during the month of June.
On Friday night we were at the Alfresco Gala at Botanica. Misty got some tickets from Tammie and she invite me and Brian to join her. Thank you to Misty and Tammie for hooking us up. We had a lot of fun eating, drinking, and listening to Blue Eyed Soul. Brian and I even got to dance a few times.
You can see more pictures from the Alfresco Gala here. For more information about the event, click here. I believe it is an annual event. If you missed it this year, you can go always go next year. It's a lot of fun.
Speaking of fun, I'd forgotten how much fun the Filipino ball can be. It has been eight years since we last went. I will be posting about it shortly so be sure to check back.
Today we had our personal training appointment at the YMCA. Then we did some yard work. It has been one heck of a weekend. I'm looking forward to relaxing the rest of the evening. How about you? How did your weekend go?