The ship looked so empty on debarkation day.
No more Zumba banners and window clings.
Even thought Brian and I didn't have a flight until 3:45 PM that day, we got up early anyway. We had a nice leisurely breakfast and then went down to Café Promenade so I can have one more Creamice Mocha.
This drink is so delicious. I wish that I would have discovered it sooner than halfway through the cruise.
Anyway, the valets picked up our bags the night before and we were pretty much all set so we went ahead and got ready to disembark the ship at eight o'clock. We thought it would take a few hours to get off the boat and go through customs. Little did we know that our stateroom attendant hooked us up with these special, VIP tags that worked like magic. There were tags numbered 1 to 45 – the higher the number the later it would be before your bags would be delivered to the baggage claim/staging area. I think we were supposed to be number 15 according to Guest Services. Somehow, we ended up with these "Suites/Pinnacle" tags in our stateroom which we were grateful for because that mean our bags would be ready at the baggage claim area by 8 AM. "Suites/Pinnacle" had priority over all the numbered tags.
You basically had two options, you let the valets take your bags the night before and then they put it in the baggage area for you or you lug your bags with you. The downside of letting them valet your bag is that you're at the mercy of their schedule, which meant the higher numbers would be ready last. Some people don't want to wait to they decide to cart their bags with them. Brian and I only had carry-ons but I remembered that the elevators only go down to a certain floor on debarkation day and you have to take the stairs all the way down. I told Brian that I didn't want to lug my bag around so if he insisted on taking our bags ourselves then he would be carting both carry-ons. Plus, I told him that we should use our ultra-special bag tags.
Brian was really glad that he listened to me as went down the stairs from Deck 3 to Deck 1. Since we went down early, the line moved pretty quickly and we were off the ship in no time. When we got to the place where they line up everyone's luggage, there were only a dozen bags or so there but we easily spotted our bags. We used our red luggage for this very reason.
Several people got off the ship before us, and I think there were seven other ships disembarking that same day, so the line through customs had already started snaking. After grabbing our bags, we asked one of the port staff where we should go and she told us to stand by the red pole. It just happened to be the end of the long line. There were a handful of people getting in line so we let them get ahead of us and then fell in line behind them. We started to follow the line as it started moving but then the lady walked toward us and asked us to follow her. She then lifted one of the barricades and told us to go through and wait right there right in front of one of the customs officers' stations. We were called up to next so we effectively bypassed the customs line altogether. I'm convinced we got special treatment because of our special "Suites/Pinnacle" bag tags.
It only took about 30 minutes from the time we got in line for debarkation to get off the ship, completely through customs, and out to the shuttle pick up area. It was amazing. I'd never gotten off a cruise ship that quickly before. And then, as luck would have it, our ride to the airport showed up within a couple of minutes and then we were at the airport by quarter till nine. The crazy part is that our flight wasn't even until later that afternoon.
Anyway, they're a lot stricter at the Fort Lauderdale airport than in Wichita. They had this Delta attendant there who did nothing but point people to the security line and/or make them check the size of their carry-on against the metal carry-on measurement stand. Brian's duffel was just a tad too long. We tried to explain to the lady that we carried both of our bags on during our arrival flights and they fit with no problems but she was not having it. She wanted Brian to take items out of his duffel until the bag would fit. There was no amount of stuff we could take out that would make it work because it was the shape of the bag that was the problem and we didn't want to hassle with trying. Since we were early, we decided to just go to the desk and pay to check our bags. We figured that while we were doing that we could see if we could get on earlier flights home.
The lady at the Delta desk was a lot more helpful and pleasant than the first woman we encountered. She punched some keys on her computer and broke the news to us.
"If I type fast enough," she told us, "I can get you on the 9:45 AM flight." It would cost $50 each to change our flights, plus $25 for each of the bags, so we'd have to play $150 total; and we only had a split second to think about it.
Brian and I looked at each other and were like, "Let's do it!"
She quickly took our payment, printed our new boarding passes, tagged our bags, and placed them on the conveyor belt behind her. I was a little worried that our bags wouldn't make it on our new flights since we were cutting it so close but she reassured us that our bags would make it.
At the end of our transaction she was like, "It's 9:08 now so you better hurry because your flight is boarding." With that, we quickly said our thanks and skedaddled to security.
Security was long and cumbersome per usual but, lucky for us, our gate was close by. When we got to the gate, they were boarding Zone 2, which just happened to be our zone so we fell in line with everyone and got on the plane. We didn't have to wait around at the gate, which is just the way I like it.
This plane wasn't as nice as the plane that we flew in going to Florida. There were no free inflight games but the flight seemed to go fairly quick and we were in Atlanta in no time. I think we were 10 minutes early actually. We had a decent layover length before getting on our flight to Wichita. That flight went smoothly as well. We were either early or right on time. We landed shortly after 2 PM. Our bags safely made it and were one of the first few to hit the baggage claim carousel. Our ride home was already waiting for us so we got in the van and were home by 2:30 PM or so.
Brian and I were completely amazed because our original flights wouldn't have put us back in Wichita until after 9 PM. We got on the flights that, just the night before, Brian told Missy and Todd they wouldn't be able to make. Crazy!
Things seemed to be going perfectly our way until we got home and found Molly had been badly hurt. She and Saki got in a fight the day before that resulted in Molly getting staples on her head. I guess the reason why things worked out for us and we were able to get home early is that the universe wanted us to quickly get back so we could take care of our poor baby.
It wasn't fun coming home to a $175 vet bill but we were grateful to be back early to be with our beloved dogs.
On the fifth and final day of our sailing, the ship was booking it back to Fort Lauderdale. You could feel the difference. We were no longer cruising leisurely along. Anyway, true to my craziness, I had yet another 8 AM class. I could not miss this one though, because it's a masterclass with ZES Loretta Bates and she is amazing. Such an inspiration!
Just listen to her message. Dance to inspire, not to impress. We should all take this to heart and not judge one another and just dance for the sheer joy of it.
I got up early and got a great spot. Not hard considering I think almost everyone was pretty worn out. I was feeling it too. Thus, the need for the massage the day before.
Do you see Loretta's head peaking out above the stage? She is so cute.
Do you see Brian? We were taking pictures of each other, I guess. He wasn't supposed to be up there, though. That's the special observation area for ZESes and other Zumba VIPs. He found that out later. They didn't make him leave. Brian realized it on his own.
A couple more of Loretta…
Do you see the guy in the gray and white shirt? Well, that's J. Perry.
If you don't know J. Perry, he sings some of my favorite Zumba tracks: Dekole, Boujé, and Konsey. If you've ever been to my class, you'll recognize the songs when you hear them. The rhythm is soca, which is my favorite beat to dance to. I have no idea what he's saying most of the time but the songs are so enjoyable.
This is where we found out that our special guest will be performing while we Zumba to his tunes. Here are a couple more pics…
Here are some videos from the masterclass…
TI PAM NAN
ENJOY
KONSEY
There were some technical difficulties in that last one but J. Perry and Loretta took it all in stride. Such pros! They make a great team also. This was definitely the highlight of the whole trip for me. I love, love, love J. Perry and I love, love, love Loretta Bates! Having the two of them together just made me want to explode. I could hardly contain myself.
I got a shameless selfie with J. Perry!
And another with him and Loretta both. I was totally fan-girling it. I was so giddy! I was on a roll, too. I ran into ZES Ricardo Marmitte in the elevator on my way to my next masterclass and grabbed a quick selfie with him as well. LOL.
It was real shame that I didn't get to take Ricardo's class. I love his African style. Anyway, they canceled his class the first day because they were still installing/constructing stuff and then we were all going to take his make up class on Thursday night at the jogging track but that got canceled too due to weather. Stupid rain!
Missy and I ran into Ricardo later on. They had him peeling the Zumba decals from the store window at the Royal Promenade. I guess they put him to work because he didn't have to teach his class. When we walked by, Missy whispered something to him and then he made a face and pretended to spray her with Windex.
"What did you say to him?" I asked.
"I told him that he needs to come over to my house when he's finished because my windows also need to be cleaned."
This is Australian ZES Jarrod Tucker. He was my last official masterclass of the cruise. It was my first time taking his class. He was super nice and friendly and absolutely fantastic but the class was held at the helipad, which was my least favorite surface to dance on. The floor was really grippy and it felt like sandpaper under my shoes. Also, it was super duper windy. It was like doing Aqua Zumba but with air as the source of resistance. That made it really interesting.
Meanwhile, back at the main pool deck this was happening…
And at the H20 Zone, Richard Gormley was leading an Aqua Zumba masterclass…
And Brian got a selfie with ZES Erick Santana…
I heard part of his playlist while I was at the spa the previous day. He has great song choices. We also got to watch Missy dance with him (she was taking his class at the jogging track while we were at the spa) and she was having a blast. She was so focused that she didn't even see us trying to wave at her on the other side of the window.
And I got another elevator selfie. This time with ZES Eliza Stone. We ran into her on our way to back to our room. That was the best part about being on a ship. My Zumba idols could not escape me.
We made the mistake of taking a brief nap and were late to ZES Armando Salcedo's class in the Alhambra Theater. Yes, every inch of the ship was being used for Zumba classes. Rob, Todd, Heather, and Missy were already there when we arrived. They got their late too so the stage was already at capacity.
They were only slightly ahead of us.
I didn't get to take any classes in Alhambra Theater but that stage floor looked perfect for Zumba. That might have been the best floor to dance on; even better than the Sports Court, which had been my favorite up to that point..
Armando had some fun routines. I was bummed that I didn't get to take his class.
That theater was rockin'! Everyone was dancing, even in the aisles and between the rows. People kept piling in after us and, since the class was full, they were just dancing in place wherever they could find some space.
Here are some clips from Armando's masterclass…
This was the pow-wow about debarkation the next morning.
Always the bearer of bad news, I think this was Brian telling Todd that chances of them making their 9:45 AM flight in the morning were slim. Brian is kind of a downer like that.
I made them cheese for the picture.
Obligatory selfie… You know how that goes.
Group selfie! Groupie?
This is ZES Michael Marmitte, Ricardo's older brother. That was a revelation. He told us that he's actually older. Everyone assumes Ricardo is older because he's taller but he's actually the middle brother. Their youngest brother mixes their music.
I would have taken his masterclass but I had to use the restroom. By the time I got out, they were at capacity and wouldn't let any more participants in. It was fine though, because I felt tentative about dancing on carpet with carpet gliders. You have to be really careful or you could twist your ankle and seriously hurt yourself.
It was a super fun class, though. I did a few songs with the class right outside the karaoke bar. In this space…
Michael's class was overflowing.
He needed a much bigger space than the karaoke bar.
And then, ZES Walter Diaz (Wally) showed up looking for the same ice skating show that we were looking for that apparently wasn't going on until seven o'clock that evening.
I love Wally. I took his Salsa and Merengue Mashup workshop at my first Zumba Instructor Conference almost three years ago. He is amazing!
Group selfie right before our final dinner together. The first one was tricky because I'm much shorter than everyone so they all had to crouch down. We had to have Brian take another, which was better.
And yet another group selfie when Rob and Heather showed up.
Don't ask me about the selfie stick. I brought it with me but I forgot to pack the charger. I had it with me the entire time but we never used it because it was dead.
We all hung out for bit after dinner but Brian and I went to bed early that night because we wanted to be ready for debarkation the next day. We had to finish packing so we could set our luggage outside our door before 11 PM. The funniest part is that Brian and I both set our clothes for the next day and packed all of our clothes including our dirties. Brian had his clothes for the next day laid out and was completely naked (so was I, actually) and then it dawned on me, "Now, how are we going to put our luggage outside?" We both busted up laughing.
Brian put his next day jeans on and then put our bags outside and then took his jeans back off and hopped into bed. We had some great laughs throughout the trip. It was such a blast hanging out with Glynda, Missy, Todd, Rob, and Heather; but as they say, all good things must come to an end.
Come back soon for the final installment of our cruise recaps!
Our fourth day on the cruise was spent docked in Falmouth, Jamaica. Having visited Jamaica a few times before, Brian and I decided to not even get off the ship. We wanted to have a nice leisurely day while everyone else was off the boat, but I had to get all my Zumba classes out of the way first.
ZES Gina Grant and Dahrio Wonder's class was my first stop. They gave us a taste of the Hip Hop Turn Up workshop that they do at Convention.
We learned the moves during the warm up and we got to practice them almost to mind-numbing repetitiveness. Eventually we got to put it all together and actually dance a few songs. Maybe I would feel differently if I didn't look so goofy dancing hip hop. LOL. I did like the Water Dance.
Here's the official choreo video from Gina's YouTube:
My next class was with the amazing ZES Betsy Dopico.
Here's a video of her in action:
While everyone else was doing excursions in Jamaica, Brian and I decided to hit the spa and take advantage of the 20-20-20 special.
The one complaint that we'd heard from people about the spa was that you couldn't really relax because you could hear Zumba music thump, thump, thumping all through your spa therapy session.
Brian and I thought we were pretty clever about scheduling our massages at 3 PM while most people were off the ship and there was no Zumba going on. When we were in Labadee, the first afternoon classes didn't start until four-thirty. Since there was no live concert in Jamaica, the afternoon classes at the jogging track (the stage and speakers were set up right outside the spa) started at three-thirty. Halfway through my massage, the Zumba music started going.
It was ZES Erick Santana's masterclass which Missy was in. We watched her from the window but she was so focused. She didn't see us at all.
We met up with Missy, Todd, and Glynda for dinner that night. Not sure what Rob and Heather were up to but we left a message on their room phone. I think they might not have gotten our message until late, though.
This is me playing peak-a-boo with one of the dining room curtains.
We finally got some lobster on the menu. I think almost everyone except Brian got lobster. I should have had him ask for one too so I could have two of them.
In case you were wondering how to gracefully take the lobster meat out of the shell, here's how it's done.
Voila!
One of the funniest things about the dinners is that it seemed like I would always end up with the wrong menu. We'd all be talking about what each of us would have and I'd say something like, "I'm having the baked Alaska." And everyone would be like, "Where do you see that?" Because their menus were different than mine. I think it happened three times. The uncanny part is, I was always the one it happened to.
Oh, Brian and I were just a few doors down from Beto's suite so we had to take a picture. Room #1677 is our meager 150 sq ft interior stateroom which. Beto's suite is the big, bright pink one in the picture below. I think it's over 1300 sq ft. I saw into the room one day when the doors were open while they were cleaning it. It looked luxurious compared to our closet of a room.
.
Seriously, our stateroom is about the size of our master bathroom at home. It's amazing considering it cost about $1800, without the daily gratuities and drink packages. For comparison a typical Royal Caribbean five-day cruise with the same itinerary would have only cost half that (about $400 per person). That's the premium you pay for Zumba.
We almost didn't go at first because of the price, but then Brian and I decided that we would take the cheapest stateroom option just so we could get on the ship and be part of the first ever Zumba cruise. I was afraid that it may not happen again and, if we didn't go, I'd miss out on the experience completely.
Now, having experienced everything – the plethora of masterclasses and all of the awesome surprises – I have to say that I would gladly pay the same amount all over again. The experience was absolutely worth every penny.
Even though we splurged on Brian's unlimited drink package (he got the ultimate, ultimate one which included unlimited alcoholic beverages, whereas mine only included unlimited non-alcoholic cocktails, juices, premium coffees, soda and bottled water), we did employ some cost cutting measures such as not buying any overpriced products from the spa (made this mistake on the poker cruise when we spent a grand in a matter of minutes) and not buying any overpriced pictures (even though the cruise photographers actually managed to take some good ones).
Looking back, I think we could have saved even more by skipping my drink package altogether. I don't think I drank my money's worth and you could get ice and water from the bar and multitude of water stations throughout the ship. Brian tried to drink his money's worth in beer and wine and coffee, but he really had to try. I guess we're just not that big of drinkers.
Some nights we did our own thing, like the night that we went to the adult comedy show. OMG. I had drank so much that day that I had to use the bathroom really badly. I didn't know how much longer it would go and I couldn't wait any longer so I had to get up and use the restroom. Jim David, the comedian, naturally had to crack some jokes at my expense. I guess I broke the cardinal rule of comedy shows: never get up in the middle of the show.
On this night Missy and Todd talked about going to see the Disney musical variety show after dinner. Brian and I were going to do something else, but decided to see the show at the last minute. They were already a few of minutes into the show when we arrived at the theater. Luckily, Missy and Todd were easy to spot. We just looked for Todd's head. We found a couple of empty seats right behind them. We hung out with Missy and Todd a little bit after the show while waiting for the party at the Royal Promenade.
We took some porthole pictures at Café Promenade. I really like this place because they had this yummy Creamice Mocha drink. Although, they tried to charge me for it twice even though it was included in my drink package. I wish I would have know about that drink sooner because I probably would have gotten my money's worth on my drink package then. LOL.
Alright, it's bed time. I'll finish the cruise recap next weekend. Until then…
HAPPY SUPER BOWL SUNDAY!
Day three was our day in Labadee, Haiti. All throughout the cruise we were very worried about being able to port in Labadee because of protests and political unrest. We heard that the week before three cruise ships were turned away.
I would have been really upset if we couldn't port in Labadee because it's the location of the live concert that was one of the biggest draws of the cruise. I don't know where the concert would have been held otherwise.
We didn't hear otherwise, so it seemed like everything was still a go for the live concert and festivities in Labadee.
My first masterclass of the day was with the talented and beautiful ZES Marcie Benavides.
One of the best aspects of her class is the live mixing by her gorgeous husband, DJ Francis. They make such a great team.
She had a couple of guests to help teach class but I forget their names.
Here are a couple of short video clips from class:
I'm sorry for the poor video quality. My phone takes crappy vids and I don't know how to upload them properly to maximize quality. Just go with us next time.
This woman is amazing. Definitely one of my Zumba idols.
She looks just as good after class. It's like magic.
Here's a class going on at the Royal Promenade as we walked by.
Zumba celebrities Armanda Salcedo and Heidy Torres teamed up with Gina Grant and Dahrio Wonder. I think it was billed as an Armando and Heidy class with Gina and Dahrio doing an extended cameo.
It was amazing! Everyone seemed to be having a blast.
Do you see Todd and Missy?
Here are some video clips from their class…
There was Zumba going on everywhere on the ship. You couldn't turn and not hear Zumba music.
Everyone was doing Zumba; including the ship staff.
Another fun class going on that morning was the Loretta Bates and Kass Martin team up at the main pool deck.
They also had a great crowd considering it was a port day.
Here's an Aqua Zumba class at the H20 Zone.
Here's a photo from Beto's class at the main pool deck.
I kid you not. There were hundreds of Zumba classes offered throughout the week and dozens going on simultaneously at any given time.
Speaking of Zumba idols, Beto is THE MAN.
Here are a couple of great videos I found on YouTube that will give you a great idea of what it was like aboard the cruise ship. I don't think Royal Caribbean has ever seen a chartered cruise quite like this one.
Beto and the Zumba Fitness team "Zumbafied" the entire ship.
Here's a cool but trippy panoramic photo of Labadee.
We met up with Missy and Todd for lunch and then we were off to find the concert site.
Ran into DJ Gringo as we got off the ship.
We ended up walking behind the royal family: Dahrio Wonder, Gina Grant and their two girls. It's amazing how much their kids have grown. I remember when they were little babies. Now they are taller than Gina.
We got to the beach and found a great spot.
We were right by all of the Zumba celebrities.
The guy in the blue short-sleeved shirt and hat is Armando.
Here's a pic of me with ZES Betsy Dopico. She is amazing!
And one of me with ZES Hermann Melo and ZES David Velez.
And a pic of me and Missy with DJ Francis.
And me and Beto. I spare you the details of how he tried to fake strangle me because I was makulit. Dude with the big hair in the background was kind of grouchy.
Here's an obligatory concert selfie.
Here's a great photo of J. Perry.
Queen of the Caribbean Alison Hinds called Beto to the stage.
I wish we could have stayed for Machel Montano's full set but I had to make it back to the ship for ZES Tony Witt's masterclass. He was the only one we didn't get to watch all the way through. A local act opened the concert followed by T-Micky, J. Perry, Admiral T, Alison Hinds, and Machel Montano performed last.
On the way back to the ship, we ran into another one of my Zumba idols, none other than ZES Loretta Bates. She is so inspiring!
Love! Love! Love!
Meanwhile back at the ship… We met up with the gang at dinner. No pictures of people because we were busy enjoying our food.
This was the night that Rob ate three whole entrees, in addition to his starter and dessert. A bunch of us ordered the shrimp dish pictured above. Rob was a bit disappointed because you didn't get a lot of shrimp. He thought he was going to starve and asked for the chicken marsala entree also. Before his chicken marsala arrived, our server brought an extra lasagna to the table. Not having been satisfied by the shrimps, Rob claimed that as well. He ate wiped all three plates clean. He earned every single one with all the Zumba we'd been doing all week.
Brian had the lasagna also. He said it was delicious and possibly the best lasagna he's ever had. He let me have a bite. It was indeed pretty good. I had contemplating ordering one for myself in addition to my shrimp, except our server offered me another.
"Would you like another?" he asked when he came back to check on our table. "Sure," I replied. I don't think he expected that. LOL. I think he was thinking I would say the opposite. We were among friends though so we weren't afraid to eat like hogs. Don't even get me started on desserts. We each would order two and three of them at a time. This is why people always end up gaining five to ten pounds on a cruise.
Anyway, the dinners at the main dining room were always fantastic and the service was top notch. We tried to get Franklin every night after our first dining experience but it never worked out. We got different servers each time but they were all great. I feel really bad for those don't venture beyond the buffet for their meals. I don't mind the buffet when I'm in a hurry but I'd eat all my meals in the dining room if I could.
There were approximately 90 masterclasses offered on day two, our first whole day at sea. Because I'm crazy about Steve, I registered for his classes two days in a row. Even though I'd just dance with him the night before, my first class on Tuesday was with a joint masterclass by Kass Martin and Steve Boedt at 8:00 AM, followed by a masterclass by Zumba creator/legend Beto Perez at 9:30 AM.
Honestly, I wouldn't mind doing Zumba with Steve everyday but I did want to check out some other classes too. After I got my two classes with him out of the way, the rest of the week had more variety as you'll see.
It was rough getting up at six o'clock that morning, specially when we stayed up past midnight the night before, but Tuesday was a big day for me and I wasn't going to miss either of these high profile classes. I was also secretly hoping that not many people would be apt to get up for an 8 AM workout after partying all night so the class would be a lot less crowded than the 6 PM class the previous night.
The verdict? There were surprisingly a lot of people. I'm thinking some people didn't bother going to bed. The pit in front of the stage was really packed but at least there was a little bit more space than the previous night. You could actually use some arm movements and only occasionally hit your neighbors. LOL.
I don't have any pictures because I didn't bring my phone for fear that I might lose it in the crowd. I was really disappointed because I got there early enough that I was just a few rows from the front. I would have gotten some really great shots of Steve and Kass. It worked out though because I didn't have to stop dancing to take photos.
Here are a couple of videos that Brian took before heading back to the room.
It was an amazing class. I'm glad I got up for it. I almost didn't because we were up so late the night before. I was so out of it that I jacked up our breakfast room service order. I thought that I asked for it to be delivered at 6:30 AM. By 7:00 we were wondering what was going on so we decided to call the number. They told us that we didn't specify a time so they weren't sure when to prepare and deliver and breakfast. Apparently I marked everything that we wanted except for the time! Oops!
I think Brian would have liked to have just stayed in bed but he ended up getting up with me and grabbing a quick bite at the breakfast buffet before walking me to my class. I'm glad he did because at least he got a couple of videos. I was hoping that he would return and take a few videos of Beto's class but he walked back to the room and promptly went back sleep. I couldn't blame him though, we had a late night.
Beto's class was also at the main pool deck. I had heard some grumblings about this actually. This area apparently is the biggest and best pool area to hang out on the ship. Well, they covered the two rectangular pools to make dance floors and you couldn't really use the hot tubs because they're in the middle of it all.
The main pool is really the only area that can hold hundreds of people at once so it's where all of the high profile classes were held. It was pretty much shut down all day until late at night when they played movies. There was no sunbathing (or napping) happening at the main pool deck that week.
Steve and Kass are huge celebrities in the Zumba world so my 8 AM class was there. Beto, of course, is the man, so his class was at the main pool deck as well. After the first masterclass ended, they asked everyone to clear out of the area.
"This is where my next session is. Can't I just stay?" I asked someone.
"No. Everyone has to clear the area and get in line to enter." Holy crap! By this time everyone was already up and this is Beto that we're talking about. There were a few designated places to enter but all of the lines were really long already.
"But I'm already here. If I get in line, I'm going to be clear at the back."
"That's what we are telling EVERYONE. Sorry." Whatever. There was no point arguing my case. I obediently exited and got in one of the really, really long lines.
By the time I got in, the main pit was already filled. There was no way that I would be able to see the stage from clear in the back. I ended up finding a vacant spot in one of the upper decks, outside the class area. Yes. Even though I had a sticker and I was legitimately signed up for the class, I was relegated to the observer area beyond the ropes. Stickers are quite pointless unless you're at the front of the line and can get a good front row spot. For short people, anyway. The tall people probably don't mind being further back because they can still see.
I would have been bummed except I had a really good view of the stage from where I was and I didn't have people crowding me so I could actually dance and let loose.
It was amazing how many people turned out for Beto's masterclass. The main class area was completely packed and there were "observers" everywhere dancing with us. There were people looking down from the jogging track and dancing. There were people from the upper decks. It was quite a sight to behold. I almost wondered if we would sink the ship because right at the moment it seemed like all of the passengers were at the main pool deck jumping and dancing around. There were at least half a dozen other classes going on simultaneously but there were so many people that it really did seem like everyone on the ship was concentrated in the same spot.
Brian was in bed when I got back to our room. I told him he really should have come back for Beto's class and gotten a video because it was amazing!
Anyway, I was starving after two very energetic back to back classes so after a quick shower we were off to the buffet. This is where we ran into Todd. It was nice to be able to sit and eat with them after they ditched us the previous night. LOL. As it turns out, they didn't know how to check their room voicemail. I explained how to do it and stressed the importance of this method of communication. None of us had access to texts and Facebook so this was the only way to coordinate dinners and meet up in massive cruise ship filled with thousands of people.
Oh, we did take a few photos on the way to lunch…
Here's me with the gorgeous Richard Gormley. I met him for the first time at the 2014 Zumba Conference in LA when I had Aqua Zumba training. He is so beautiful, inside and out! He greeted me like an old friend and was super nice.
"Does he know you?" Brian asked me afterward.
"He meets hundreds of people all the time. I'm sure he has no idea who I am."
"He acted like he did."
"I think he does that to everyone to make them feel special."
That's just one of the many qualities to love about Richard. Besides being an amazing Zumba Education Specialist (ZES), he's an all-around amazing person. I know it can get tiring when fans want a photo with you all the time but he takes it in stride and always greets everyone with kindness and warmth. He hasn't let his celebrity status get to his head. What a beautiful person!
After lunch, we hung out with Missy and Todd at the pool area.
Gina Grant and Dahrio Wonder were teaching their Hip Hop Turn Up class at the main pool deck. There was a great turn out for that class as well.
Here's another class that had a great turnout.
The Brutez taught a few classes throughout the week at the Royal Promenade, which is this area in the middle of the ship where they have shops and specialty restaurants. This is a picture from one of the classes. Yes, that is Hermann Melo in the foreground.
Here's a picture of me with ZES Donna Giffen. We were on our way to dinner and she had just come out of teaching a class.
We took a few photos while waiting for the rest of our group.
Here's a cute one of Missy and Todd. As you'll see with the rest of the recaps, they wore coordinating outfits to dinner every night.
I was a little worried about "formal" night because, in an effort to pack light, Brian and I didn't pack any "formal" wear. They did have a tuxedo rental shop on the ship but that really wouldn't do any good considering there isn't an evening gown rental as well. Anyway, Brian and I changed into nicer clothes to have dinner in the dining room the previous night but noticed that people were dining in coverups and workout gear so I figured they probably wouldn't enforce the "formal" attire recommendation either.
After my worry that we wouldn't see these guys until we returned to Wichita, I was so relieved to be sitting at the dinner table with everyone.
Here's our group (from left): Todd, Miss, Brian, me, Glynda, Heather, and Rob.
This is us waiting for the free booze at the meet and greet with the ship's captain. No offense to the captain because we was a very nice, charming man but I think our group was more interested in the free alcoholic beverages than meeting him. Besides, Brian none of the rest of us purchase the unlimited booze ultimate drink package.
Everyone thought it would be funny to put our champagne glasses in front of Brian. This pretty much sums up the whole trip for him, actually. Although he did do a bit of dancing (Missy posted a short clip of us dancing merengue at the pool deck on her Facebook), he did not take any of the Zumba classes I signed him up for at all.
We went cheap on our room to save on costs but we did splurge on the drink package, which cost about $350 for the week, for Brian. I had to give him something to do on the ship since he wasn't going to any Zumba classes. LOL.
Since I mentioned that Brian and I don't particularly like going on cruise, you're probably wondering why we went. Here's the draw:
The number of Zumba classes offered was no joke. I actually thought there were more classes than that. There was Zumba from 8 AM all the way to 9 PM on most days. Every inch of the ship was doing Zumba.
Here are some of the places that Zumba classes were held on the ship:
– Main Pool Deck
– Pyramid Lounge
– Conference Room
– Studio B (where the ice skating rink is)
– Fitness Center (this is pretty obvious)
– Royal Promenade (I think this surprised some people)
– Jogging Track
– Alhambra Theater
– Helipad (it was pretty rough but made for cool photos)
– Sports Court (this was actually my favorite surface to dance on)
– On Air (also known as the karaoke bar)
– H20 Zone Pool (Aqua Zumba)
– Solarium Pool (Aqua Zumba
I picked some high profile celebrity instructors to take classes from so most of my classes were at the Main Pool Deck, Studio B, or Sports Court. I did crash a few classes in the other locations, though. Classes were going on simultaneously throughout the day. At any given time there were at least half a dozen to a dozen classes to choose from. Besides the classes I'd signed up for ahead of time, we had opportunity to take other classes on a "first come, first served" basis and there were times that it was really hard to decide which class to crash.
Day One, Monday, January 25: Brian and I got up early, had breakfast at the hotel, took a quick selfie, and then headed down to wait for our shuttle to the cruise terminal.
We wanted to board the ship early because I signed up for Nick Logrea's 2:45 to 3:45 PM class. I had no idea where the class would be so Brian and I wanted to get on early, have some lunch, and maybe even do some exploring around the ship before my class. That was the plan, anyway.
We took the 10:30 AM shuttle to port because we thought we would be able to board at 11:00 AM. Well, that didn't work out because they were having some technical issues on the ship. After checking in, we had to wait in this massive staging area. It seemed like we waited forever. At least they gave us these nice goodie bags with a nice Zumba Cruise sweat towel and a little Zumba gear catalog with the new designs.
I knew that the Zumba Education Specialists (ZES), celebrity instructors, and other VIPs would get to board first because they had to prepare for their classes and they're special and such, but it took a really long time. At the time, we didn't know that there were computer issues. Brian and I just thought, this is why we hate cruises. They herd you like cattle and there's a lot of waiting around. It was almost noon by the time the VIPs were boarding and it was well after noon by the time boarding for us regular folk started.
It was 1:00 pm by the time we were on the ship. There was no time to waste. We made a beeline for the lunch buffet so I could have some food before my class. Brian, itching to make the most of his $70 a day unlimited drink package, got a Stella from the first bar we came across. LOL.
We didn't have much time to explore the ship after lunch before I had to be in class but we did have some time to stop by our stateroom. We got an interior cabin to save some money and our room was shockingly tiny. Again, we were reminded of why we hate cruising. Our room was half the size of our master bedroom and our bathroom reminded of an airplane toilet. Good thing we didn't spend much time in there. Although, I have to say, you get used to the size after a few days. By the fifth day, our tiny room didn't seem so bad. It's just a shock when you're used to the expansive, luxurious rooms that you get at all-inclusive resorts.
It had been almost seven years since our last cruise and I guess we'd forgotten what the staterooms were like. Another reason it was hard to compare is that we'd never cruised on a Royal Caribbean cruise ship before. Our prior two cruises were on Carnival. That and we got a handicap accessible room on the last cruise so the bathroom was actually really roomy, as cruise ship bathrooms go.
Anyway, the information sheet stated that our luggage may not get delivered to our rooms until 8:00 pm at the latest. Brian's duffel was already outside our door when we came by after lunch so that was impressive. Still, mine hadn't arrived and may not arrive until much later. Knowing the risks, I came dressed in Zumba gear so I was ready to go for my 2:45 PM class despite not having my luggage.
Here I am waiting for Nick Logrea's masterclass to begin. I'd never taken a class or workshop from him but I'd heard many great things so I was super pumped.
By the way, that ID thing around my neck my "sea pass" card. Yet another reason that we prefer all-inclusive resort vacations to cruises. You have to carry around that thing with you to get drinks. We never need badges at AIs. I didn't know where else to put it (ours was tied to our credit card, so I definitely did not want to lose it) so I had to dance with that thing around my neck the entire time. I still had a blast despite the minor inconvenience of having that thing flop around.
Here are a few snippets from class…
Missy's class was canceled because they were still trying to set things up outside so she ended up taking Nick Logrea's class with me. You can't see us very well in this photo because we're toward the front.
Here are some closer photos…
Here's a pic of the two of us with ZES Nick Logrea.
And just me…
Brian and I did some exploring after the class. When we returned to our room, my suitcase had arrived. I thought about changing outfits but I only packed so many clothes (we always pack light on our trips) so I decided to just stay in the sweaty clothes. I was just going to sweat again anyway.
My next class was with ZES Steve Boedt at the Main Pool Deck. It was so packed, we could barely move. You make the most of the situation, though. I danced my butt off and managed not to get trampled.
Kass Martin did a cameo in Steve's class.
She did several songs with him, actually. It was awesome!
I'm glad Brian got some photos because I didn't have my phone on me. I didn't have anywhere to put it and I didn't want to lose it while I was dancing.
Brian and I had dinner by ourselves that night. We called Glynda's room and Missy and Todd's room but they didn't get our message. After we couldn't connect, I really thought we might not see our friends the entire trip. It's hard to find people on the ship because it's so crowded. Brian and I actually lost each other several times. Thankfully, we shared the same room so we just went back there. LOL.
We went to the party at Labyrinth where DJ Francis was spinning and stayed until about midnight. We were hoping to see Missy and Todd, or Glynda, or Rob and Heather but never did run into them. Missy and Todd told us the next day that they went. We must have just missed one another.
That's pretty much day one in a nutshell. Stay tuned for a recap of day two.
Brian and I had dinner with our friend Glynda on the eve of the Zumba cruise. We invited her cruise roommate Kate also, but she was too tired from all the shopping they did at the mall. Only Glynda was able to join us.
I remember craving Thai food that evening but Brian wasn't in the mood for it and Glynda had never tried it before so we decided to play it safe and picked Gilbert's. We got our Uber driver to pick us up at the hotel and drop us off at Gilbert's only to find out that they're closed on Sundays. We looked around the shopping plaza and there weren't many restaurant options. There was a very loud bar across the parking lot which seemed like fun but it did not appeal to Brian. As luck would have it, Cocos was just a few doors down from Gilbert's and they were open. The three of us agreed to eat there instead so I got my wish of eating Thai food after all.
We got to the restaurant early enough that we beat the crowds. The restaurant was considerably busier when we left.
Glynda was having problems with the Uber app so Brian helped her install and set it up. And then he explained how to use it and gave her a code for her first ride free.
Here are some of pictures of our meal…
We splurged a little bit and had a few samplers. The calamari was a little spicy for me but otherwise fantastic. I wish that Brian like calamari because he would have enjoyed the sweet, spicy flavor of this dish.
The chicken satay was delicious.
The fried dumplings was another great starter.
Glynda had some miso which she said she enjoyed.
She also wanted a salad but I'm not sure that the soft shell crab papaya salad was quite what she expected. I think she found it a little odd.
We already had several starters so Brian decided to have lettuce wraps for his meal.
I always try the yellow curry everywhere that I can get so I ordered the chicken massaman. At $30 it was a bit more expensive than I'm used to paying. I usually get curry around town for about $10 or maybe $15 if it's a nice restaurant. That said, this was the best massaman curry I'd ever had. It had just a hint of spice and ample sweetness. I felt it was worth the higher price.
Overall our Cocos experience was pretty good. The menu prices were a tad high but it's a pretty minor complaint considering the quality of the dishes I tried that evening. If I had some time to spend in Fort Lauderdale, I wouldn't mind eating here again.
Hello, everyone! We're back! Actually, we've been back for a week. We've just been super duper busy so I haven't had a chance to post anything on the blog. Of course, if you're on Facebook then you've already seen lots of pictures and videos because it's easy and convenient to send those there from our phones.
Here's the trip in a nutshell.
Brian and I are not really fond of cruising and I didn't really care for the ports of call on this trip. I went for one thing and one thing alone: Zumba.
These are all the classes I'd registered for:
We did way more dancing than this, though. We crashed a few other classes during the week and attended some late night parties. We were on our feet and dancing the whole week for sure!
Let's start from the very beginning: flying out of ICT really early. Our ride to the airport picked us up at 4 AM on Sunday, January 24. We wanted to arrive in FLL the day before we board so we wouldn't have any issues with missing the ship in case of flight delays or cancellations. This was a very real concern because of the way the weather has been. Several people from the East Coast actually missed the cruise for this very reason.
Glynda got to Fort Lauderdale before we did so she was already shopping at the mall when we landed. We stayed at the same hotel so the three of us (Glynda, Brian, and I) went to dinner together that night. Missy and Todd had arrived in Florida on Saturday night but they went to Beto's class in Miami and were busy cruising around town so we didn't get to meet up with them before boarding.
The three of us ended up having dinner at Cocos Asian Bistro and Bar. I will post separately about this because it deserves a story all its own.
Here's our boarding day selfie. Whee!
Brian is up now and we're supposed to deep clean the house so rather than writing one, really long blog post I've decided to break this blog up into the separate days. Keep checking back for the continuation of our trip recap.
I finally got Nickira's Christmas present to her after hanging on to it for a couple of months. Ironically, it was the first Christmas present we purchased and it was the last one we had left at home. Nickira asked for the Barbie shopping mall
back in October. I agreed to get it for her and asked her mom to make sure no one else got it for her for Christmas. I think she pretty much forgot that she asked for it. LOL.
The package arrived back in November and we just hid it in the office. I wanted to give it to Nickira before Christmas but she ended up going to Texas and didn't return until after the holidays. Instead we just hung on to it until she got back and I gave it to her on our first meeting of the year.
Nickira set it up in her room the same night she got it and texted me a picture of the completed mall really late. I think it was well after midnight. I didn't see it until the morning. She said it's right next to her dollhouse.
In other news, my boss just celebrated her 60th birthday. Brian and I were fortunate to be there for the surprise party. Carmen and Nick were there too, which is a good thing because besides Ginger's kids we didn't know anyone else there.
Speaking of kids, we're seeing some progress with Molly and Saki. It's slow but I think they're starting to get along bit by bit. They still fight at least a couple of times a day but I'm optimistic that the fights will eventually become less frequent.
Saki is growing exponentially quick. She doubled in size in her first month. When we got her she was only 4.5 lbs, about half the size of Molly. When we took her to the vet for her pre-spaying assessment and treatments she was 7.5 lbs. I left for Topeka that Monday and when I returned a couple of days later she was 9.5 lbs. That was about two weeks ago. This morning Brian took her to the vet to get weighed and she's now 10.5 lbs. She is officially way bigger than Molly who tops out at about 8 lbs on a good day.
We mailed out our "Happy New Year" cards a few weeks ago to make up for not sending out Christmas cards this year.
I love Mixbook because they have really cool templates that you can easily customize. I was able to design the card with just a few clicks. I rushed the text a little bit and later found I omitted a few things. Oh, well. That's what I get for rushing. Overall I was really pleased with how the cards turned out, though.
That's it. That pretty much catches us up, which is good because Brian and I are leaving town tomorrow and we will not have access to internet.
Come back next week to hear about our adventures on the first ever Zumba cruise!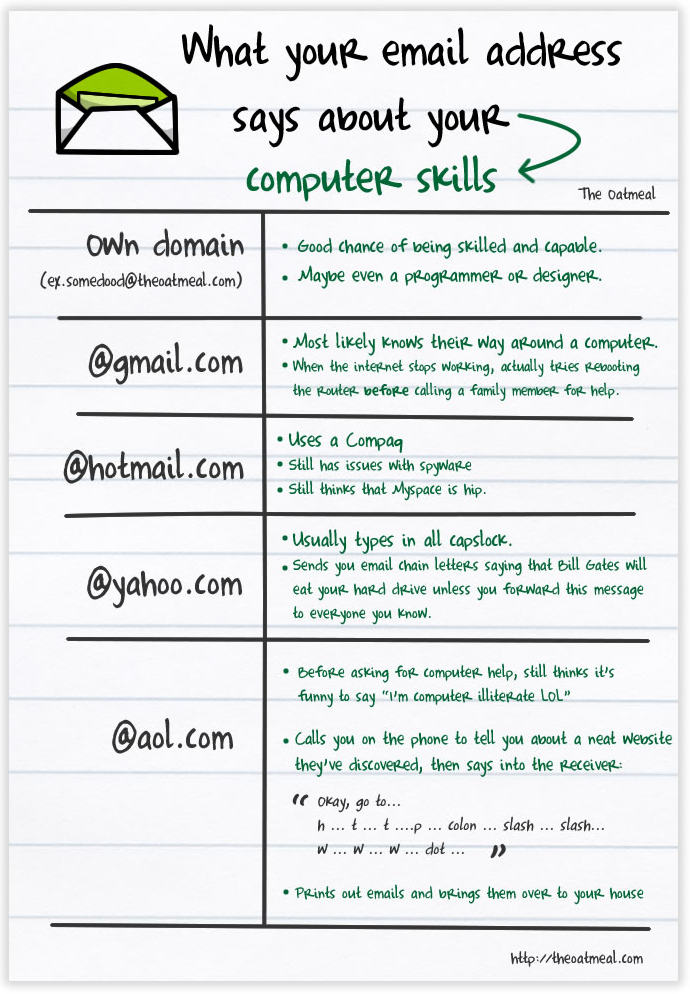 This is old but it still cracks me up. Most of the time I use my Gmail address but depending on who I'm emailing I do use different email addresses. I use my @wichitazumba.net email address when communicating with my Zumba pals, my @brubakers.us email address when communicating with others, my @cox.net for another group, and so on. I have specific email addresses for specific reasons although, despite my best effort, I have gotten lazy over the years and junked a few of these up.
One can only be so organized, you know?
P.S. I have different phone numbers for different purposes too. I'm weird like that.